Marylebone is the New Mayfair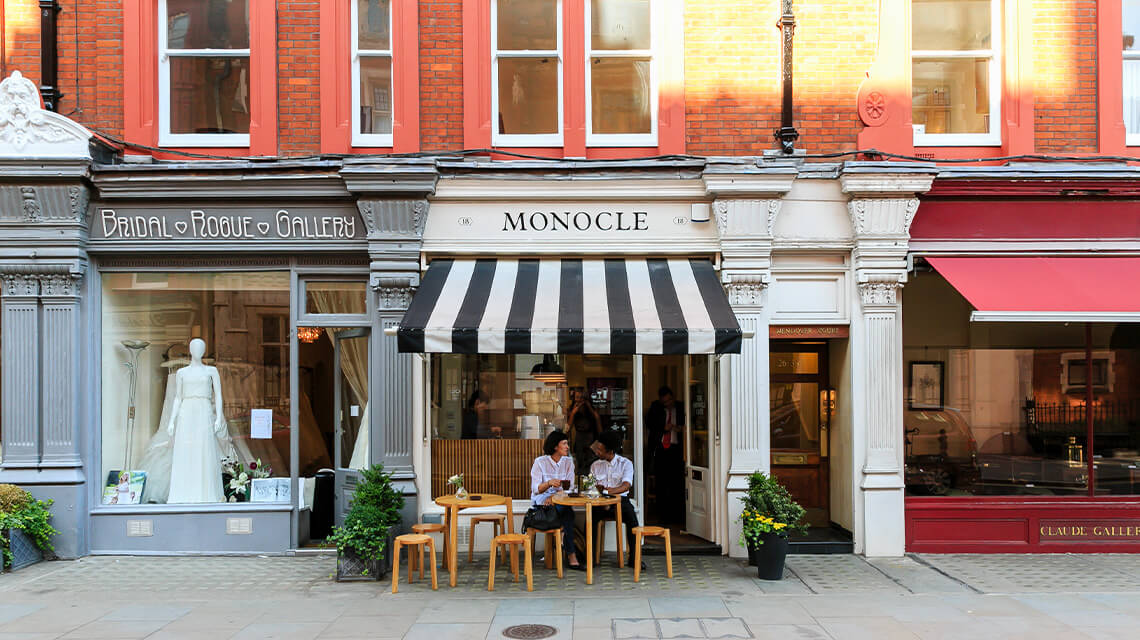 Mayfair has long since been renowned alongside the likes of Kensington and Chelsea as one of the most fashionable, high class districts of West London. Playing host to Saville Row, Hyde Park and the Royal Academy of Arts amongst the designer boutiques, Mayfair is synonymous with an exclusive and expensive city lifestyle.
However, bordered by Oxford Street, Marylebone is on the rise promising a small domesticated pocket offering a village aura, just minutes away from city attractions. With its own row of vintage shops, Regent's Park and access to London landmarks, could Marylebone rival its classic neighbour Mayfair?
Traditional Choice
Originating as a choice location from the early 17th century, Mayfair gets its name from the annual fortnightly long fair at the start of May when it moved from Haymarket, which first attracted residents and landlords to construct the area. Housing the likes of the Duke of Westminster and the Crown Estate across the years, Mayfair earned itself the title of prestige and grandeur, particularly esteemed for the location of Claridges and the Ritz Hotel. Nowadays, amongst the stately buildings you can find a buzzing nightlife for the more flamboyant resident, parading exclusive club atmospheres, such as Mahiki and the Coburg Bar. To be economical is, however, not synonymous with this region and residents should be prepared to loosen their purse strings if they wish to participate in the Mayfair lifestyle.
Uncompromising and Economical
Interestingly, whilst Mayfair quickly rose to fame and reputation, its fairly equal neighbour Marylebone steadily flowed through a relatively quiet history. Separated from the former by Oxford Street, Marylebone had always been characterised as a less grand and exclusive version of its contiguous regions; however this claim can truly be dismissed in the 21st century. Marylebone counts amongst its high class restaurants, Chiltern Firehouse and Briciole, not to mention the laid-back sophistication of the vast array of bars and pubs including one of London's first speakeasy-types, Purl, offering frequently updated and experimental cocktails. Residents will also have direct access to Madame Tussauds, Regent's Park and the Sherlock Holmes Museum as well as individual and specialist boutiques juxtaposed by Selfridges at the southern border of Marylebone. Therefore, with very little difference between the features and attributes of the two areas, is it purely archaic reputation which sets them apart in the eye of the Londoner?
Property Contrast
Living in Marylebone for today's generation seems more attractive than at any other time; Marylebone is located within easy walking distance to Soho's thriving nightlife and Mayfair's reputable amenities, yet far enough removed to maintain a domesticated atmosphere. Many of London's iconic landmarks can be found on its doorstep and transport access to major destinations is effortless, yet it is unique in the lifestyle it offers. Property within Marylebone is starting to creep past previously desirable West London destinations as Knight Frank in a recent survey asserts, 'domestic and overseas buyers are increasingly seeking value beyond Mayfair…crossing Oxford street north into Marylebone.' When comparing Rightmove yearly averages of flat sales, Marylebone was a mere £1,438,884 in 2014, one of the lowest in West London, with a 33% value increase from 2012 whilst Mayfair topped out at £2,971,679 in the last year with only a 14% increase since 2012. Whilst Marylebone is increasing value across the years establishing itself as a choice investment, Mayfair appears to be maintaining its elite status of high property prices with little change. With the average house and flat prices in Marylebone more than 40% lower than in Mayfair and merely located the other side of Oxford Street, the former could not be a stronger contender in the property battle.
Galliard Developments
The Chilterns
Located with unbeatable views over Regent's Park, Galliard Homes' prestigious development, The Chilterns is now sold out. Offering the epitome of luxury living within the city with bespoke designs from celebrated icons such as Rabih Hage, the development boasts opulent finishes within an elegant and classy building design. Exclusive features include a private state of-the-art spa and gym, cinema and wine cellar to provide that final touch of indulgence for the resident, enabling an exclusive lifestyle in Prime Central London.
The Chilterns is now sold out. To find out more information about The Chilterns, click here.
Looking for a luxury flat in Marylebone? For further information about The Chilterns in Marylebone, please click here to view the development and property availability on our dedicated microsite.
Edited: 20th March 2023