Living in Romford, London RM1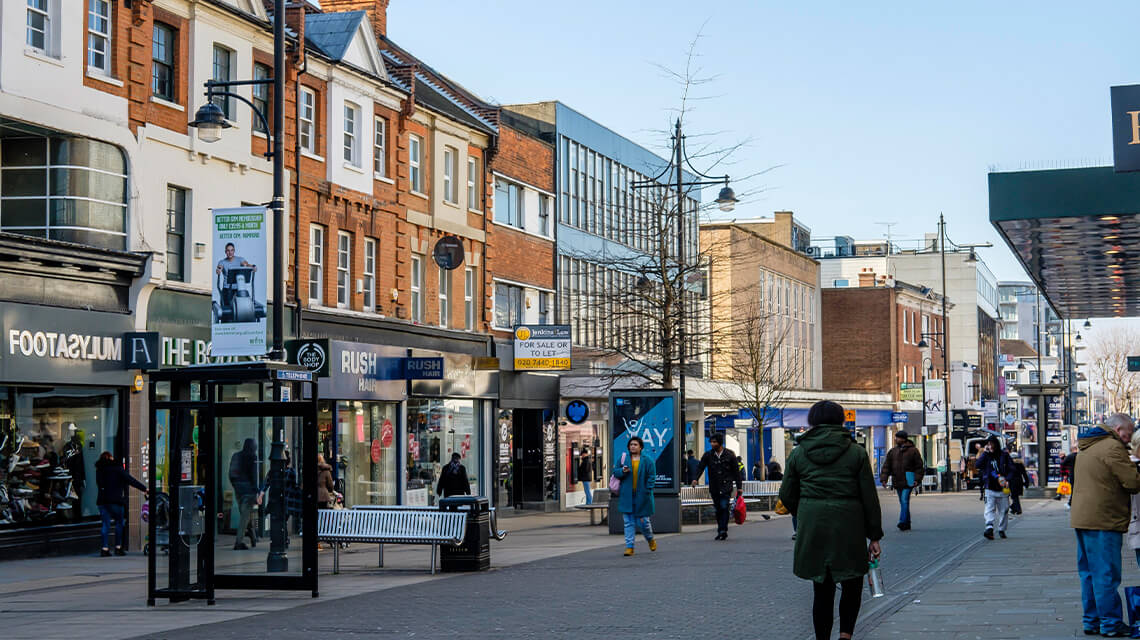 Situated just 12 miles east of the City of London, Romford has quickly become a sought-after commuter town, due to its enviable transport and road links, fantastic amenities and great nightlife.
So close to London and yet so near to the Essex countryside, Romford is brimming with culture, charm and a rich history which is celebrated in every corner of this incredible town. The area has gone from an ancient chapelry to a buzzing modern metropolis, easily catching the eye of commuters, first-time buyers, young families and Buy-to-Let investors looking for a property within 29 minutes' of the capital.
Property in Romford
Papermill House
Perfectly located for young professionals in search of a suburban home on the edge of the City, Papermill House is Galliard Homes' latest residential project in Romford. The development saw the creation of 115 modern homes spanning five floors, along with six superb upper-level apartments complete with their own private balcony or terrace.
Due to its overwhelming popularity, Papermill House is now sold out! Call us today on 020 3409 2270 to discuss alternative developments.
St Edwards Court
Galliard Homes' landmark development, St Edwards Court, consists of 105 modern apartments; each featuring highly-specified interiors, on-trend colour schemes and a stylish kitchen with integrated appliances. Some apartments include a study room which can also act as a second bedroom. Located only a 10 minute walk from TfL Rail and forthcoming Crossrail services at Romford station, residents of St Edwards Court enjoy easy access across the capital, whether it be for work or leisure.
Due to its popularity, St Edwards Court is now sold out! Call us today on 020 3409 2270 to discuss alternative developments.
History of Romford
Romford was a chapelry of the ancient parish of Hornchurch that was first recorded in 1153 and is thought to mean 'wide ford.' The parish contained five wards: Harold Wood, Collier Rowe, Noak Hill and Havering. The Havering ward became independent from Hornchurch in the late 17th century. Henry III famously granted a charter to allow a livestock market to be held in the town in 1247. A market still runs to this day on Wednesday, Friday and Saturday with 270 stalls. Between the World Wars, Romford grew at a fast-pace and welcomed new businesses such as the Star Brewery and Betterware, which provided employment for residents. Romford's history is still evident in every corner of this bustling town.
Places of Interest
Due to the current circumstances, some of the sites mentioned below may be temporarily closed or have restricted opening hours.
Historical
Havering Museum
Havering Museum is located just minutes from Romford's High Street and exhibits artefacts from the Borough's past. The museum, in partnership with the London Borough of Havering, successfully received a Heritage Lottery fund grant in 2008 and opened in 2010. Two permanent galleries explore the vibrant local history through different themes.
St Edward the Confessor Church
St Edward the Confessor Church was thought to have originated in 1410, but records of the church date back to 1177. However, towards the end of the 14th century the church became too ruinous and a new one was built. The present church was built in 1849 and is a fine example of Gothic architecture and masonry dating back to the Middle Ages. The church is without a doubt one of Romford's most treasured pieces of history; nestled within the bustling market square, this building will continue to hold a special place in Romford's past, present and future.
Cultural
Brookside Theatre
Located on Eastern Road and proudly holding the title of Romford's first and only professional arts venue in Romford, Brookside Theatre is an award-winning arts venue which can seat up to 140 people. The theatre was born from a small group of volunteers looking to restore the Romford War Memorial Old Folks Club built in 1953 to commemorate the service personnel from the Borough who lost their lives during the war. From full-scale musicals to stand-up comedy, the theatre is an integral part of the community, perfect for arts lovers and families.
Shopping
Romford is home to a plethora of shopping centres including The Brewery, The Liberty and Romford Shopping Mall, as well as a large high street with popular retailers including Debenhams and Marks and Spencer. Featuring brand-name retailers and unique boutique stores, Romford has it all in one place, making retail therapy unquestionably easy.
Formerly the site of the Star Brewery which was founded in 1708 by Benjamin Wilson, The Brewery has become a premier destination for members of the community, and is home to a variety of superstores, scrumptious chain restaurants and a Vue Cinema. This is the ideal place to while away those hours at the weekend.
Looking to spend some serious money? The Liberty is Romford's largest shopping centre that was originally built in 1968 and underwent a four-year redevelopment in 2004. Why not spoil yourself by visiting big-name stores? Or alternatively, rest your weary feet by having a caffeine-injection at Costa Coffee and Starbucks.
For those who love a large fry-up and a bit of a bargain, Romford Shopping Mall is the place to go. The Tea Pot Café located on the second floor serves up a scrumptious Full English Breakfast guaranteed to satisfy any appetite, while a cheeky bargain can easily be found in one of the stores below.
Food and Drink
Ciao Bella
Ciao Bella is a family-run restaurant offering hand-spun stone-baked pizzas, homemade pasta and delicious chef's specials. This is the place to go for authentic Italian food.
Jas' Punjabi Kitchen
A new addition to Romford's High Street is the brand new business incubator The Retailery, which is home to Jas' Punjabi Kitchen. Jaspal Kaur, the owner of the business, serves homemade Indian food that has fast become a staple for workers looking to satisfy their hunger at lunchtime. Enjoy a tasty range of curries, samosas and India breads.
Robin's Pie and Mash
Established in 1929 this family-owned business has been serving traditional Pie and Mash with its famous liquor for five generations. Robin's Pie and Mash is also situated in The Quadrant and is one of five stores owned by the company, it is the perfect place to sample this famous East End delicacy.
Green Space
Bedfords Park
Jointly managed by the Essex Wildlife Trust and Havering Council, Bedfords Park is a nature reserve site which offers fantastic views across London and Kent. This wonderful park has 215 acres of mature woodland, wildflower meadows and marshy areas. That's not all, this varied green space is great for families looking to educate their children about wildlife, as they can discover the animals lurking in the pond, ogle at the captive herd of Red Deer and truly immerse themselves in Mother Nature.
Havering Country Park
Havering Country Park lies on part of the estate of Havering Palace that was once occupied by William the Conqueror in 1066 and Charles I in 1638. Greater London Council purchased the land and opened it to the public in 1975, and in 1986 the ownership of the park was transferred to Havering Council. This luscious park is surrounded by acres of woodland with footpaths lined by an avenue of Giant Redwood trees, which is the second largest plantation in the country. This is a perfect destination for dog walkers and young families.
Raphael Park
Dating back to 1904, Raphael Park is designed by Sir Humphrey Repton and comprises the western section of the Gidea Park Estate, which was donated by owner Sir Herbert Raphael MP to Romford Urban District Council in 1902. The grounds are made up of rolling parkland, an expansive lake, play areas for children and an on-site car park, making it an ideal place to relax at the weekend with friends and family. The park is open to the public seven days a week, and during the summer months, the grounds host open air performances of William Shakespeare's plays.
Tourist and Leisure Attractions
Romford Greyhound Stadium
Opened in 1929, Romford Greyhound Stadium is a treasured venue for the local community, as it is one of only two greyhound stadiums left in London. Currently owned by the Gala Coral Group, the stadium has the capacity to seat 4,300 people!
Golf Kingdom
Golf Kingdom in Chadwell Heath in Romford is the UK's most advanced Golf Range, and is the brainchild of professional golfers Scott Cranfield and Simon Preston. The Moby Golf 18-hole course features a 60-metre lagoon and a giant statue of the literary character and sperm whale, Moby Dick, making this is a fantastic place to take the kids!
Romford Central Library
Originally built in the 1960s, Romford Central Library was refurbished in 2010 and has an IT suite, a local study and family history centre, as well as an exhibition space. This is the largest library in the Borough and is just 15 minutes' from Romford Station.
Fun Facts about Romford
In December 1937, Romford Greyhound Stadium hosted 12 cheetahs that were brought to England by explorer Kenneth Gandar-Dower who wanted to introduce cheetah racing to the country, however the experiment failed as the cheetahs became disinterested in racing!
Romford is home to a number of notable past residents, including Richard Madeley, a British television presenter and one half of the weekday chat show Richard and Judy; which he co-hosted with his wife Judy Finnigan for seven years, he was educated at Shenfield High School in neighbouring Brentwood. Michelle Dockery, who is best known for her role in the ITV hit show, Downton Abbey, was born in Rush Green in Romford. Frank Lampard was born in Romford and is a former professional football player; he holds the title of all-time leading goal scorer for Chelsea Football Club.
Education
Romford has a number of sought-after and award-winning academic institutions such as Barking & Dagenham College, which was presented with The National Association of College & University Entrepreneurs Enterprising College of the Year in 2015. The college is home to 12,000 students and notable alumni include actor Idris Elba and sprinter Adam Gemili. Meanwhile, New City College offers vocational courses such as Accounting, Beauty Therapy and Hospitality catering for students form the age of 14 to 18.
Local Authority
Getting There
Roads
Romford is within close reach of a number of A roads, including the A12, which links Essex to London, the A13 which leads up to Canning Town, and the A127 linking London with Southend-on-Sea.
Rail
Romford railway station, situated in the heart of the town centre, offers direct journeys to London Liverpool Street in 29 minutes. It will also be on the Crossrail line which will offer fast, direct services into destinations such as London Paddington and Tottenham Court Road in 35 minutes on average in 2022.
Edited: 31st August 2023