First-Time Buyer Lauren Finds Dream Home at Papermill House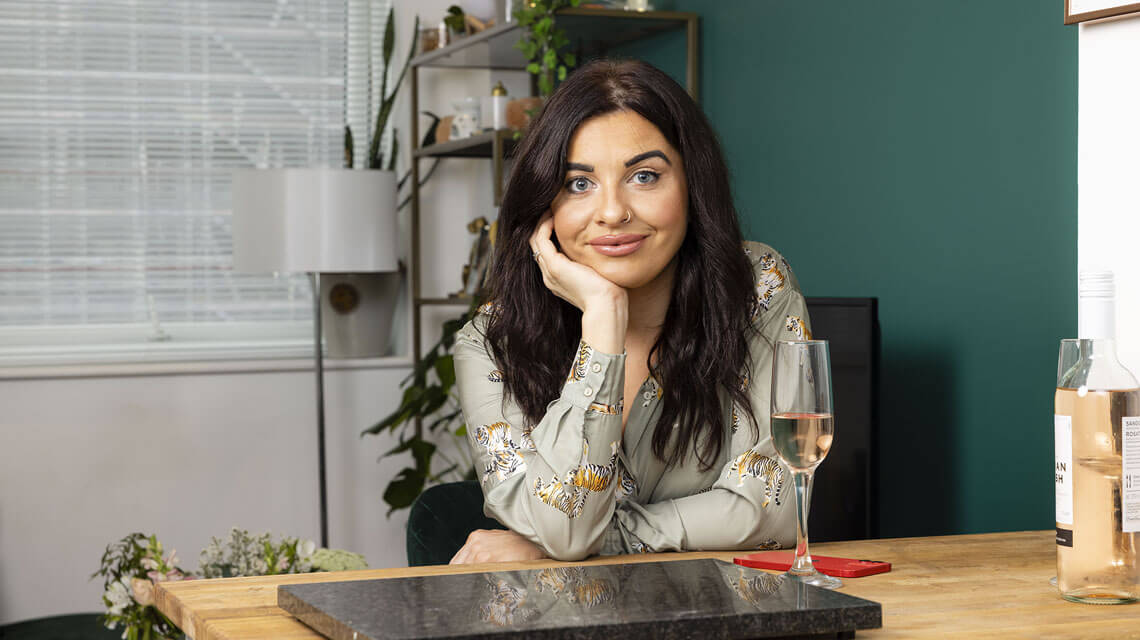 Located in up-and-coming Romford, Papermill House by leading developer Galliard Homes is the stylish redevelopment of a former headquarters into new apartments, ideal for first-time buyers or young professionals. Offering the best value starter homes for young Londoners, the development has seen incredible sales success with a vibrant community of like-minded buyers now moved in and forming strong friendships with their new neighbours.
The information within this article was accurate when it was written in November 2021. Stamp Duty Land Tax rates were amended on 1st October 2021; for up-to-date information please refer to our Stamp Duty guide. Any offers listed are subject to terms and conditions and expiry dates may apply.
Lauren, aged 32, is one of the buyers who has secured her first home at the development and moved in during March 2021. Using Help to Buy and her savings from a Lifetime ISA, Lauren purchased a one-bedroom apartment for £245,000 and achieved her goal of home ownership, as well as finding a new community of friends. Lauren also benefitted from the Stamp Duty holiday, with Galliard extending the holiday until 1st January 2022 across selected sites.
For more information on Help to Buy visit our dedicated page. Find your Help to Buy agent here or use our property search to find your Galliard Homes Help to Buy property in London.
Lauren works for TFL in the Continuous Improvement team, and is currently working remotely, having created a stylish space to work by zoning her new home. "It's the first time I've ever lived by myself, before I was living with a housemate and both working remotely could be tricky but now I've got my own space", Lauren explains.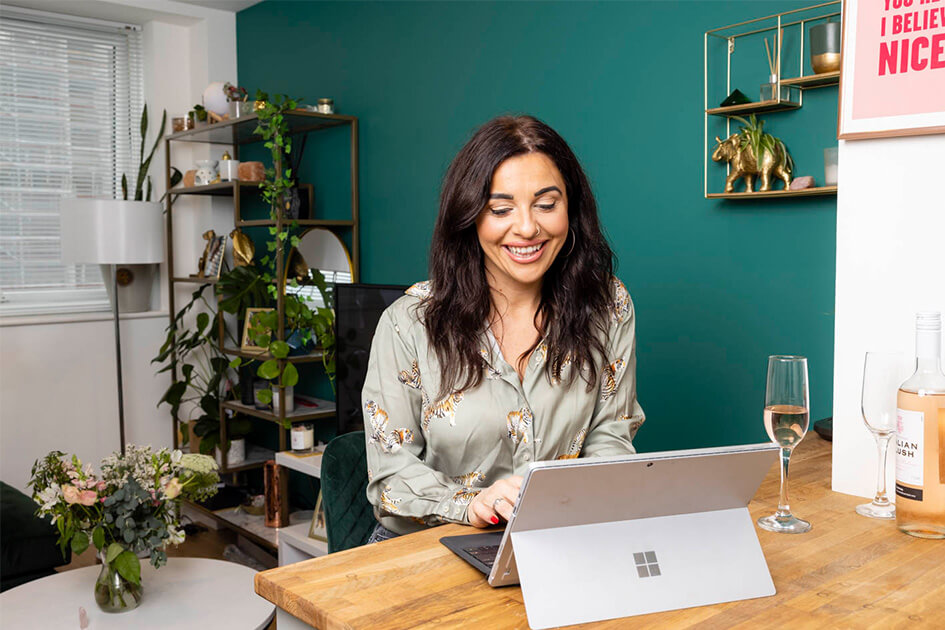 Living local to the area and familiar with Romford, Lauren saw Papermill House's advertising and got in touch to start the process. "I lived not far from the area anyway, initially a flyer came through my door, and I remember thinking I should check it out, then I was on a run and I went by where Papermill is, I saw the sign outside so I gave them a call."
From the beginning, Lauren says Galliard's team were on hand to ensure a smooth process, helping her first home purchase not to feel daunting. "Right from when I first came to look at the development and was in contact about setting up a viewing everyone was so helpful, even down to recommending the solicitor and mortgage advisor making the process so smooth. It obviously was a lot of paperwork and I thought I would be completely clueless but everyone was so helpful all the way through. They didn't expect me to know what everyone was talking about, they knew I was a first-time buyer which was just what I needed."
Lauren has personalised her home by extending her kitchen which cost roughly £800. "I feel like I've made it my own and I've got everything I need, I had my kitchen extended by two units so it is perfect. Galliard gave me all the details of the kitchen and who to contact, even down to where the stone worksurface was from, so I could match everything and do it myself."
At a time when the pandemic has made people realise the need for a strong community, Lauren explains one of the biggest benefits to her new home is the friends she has made with the other buyers. "We're all in the same boat, especially on my floor, we've all got a Whatsapp group to chat. We've got the roof garden upstairs so when it's been good weather we've been chilling up there and relaxing, it's a really nice space. You expect people to be friendly and to be on hi/bye terms but I didn't expect to make such good friends. I can genuinely say I've got really good friends as my neighbours, it's amazing." The sixth floor communal roof terrace on the sixth floor can be enjoyed by all Papermill residents.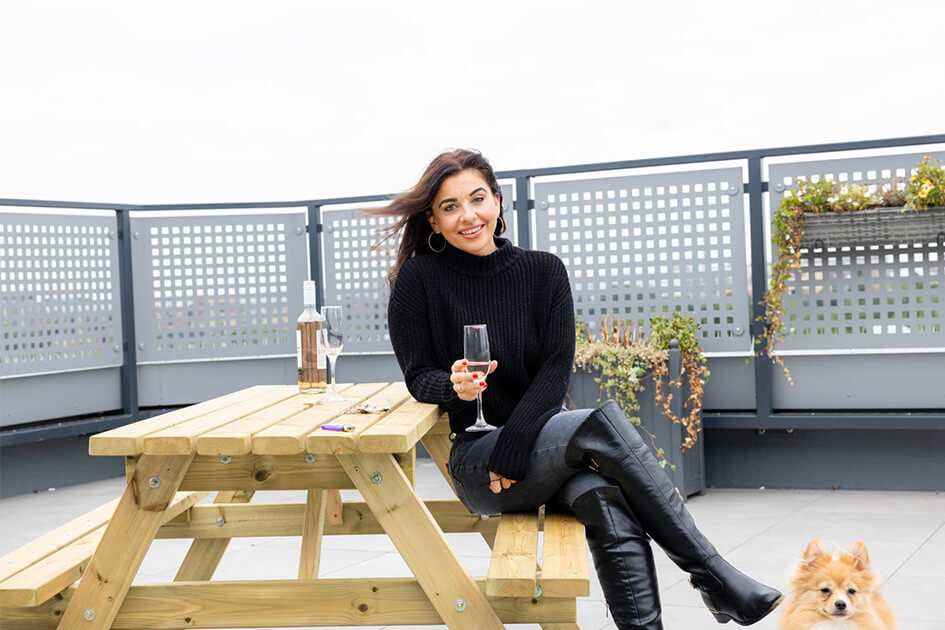 Lauren took advantage of the furniture package offered courtesy of New Concept Furnishings, which includes larger pieces of furniture like beds and sofas, to soft furnishings including rugs and blinds, down to kitchen utensils and a wide range of accessories. She explains the package was a great help as a first-time buyer. "Having the furniture package was so helpful to get you started and then I've done bits to make it my own as well, I've got a new sofa and painted some walls and got little accessories on top."
Living at Papermill House means Lauren is not far from her family in Brentwood, Essex, whilst being able to stay in an area she knows, even keeping the same local gym membership. "I prefer to be closer to London [than her family] but not in central, and transport wise it is so easy to get into London – especially with Crossrail coming up. I was happy to stay in the area, it made a lot of sense and the location is ideal for me."
Having settled in her new home and now welcoming Pablo the puppy to her home, Lauren is also pleased with the aftercare from Galliard. "Everyone has been so friendly and the team are really interested in how I'm getting on and how I've done up the place. There's genuine care from the staff, it's very friendly seeing the sales team when they're on site. I would definitely consider another Galliard development for my next home."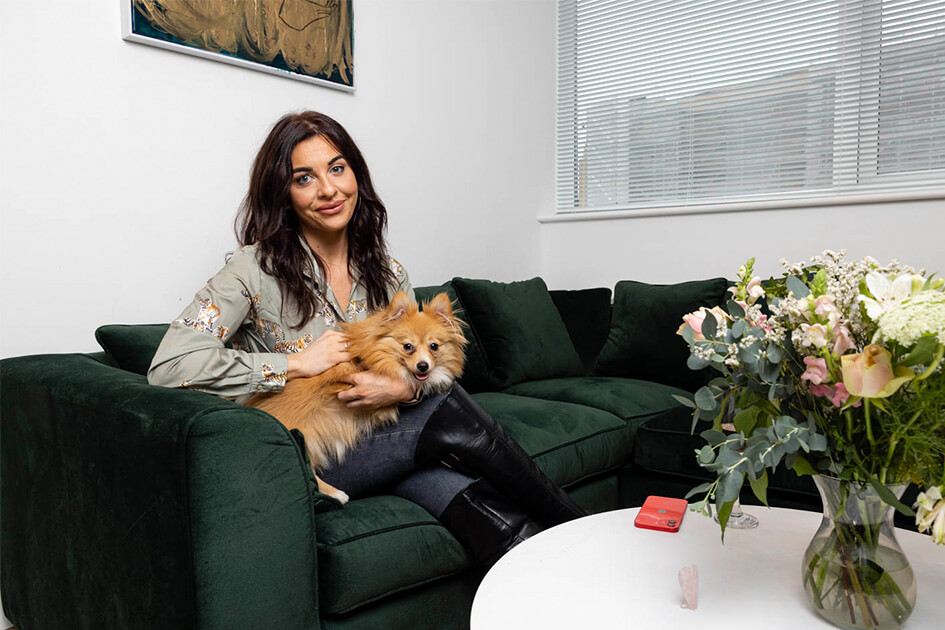 Papermill House is the transformation of the former Neopost headquarters into stylish apartments, thoughtfully designed to help young buyers get on the property ladder. The development is comprised of the eponymous Papermill House with an adjoining four blocks, reaching six storeys high; with a brick façade and expanses of glazing for a modern look, the development provides 121 apartments with a landscaped courtyard garden.
Papermill House is ideally located for residents wanting to enjoy Romford's centre with the designer retail malls a 15 minute walk from the development, as well as cafes, entertainment centres and independent shops. The town offers a range of restaurants, bars and cinema.
The development is well-connected for accessing central London, with Romford station just 13 minutes walking distance; with the forthcoming Crossrail service, the commute into London will be within 30 minutes. For road connections, the M25 can be reached in less than 15 minutes.
Papermill House is now sold out. Use our property search tool to explore our range of available properties.
Edited: 14th December 2022