First-Time Buyers Find Their Dream Home at Papermill House, Romford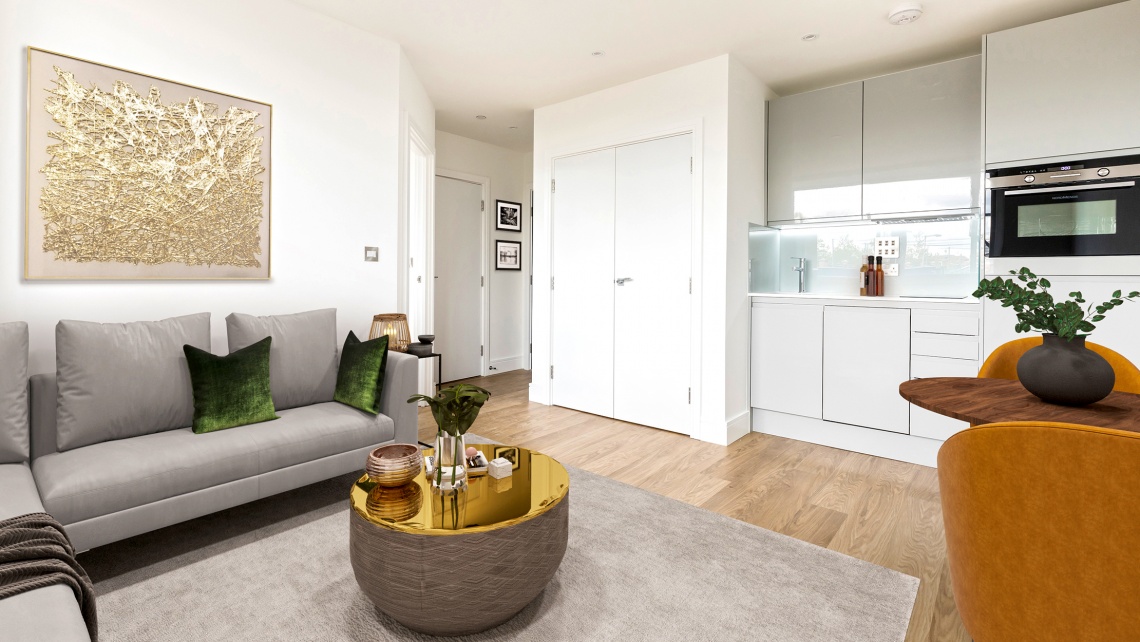 The dream of home ownership has come true for first-time buyers Zuhal and Gokhan who have secured a one bedroom apartment at Papermill House in Romford.
The latest launch by leading developer Galliard Homes, Papermill House has been designed to help first-time buyers get on the property ladder, with prices starting from £195,000 and the government's Help to Buy scheme available meaning a deposit of just 5% is needed with a Help to Buy: Equity Loan (subject to eligibility, terms and conditions).*
Zuhal and Gokhan, both 26, work in hospitality and never thought they could afford their own home at this stage. "We were looking for homes in Romford and the surrounding area and we wanted a new-build home so we could use the Government's Help to Buy scheme. When we learned about Papermill House it really ticks all the boxes, it is a great scheme." The contemporary, fifth floor apartment will offer great views and a modern lifestyle for the young buyers.
Following a hugely successful launch in September, the majority of homes sold at Papermill House have been by owner-occupiers using the Help to Buy scheme, with young Londoners loving Romford's connectivity, retail centre and leisure amenities.
Find your Help to Buy agent here or use our property search to find your Galliard Homes Help to Buy property in London.
For buyers at Papermill House there are also great incentives to help make their new house a home. For every apartment bought, buyers will receive a furniture package worth £10,000 or £15,000 as well as all residents benefitting from a service charge holiday for the first three years.* "The furniture package is a huge boost to help us set up our own home. It will help us feel comfortable straight away, it means a lot to first time buyers" says Zuhal.
Set to move in early next year, the ability to purchase their own home has been great news in a year overshadowed by COVID-19 difficulties. "Working in hospitality we didn't expect to be able to afford our own home at this age, and COVID-19 has had a huge impact on our industry so that dream seemed even further away. We are so pleased to achieve this milestone and can't wait to move into our new home."
Following straight forward process using Help to Buy, Zuhal and Gokhan praise the Galliard team for helping the purchase go through so smoothly. "The Galliard team have been so helpful at every stage. This really is a dream and we want other young Londoners to know it is possible to buy your own home."
Papermill House is excellently located for commuting into London, with Romford station within 13 minutes walking distance offering fast rail connections into central London, with the couple working in Canary Wharf and Tower Bridge. The addition of Crossrail will make this commute into central London less than 30 minutes.
Papermill House, located at 363 South Street in Romford, is a courtyard development with the central Papermill House and four adjacent blocks offering contemporary living. Papermill House is the redevelopment of the former headquarters of Neopost (now Quadient), one of the world's oldest and most successful Postal-Franking machine companies.
David Galman, Sales Director at Galliard Homes says: "Papermill House has been launched to help young Londoners get their first step on the property ladder and achieve the dream of home ownership. Papermill House offers high quality, contemporary homes with great connectivity into central London. We are delighted that so many first-time buyers like Zuhal and Gokhan have found their dream home at Papermill House and we're excited for our first residents to move in."
Papermill House is now sold out due to its overwhelming popularity. Call 020 7620 1500 to discuss alternative availability.
Edited: 24th February 2023