Best Rooftop Bars in East London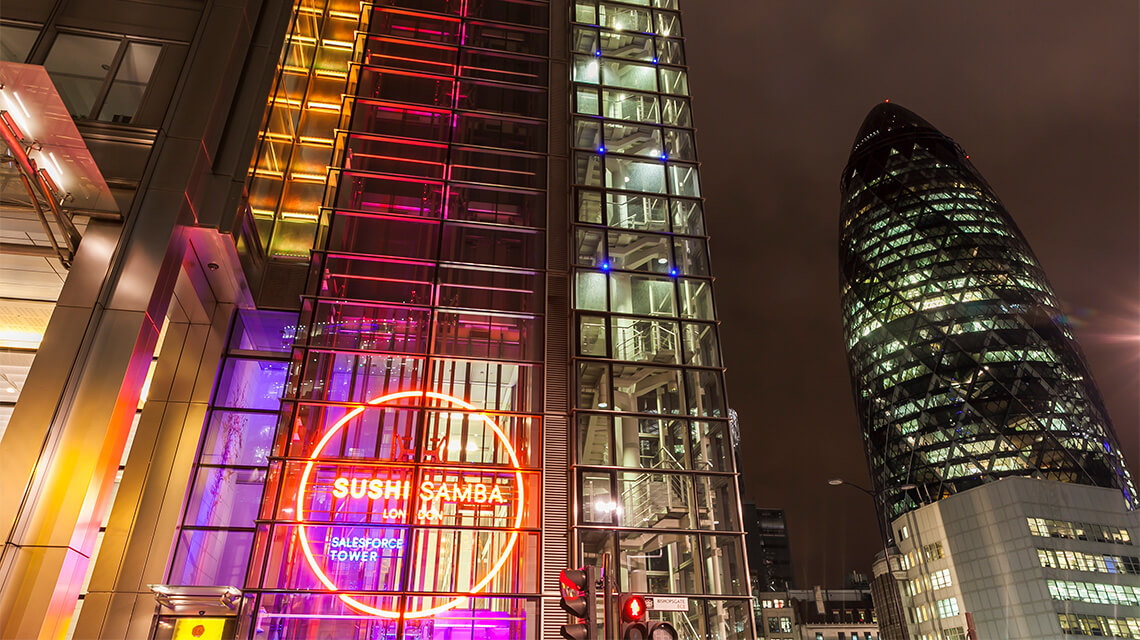 With an abundance of trendy hotspots, from Shoreditch to Hoxton and Whitechapel, East London is home to some of the best rooftop bars in the capital. Whether you're after a quiet drink and a bite to eat with a view or a night of painting the town red, there's a never-ending variety to choose from that will make the idyllic setting for an evening of wining and dining.
Plan your next social adventure with our essential guide to the best bars in East London:
Sushi Samba
Just a short stroll from Liverpool Street, Sushi Samba at Heron Tower is number one on our bucket list of rooftop bars. Get whisked up 38 storeys via a glass elevator on the ground floor to one of the coolest dining rooms in London, where you can enjoy a choice of Japanese, Brazilian and Peruvian cuisine in a rainforest-esque-meets-five-star-luxury setting. Head outside on the 39th floor to find one of the highest outdoor terraces in Europe; here, you can chill at the bar admiring the City view with a glittering tree sculpture (that lights up after sunset) adding to the laid-back, yet highly sophisticated, ambience.
Aviary
Located in Finsbury Square, Aviary offers the perfect escape in a superbly elegant setting; ideal for that lunchtime meeting or an evening of drinks among friends. The rooftop bar and restaurant is poised on the 10th floor of the Montcalm Hotel and offers breathtaking views of the London skyline. Soak it all in with one of Aviary's botanical cocktails, infused with all-natural ingredients.
Boundary Rooftop
Boundary is definitely one for the summertime; head up to this Shoreditch rooftop garden and be surrounded by a citrus paradise with its heated orangery. Order a jug of sangria and take in the views, and if you're feeling peckish there's an all-day Mediterranean menu to satisfy your cravings. The bar is centred around an open fire whilst blankets are offered as the evening wears on, making it the ultimate spot for bohemian-style socialites.
Roof East
Located in Stratford, Roof East is the go-to destination in East London for day-and-night, family-friendly fun. Enjoy Rooftop Roller Disco, acoustic sessions and simply just chilling on a deckchair with a beer in hand. There are even morning yoga classes available here! It's a smorgasbord of leisure and entertainment, and the place to head to on a lazy weekend.
Queen of Hoxton
Our list of the best rooftop bars in East London would not be complete without the Queen of Hoxton. With basement, ground level and rooftop bars, you can imagine this place is buzzing on a Friday night. Home of the Rooftop Film Club, this is a top choice for movie-goers looking for a less traditional setting to catch a classic or the latest blockbuster. What's more, each season a new theme sees the rooftop transform into a glittering venue of authentic props and tailored drinks to make for one of the best nights out in the capital.
Vertigo 42
Perched 600ft above pavement level, at the top of Tower 42 in the City of London, Vertigo 42 is dubbed the capital's 'highest champagne bar'. With a delicious tapas menu to accompany the fine selection of drinks and fizzes available, this is one of the most exclusive social spaces in the city; a first-rate choice for a luxurious celebration.
Still on the hunt for East London's best bar? Here's a list of the best places to see and be seen in Shoreditch.
Edited: 1st February 2023