What to Find on Shoreditch High Street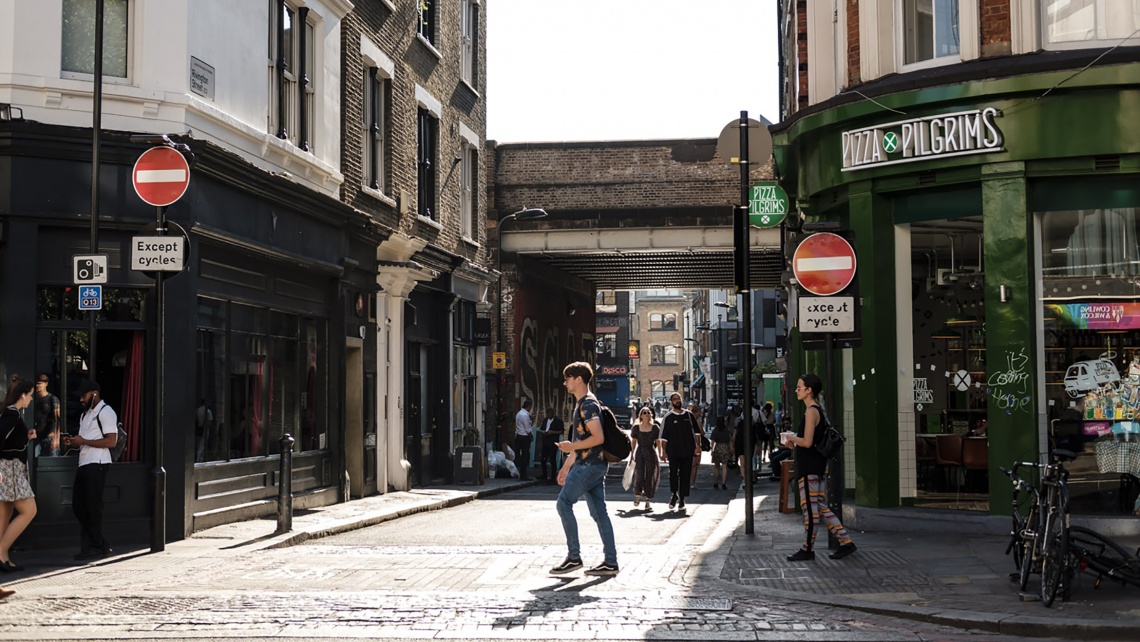 Shoreditch High Street is not only home to the train station, it houses quite an array of the most popular bars in Shoreditch, as well as a plenitude of other exciting things to do.
This insightful guide will let you know everything that there is to know about the best places to go in Shoreditch, not to mention the outstanding apartments that are nearby.
Shoreditch High Street Rail Station
This station sits on the doorstep of Shoreditch High Street on Bethnal Green Road. Running on the extended East London line, it is operated by London Overground and is located in Travelcard Zone 1. It connects to some extremely convenient destinations in excellent time; passengers can expect to reach Clapham Junction in 35 minutes, Highbury and Islington in only 14 minutes and Canada Water in a mere 11 minutes, putting you straight on the DLR and minutes away from Canary Wharf.
Bars on Shoreditch High Street
Bar Kick
Situated on the pavements of Shoreditch High Street is this popular and unique bar, Bar Kick. Who does not love enjoying some hearty food and cocktails while playing table football? At Bar Kick you can do exactly that so it is a great place to go and socialise with friends or simply go solo to watch a live game of football with other avid football fans.
Barrio Shoreditch
Barrio Shoreditch is not just any ordinary bar; it is a bar with a Brazilian twist that serves scrumptious tapas-style food and tempting Brazilian-inspired cocktails. As the night goes on, the tables are tucked away so there is room for you to dance the night away to the live DJ.
The Shoreditch
You can guarantee that this bar is a must as it is actually named after Shoreditch and it really is no disappointment. Distinctively designed with a 1950s-inspired style, The Shoreditch will entice you with its cocktail menu and vibrant music. The food on offer is also incredibly lip-smacking with a choice of sandwiches, street food and sharing platters, what more could you ask for?
The Crown and Shuttle
The Crown and Shuttle on Shoreditch High Street has had quite an eventful existence indeed, having survived the Blitz in World War Two and being notorious for its time as a strip club. Now however, you can expect a quaint atmosphere with exposed brick walls, mismatched décor and a charming garden. The best part about the garden is that there is a shuttle bus here that serves delicious street food freshly cooked from the wood-burning oven; there is even a ping-pong table and table football.
Entertainment and Shopping at Shoreditch High Street
Howard Griffin Gallery
A visit to this gallery will guarantee a truly creative and inspiring appearance; a showcase of a group of new and contemporary artists, Howard Griffin Gallery is home to some exciting displays that exhibit large-scale pieces of art, including large wall murals. If you want to broaden your artistic horizons, then this gallery is somewhere you must visit on Shoreditch High Street.
BOXPARK
BOXPARK is just the place for avid fashion lovers because here you are confronted with a whole host of unique boutiques with some designers that are hard to find elsewhere. There is also a collection of food shops serving an array of different dishes that will keep those taste buds tantalised.
AIDA
If you are looking to branch out from your ordinary retail choices, then AIDA is the place to go. You will find quirky vintage labels and many chic designs that you would have never come across before. While you decide on your new purchases, why not take a seat in the in-store café and enjoy a coffee and homemade cake, the perfect addition to any shopping trip. To add to the individuality of this boutique, there is also a hair and make-up parlour where you can treat yourself and be transformed into a classic Hollywood star.
AllSaints
Considering this fashion label is based in Spitalfields, it seems as though it should be obligatory to pay this popular shop a visit when in Shoreditch. The closest AllSaints shop is located on Commercial Street, which is only a hop, skip and a jump away from Shoreditch High Street. This incredibly stylish brand is always introducing chic new clothes and accessories and is one of the most treasured brands in Shoreditch.
Flats Near Shoreditch High Street
The Stage
Located in a prime Zone 1 location, The Stage is available off-plan, and will offer a variety of luxurious studios, one, two & three bedroom apartments, and four-bedroom penthouses all set within a showcase 37-storey tower. Residents will benefit from outstanding amenities including a sky lounge and cinema room. With over 400,000 sq. ft. of office, retail and leisure space on their doorstep and the remains of Shakespeare's Curtain Theatre serving as a historic backdrop; this is London living on an unprecedented scale.
The Fusion
Sitting just around the corner from Shoreditch High Street is this exciting development by Galliard Homes that brings an essence of sheer luxury to Shoreditch. Now sold out, The Fusion comprises 26 outstanding apartments that boast private balconies with impressive views of the City skyline. Features include a private landscaped garden for residents to enjoy and remarkable apartment specifications such as Smeg kitchen appliances and a video entryphone security system.
If you are looking for an apartment in Shoreditch, check out our flats for sale in Shoreditch.
Edited: 8th March 2023