Transport Services in Slough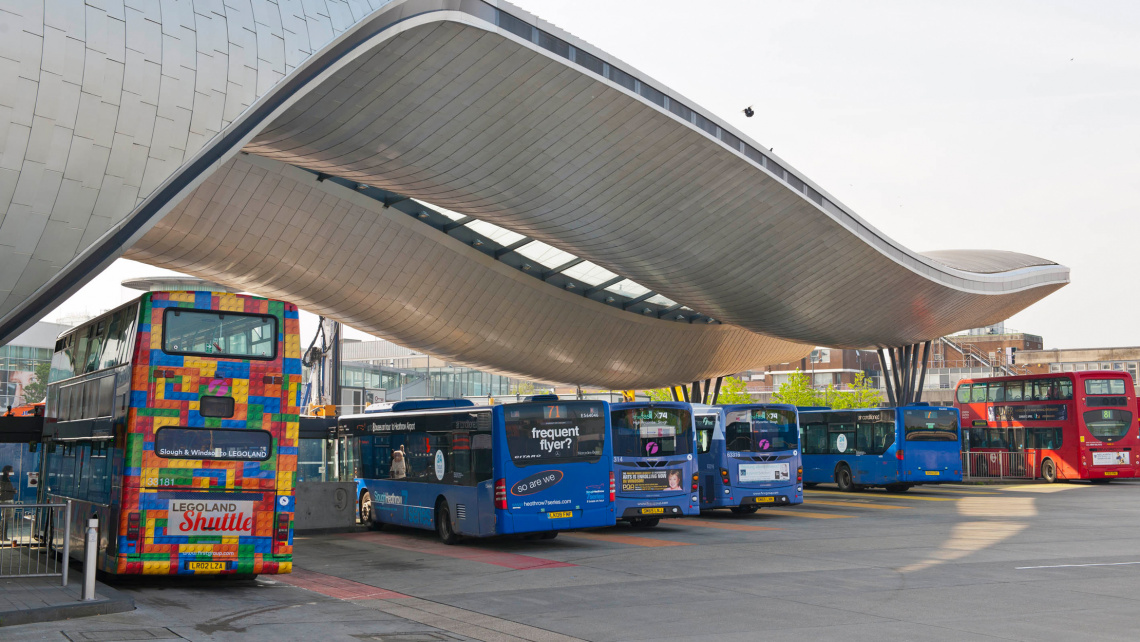 Slough's enviable location within London's commuter belt area is one of the reasons why this suburban area is becoming an increasingly popular hotspot for those hunting for a new home and/or investment.
With convenient services into London and other key locations such as Heathrow Airport, securing a place in Slough is in high demand because of its proximity to places offering abundant employment opportunities. Whether it is by train or road, connectivity to and from Slough is one of the area's major benefits and makes it one of the country's biggest investment hotspots and most coveted place to live outside of the capital.
Travelling by Rail
With exceptional links into London, and other crucial locations in the South West and South East of England, Slough is prized by its population for its commutability factor. First Great Western services into London Paddington run frequently from Slough station, with two fast trains running every half an hour and arriving into Paddington in approximately 17 minutes.
With Heathrow Airport being one of Slough's key employment hubs, quick travel links here are an essential aspect of the area. Heathrow can be reached from Slough station in 35 minutes, which is ideal for those who are working there or travelling internationally. Another exciting proposal that will benefit Slough is the Western Rail Access to Heathrow (WRAtH), as it is estimated that with this service it will only take six minutes to get from Slough to Heathrow. Slough Borough Council have stated; 'Improving local and global connectivity is essential to preserve Slough's position as an economically active town in the heart of the prosperous Thames Valley.' This possible scheme may be introduced to the area in 2020, which would result in great promise for the growth and potential of Slough.
Slough's railway station also offers trains into other key destinations, where passengers can expect to arrive in Oxford in an impressive 39 minutes and to Windsor in just six minutes.
Travelling by Road
Slough benefits from being close to some of the country's key roads and motorways, including the M4 corridor and the A4. The M4 corridor is one of Slough's most valued employment hubs as it is home to a huge selection of technology businesses, O2 being one of Slough's principle companies.
For those who would rather travel to Heathrow Airport via road, it can be reached in 15 minutes on the M4, which is very convenient for frequent travellers and employees of the airport.
Slough is also home to a popular cycle sharing system which allows the people who live in the area to conveniently cycle to and from work form local train stations. In addition, route 61 of the National Cycle Network also runs through Slough.
Crossrail
Once Crossrail has been introduced to Slough, transport times to Heathrow and into London will be significantly reduced, meaning that the area will see major benefits including an increased demand in property and higher rental yields.
As a result of Crossrail, residents of Slough will be able to reach Heathrow Terminals one, two and three in a convenient 17 minutes, while Terminal 4 will be accessible in a short 23 minutes. For those who work in the City, Crossrail will bring endless benefits as journeys to Liverpool Street will be reduced to less than 40 minutes, plus the West End will be within reach in an impressive 32 minutes.
Property in Slough
Skyline
Situated just five minutes' walk from the High Street and 11 minutes from the future Crossrail hub, Slough station, Skyline comprises a fantastic collection of studio, one and two bedroom apartments - all expertly designed and fully equipped for residents' needs.
This development ideally suits first-time buyers and Buy-to-Let investors looking for a property within close proximity of the capital.
Skyline has now successfully sold out. For more information about Skyline, please click here to view the development on the Galliard Homes website.
Atria
Ideally designed to cater to 21st century living, Atria comprises a contemporary specification featuring fully-integrated kitchen appliances, elegantly appointed bathrooms with chrome-plated accessories and video entryphone security.
Located within a short 10 minute drive from Slough station, Atria is perfect for commuters looking to escape London prices but still want to be within convenient proximity to the city.
Atria has now successfully sold out. For more information about Atria, please click here to view the development to view the development on the Galliard Homes website.
Edited: 2nd November 2022