Shopping in Southwark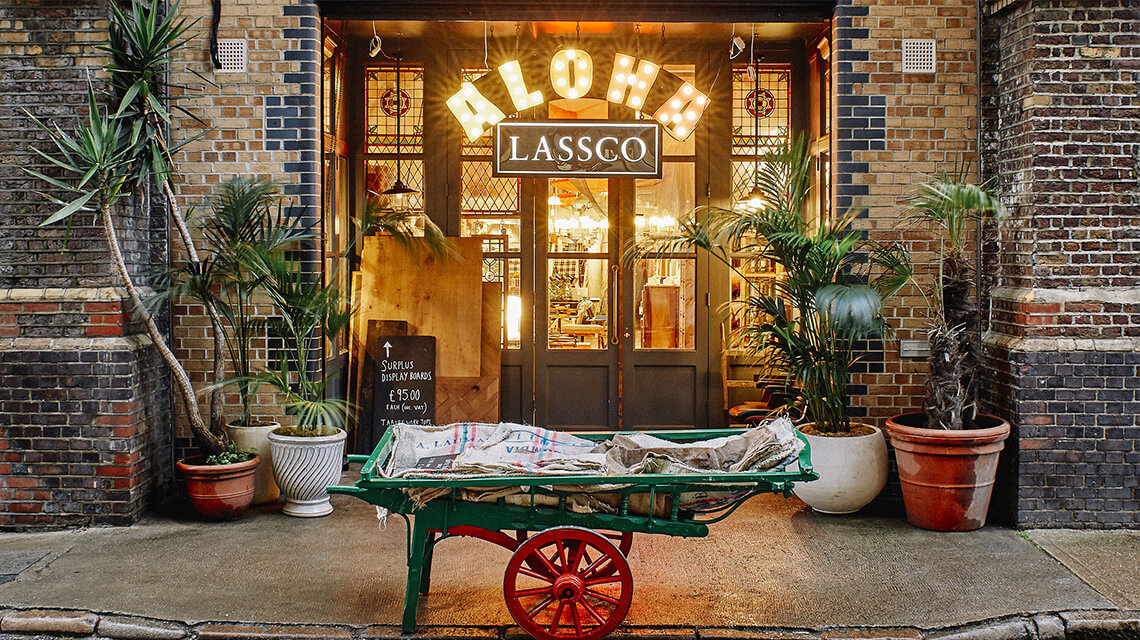 There is nothing run-of-the-mill about Southwark's shopping offerings. With one of the world's most famous food markets, one of Europe's best antique markets and a quirky selection of street markets and boutiques, it has one-of-a-kind furniture, fashion, trinkets and gifts for the most discerning shopper.
Due to the current circumstances, some of the sites mentioned below may be temporarily closed or have restricted opening hours.
Borough Market
As London's oldest food market, the world-famous Borough Market is a haven for foodies. Open every day except Sunday, overwhelm your senses with more than 100 tantalising food stalls. There's everything from fresh fruit and vegetables, to sourdough breads and cheeses, to street food and rare delicacies. There's also a range of more established shops for gastronomic treats and gifts. You'll find the original Ginger Pig butchers specialising in rare-breed meats, Neal's Yard Dairy with over 70 cheeses from across the UK and Ireland, Brindisa for Spanish gourmet delectables and cult cake shop Konditor. Now that you have the gastronomic inspiration, Borough Kitchen Cook Shop is on hand with the gadgets, stocking a stylish selection of kitchen tools and tableware.
Hay's Galleria
Set on the river, the impressive Grade II listed Hay's Galleria is a mixed-use space with offices, restaurants and an enticing selection of shops. Originally one of the city's oldest Thames docking points for unloading and storing produce, it is now one of London's most beautiful shopping centres with a magnificent vaulted glass roof and a 19m moving bronze ship sculpture. It houses a range of high street shops as well as more unusual boutiques and craft stalls selling accessories. Don't miss The Riverside Bookshop, a charming independent book shop with knowledgeable staff, and The Christmas Shop, selling Christmas decorations all year round.
Bermondsey Antique Market
According to Secret Escapes, Bermondsey Antiques Market is one of the top five antique shopping hotspots in Europe. Considering the quality and range of antiques on offer at this Friday market, it is no surprise. Bargain-hunters flock from all over to peruse the 200 stalls, overflowing with everything from furniture, to china, to glassware, pottery, jewellery and fashion. The market is open every Friday, 6am - 2pm, so if you want to get ahead of the crowds get there early. To make the most of your visit, head to one of the food stalls for lunch afterwards to pour over your finds.
Maltby Street Market
Opened in 2010, Maltby Street Market is a charming weekend market. Set around the higgledy-piggledy 'Ropewalk Alley', decorated with nautical ropes and colourful flags, you'll feel as if you've stumbled upon one of the city's best kept secrets. You won't make it very far before emptying your pockets at the numerous food vendors offering all kinds of temptations. The market was actually set up by LASSCO (The London Architectural Salvage and Supply Co.), which sits amid the hustle and bustle. A salvage, antique and architectural store, it is known for its timber flooring, vintage tiles, mid-century furniture and rare curiosities. Whether you're renovating a home or simply looking for a one off piece, it never fails to provide.
Bermondsey Street Boutiques
As one of London's oldest streets, Bermondsey Street has a long history, but these days it is firmly in the here and now with some of the city's trendiest bars, restaurants and shops - read our full run down here. Free from the usual chain stores, it's home to a range of unusual boutiques. The award-winning Bermondsey 167 was opened by former Burberry designer Michael McGrath, selling stylish menswear and a hand-picked range of lifestyle furniture, art and accessories. If it's a heartfelt gift you're after, homeware and arts and crafts boutique Bermondsey Fayre sells 'beautiful things made with love', while Lovely and British stays true to its name, stocking stylish British-made products and collectables. For dreamy glassware, the London Glassblowing Gallery offers some of the UK's most exquisite glass products.
Flea at Vinegar Yard
If it's vintage finds and unique designs you're after then Flea at Vinegar Yard has the answer. You don't have to rifle through mounds of clutter - this weekend vintage and makers market is carefully curated to bring customers only the trendiest offerings. Nestled just behind London Bridge station, next to Guy's hospital, its stalls are overflowing with everything from antique furniture, to clothing, books, bikes, cameras and vinyl. If you can't make the weekend, there are also shipping containers which are home to pop-up shops that stay open all week, with the likes of Electric Ray, Vintage Paradise and Pezze. The coffee shop The Gentlemen Baristas is also on hand to get you charged up before the bargain hunting begins.
Museum Specialities
The Southwark area is also rich in museums and galleries each with their own quirky shop. There's the Tate Gallery Shop with hot-off-the-press custom prints, contemporary accessories and art books. The Science Gallery London is the place to go for gifts with intellect, its products taking inspiration from science, art, health and medicine.
Edited: 28th November 2022