Living in Surrey Quays, London SE16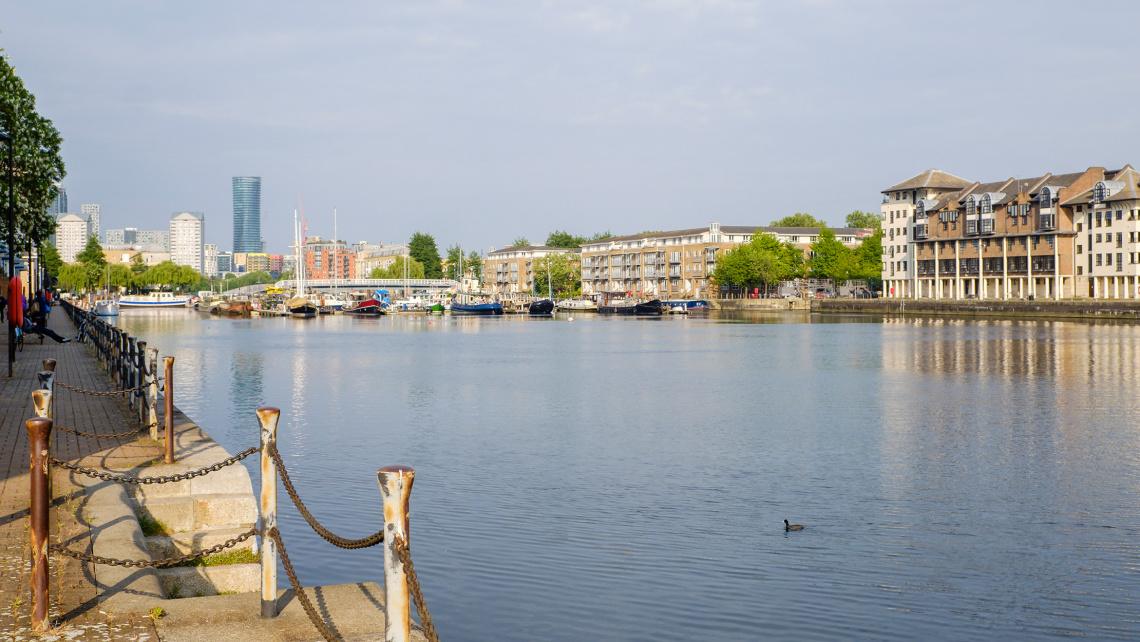 Marine Wharf East Surrey Quays lies within the district of Rotherhithe in the London Borough of Southwark and has been given a new lease of life over recent years, luring in young professionals and families to live, play and stay in the area.
Providing everything one could possibly need for an enjoyable, comfortable and convenient lifestyle, from excellent travel connections to Canary Wharf to the tranquillity and peace of luscious green areas and serene river views; Surrey Quays is the place to be for an unparalleled slice of the London lifestyle.
Property
Just a 10 minute walk from Surrey Quays Overground station and 15 minutes from Surrey Quays Shopping Centre, this development boasts a collection of exclusive one, two and three bedroom apartments for sale that are the perfect choice for young couples, families and professionals wishing for a quick and convenient route into Canary Wharf or the City. Residents can enjoy the luxury of plush interiors and splendid specifications throughout, not the mention that each apartment offers a balcony or terrace showcasing incomparable views.
Marine Wharf East has now successfully sold out however, for more information on property availability in London please click here.
History
A flourishing area full of success was once what Surrey Quays, or Surrey Commercial Docks as it was then called, was best known for in the early to mid-nineteenth century, as its waterway network was flocked with boats delivering goods from all over the globe. In 1969 the docks were eventually closed and the thriving days at Surrey Commercial Docks were suddenly a distant memory for almost a decade afterwards.
The area benefitted from a big renovation which started in the early 1980s that promised an impressive 5,500 new homes in hope of boosting the population of the neighbourhood, which had dwindled to less than 6,000 people. The name 'Surrey Quays' was later adopted in 1988 after the opening of Surrey Quays Shopping Centre, which brought a breath of life into the area; Surrey Quays is now in the second phase of regeneration and will without doubt return to being the thriving location it once was.
Food and Drink
There is a quaint selection of bars and restaurants that will certainly hit the spot, whether it is for a quick drink after work with friends or a pleasant dinner with the family, Surrey Quays has something for everyone. One of the most bustling restaurants that gets visited from Londoners far and wide is Café East, a Vietnamese place that sources some of its ingredients directly from markets in the Far East.
A popular bar and restaurant amongst City commuters is The Yellow House; conveniently situated opposite Surrey Quays station, this is the perfect location to forget about work troubles after a long day at the office. The menu boasts a hearty selection of Modern European food, including mouth-watering chargrilled meat, thin-crust pizzas and more-ish deserts.
One of Surrey Quays' best features when it comes to bars and restaurants has to be The Wibbly Wobbly on Greenland Dock; the novelty of this bar will never cease because who does not want to have a drink on the river while enjoying spectacular views of Canary Wharf? For an extra helping of riverside dining after a tipple on the docks, The Ship and Whale will most certainly suffice; this gastropub presents such a warm ambience that is perfect for an evening with friends and family and will become your favourite local pub in no time.
Entertainment and Culture
There is an abundance of places in Surrey Quays that will allow you to soak up the culture and be inspired. If art museums are where you like to spend your Saturday afternoons, Café Gallery Projects, located only a seven minute walk from Canada Water station will be right up your street because as well as observing some breathtaking contemporary art, you can enjoy the wonders of its setting in Southwark Park.
A popular choice for families is of course Surrey Docks Farm; this farm spans over an impressive 2.2 acres of land and offers the opportunity to visit an exciting open animal yard, a bee room and so much more.
The Brunel Museum is by far one of the area's biggest assets because there is always something new to learn and enjoy. This museum revolves around the life and work of renowned architect Isambard Kingdom Brunel and offers boat trips, tunnel walks and a delicious café, just to name a few.
If the entertainment and culture available at Surrey Quays is not enough, the nearby area of Bermondsey offers an array of vibrant food and antique markets that will absolutely fit the bill.
Shopping
Surrey Quays Shopping Centre is a popular location in the area and will meet all of your retail needs; as well as being home to some big brand names including Boots, New Look and River Island, there is also a number of delicious food outlets that will help you refuel during your shopping trip. In addition to the plethora of shops and restaurants, there is also a cinema and a bowling alley; what more could you ask for?
Green Space
One of Surrey Quays' greatest assets is the abundance of park life that adorns the area with tranquil rivers, luscious greenery and charming wildlife. There are a few parks in the area that have been proudly awarded with the Green Flag Award consecutively over the past few years and it is not difficult to see why; Southwark Park is one of the most popular in the area and it covers an expansive 63 acres of land. When in Southwark Park, expect to marvel at the sparkling waters that ripple on the boat lake, observe the charming wildlife or simply sit and enjoy the scenery with some tea in the café. Another award-winning park nearby is Russia Dock Woodland; an excellent family atmosphere can be found here as it is the perfect place for dog-walking, picnics and playing.
Person of Interest
Who knew that Surrey Quays had such creative roots? This South East London location has in fact been home to a variety of familiar household names, including Michael Caine and Alfred Hitchcock, who were born in the area.
Education
There is an excellent selection of schools near and within the Surrey Quays area, meaning this London location is a superb choice for young families who want to be close to a choice of educational establishments; many of the primary schools in the Surrey Quays/Rotherhithe area have even been ranked as outstanding by Ofsted, including Redriff Primary School and St Joseph's Roman Catholic Primary School.
Close by in the City there is also a great selection of private schools, including City of London School which is a well-esteemed school in the Square Mile; located near a collection of stations including Mansion House Underground station and Blackfriars Underground station, this school is within a convenient half an hour of Surrey Quays.
For further information about the top London universities, read our in-depth guide.
Local Council
Getting There
London Overground
The area is home to three major train stations, Surrey Quays, Canada Water and Rotherhithe, which are all run on the East London line on the London Overground. Both Whitechapel and Shoreditch stations can be reached from Surrey Quays in approximately 12 minutes and run services into the City.
Underground
Canada Water is also conveniently served by the Jubilee Line and is only one stop away from Canary Wharf, perfect for young professionals who need a quick commute into the financial hub of London. The West End is also impressively accessible from Canada Water on the Jubilee Line as Green Park is only six stops away and can be reached within 16 minutes.
Edited: 20th March 2023