Surrey Quays vs. Wapping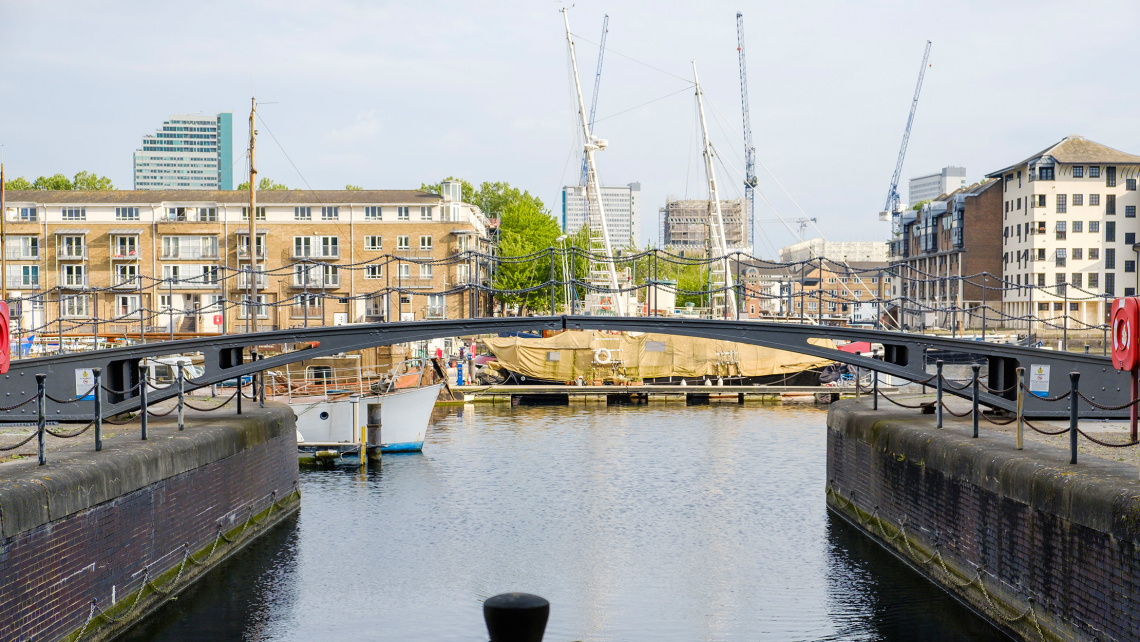 London's Docklands is fast becoming the most coveted place to live in the city thanks to various regeneration plans breathing new life into the area.
There is something for everyone, from culture to nightlife, there is never a dull moment and the village-like atmosphere just adds even more charm to the area. Particular locations to keep an eye out for are Wapping and Surrey Quays as they both boast up-and-coming developments, superb travel connections into the heart of London and an assortment of appealing venues and quaint spots that are ideal for families, young professionals and those who are simply looking to escape the hustle and bustle of city life. But which of these Docklands locations is the one for you?
Surrey Quays
According to Homes and Property, Surrey Quays' 'striking architecture, fast links to Canary Wharf and a second phase of regeneration are pulling in young professionals and encouraging the newcomers to stay...' Once this exciting redevelopment is complete, the area will offer new public spaces and thriving food stalls that will give the area an extra boost of vibrant energy that will lure in new residents, as well as an abundance of Londoners visiting from all over the city.
This London location is a perfect choice for young professionals because Surrey Quays Overground runs services to Shoreditch and Whitechapel in just 12 minutes where you can get direct services into the City in just minutes.
The inviting and village-like atmosphere gives Surrey Quays its community spirit, making it a top location for young families looking to settle. The selection of excellent primary schools is one of Surrey Quays' best assets when it comes to young families as certain schools, including Redriff Primary School and St Joseph's Roman Catholic Primary School have been exclusively classified as outstanding by the Office for Standards in Education, Children's Services and Skills.
The superb range of nature and parklife within the area is another reason why Surrey Quays is an excellent choice for families. Spanning an impressive 63 acres is Southwark Park, a delightful area of green space that is ideal for strolls, picnics and sporting activities, what better way to spend the weekend with the family? For something a little scenic, why not take a walk along the Thames Path Bridge and soak up the fresh air and incomparable riverside views.
Marine Wharf East will be a remarkable addition to the docks of Surrey Quays and will appeal to both young professionals, as it boasts a location just a 10 minute walk away from Surrey Quays Overground station, as well as young families because it is situated near the charming and inviting parklife. This development will be an impressive assortment of one, two and three bedroom apartments including 16 fully-accessible properties that will cater to every need.
Marine Wharf East has now successfully sold out however, for more information please view the development on our website.
Wapping
Recently there has been a new buzz surrounding this East London location and it is not difficult to see why, considering it is London's new hotspot for the young and trendy looking for unforgettable entertainment and nightlife. Warehouse spaces are all the rage when it comes to nightlife venues and Wapping boasts a few locations that have become immensely popular over the past year; Tobacco Dock in Wapping has been a major hotspot since 2014 for hosting a range of highly anticipated music events that are organised by the renowned event coordinators, London Warehouse Events. Now when Londoners think about Wapping, an exuberant atmosphere, lively current DJs and an addictive vibe is what comes to mind.
Downsizers looking to move away from the hum of Central London are also beginning to turn to Wapping because of its charming cultural ambience. The serenity of Wapping Rose Garden and the soft sound of the pleasant melodies from Wilton's Grand Music Hall lure in residents looking for a more peaceful lifestyle but can still enjoy the luxury of the rest of London at their fingertips with Shoreditch only a 7 minute journey from Wapping Overground station and Canary Wharf being less than 20 minutes away on the DLR from Shadwell.
Galliard Homes is proud to introduce Wapping Riverside to the area because it will provide a slice of loft-style luxury to the area and will provide refined specifications that will be second to none. This impressive warehouse conversion will showcase incomparable views of the River Thames, which residents will be able to enjoy from the comfort of their own exclusive balcony or terrace.
Wapping Riverside has now successfully sold out however, for more information please view the development on our website.
Edited: 22nd November 2022