New Bridge for Old Main Line Canal in Birmingham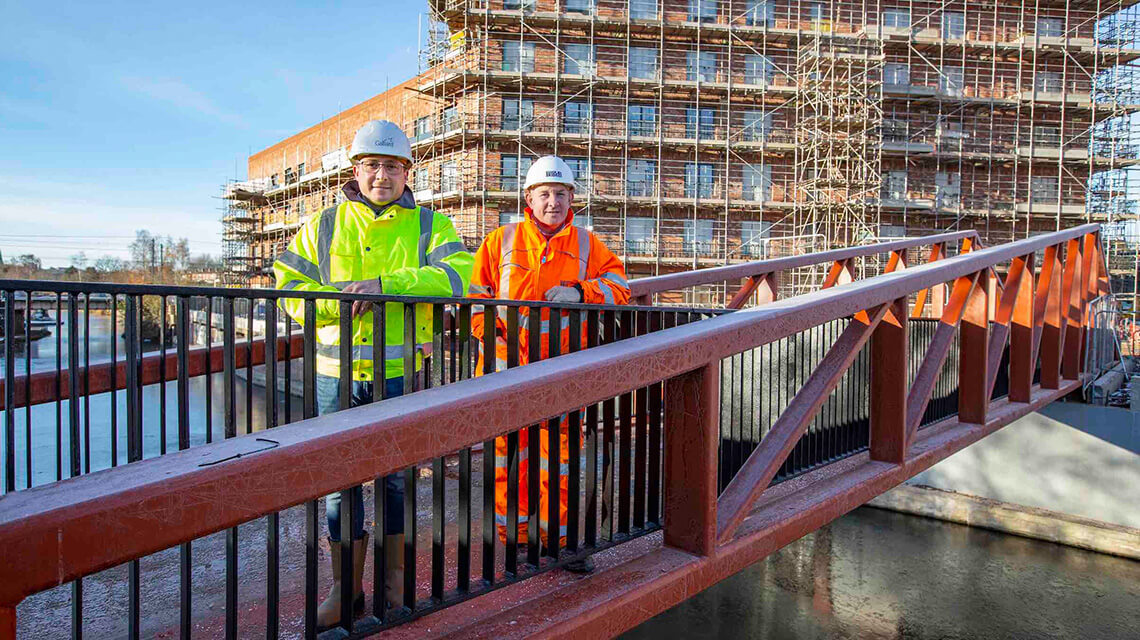 A new public footbridge has been installed on the Main Line Canal at Soho Loop, Birmingham.
The bridge connects new residential development Soho Wharf to the existing Eyre Street Basin bridge and provides pedestrians with a crossing point for direct access to the city centre along the canal.
Heimstaden Bostad, owner of Soho Wharf, and development partner The Galliard Apsley Partnership, commissioned Shrewsbury-based bridge design company Beaver Bridges to complete the £1 million project.
Jonathan Wilson, design manager at Galliard Homes, said: "This is a significant milestone for Soho Wharf. The bridge will provide an important link from the site to the city centre via the waterways. This will not only benefit residents of Soho Wharf but also the wider public, especially those working at or visiting the nearby City Hospital."
Beaver Bridges worked closely with the Canal & River Trust to develop the concept for the steel cantilever truss footbridge, which weighs 28 tonnes and measures 26 metres long.
Richard Hinckley, sales director at Beaver Bridges, said: "We are delighted to have supported The Galliard Apsley Partnership with the design and installation of the new bridge, which will leave a lasting legacy on the Birmingham canal network.
"There were several challenges with the project, including designing a bridge that could span the canal without bearing onto the existing canal wall. Working with the client and the Canal & River Trust, our solution was a lightweight yet stiff cantilever truss design.
"We also had to transport the bridge as a single piece to site and negotiate it through an active construction site, which posed a number of challenges in itself."
Shomsur Khan, from Canal & River Trust, said: "Research shows that spending time amongst nature alongside our historic canals is good for physical and mental health. This new bridge will provide local communities easy access to our canals which they can use for leisurely walks, bike rides or as part of their daily commute into work or school."
Soho Wharf comprises 752 build-to-rent homes, including 650 apartments and 102 townhouses, providing affordable homes at discounted rents 20 per cent below market value. There will also be 10,000 sq ft of commercial space and 300 parking spaces.
Almost 40 per cent of the site will be green space, including public realm, private communal areas for residents and private gardens to the townhouses.
Amit Kumar, Heimstaden UK head of operations, said: "Soho Wharf has regenerated this area of the city, delivering a mix of houses and apartments, designed with our 'Friendly Homes' ethos in mind, and green spaces for our customers.
"The bridge installation will be an important link to connect the two parts of the city, giving our 2,000 residents, the first of which are expected to move in early this year, a beautiful canal route commute."
The new bridge will be open to the public in September 2023.
Edited: 13th January 2023