Benefits of Buy-to-Let in Slough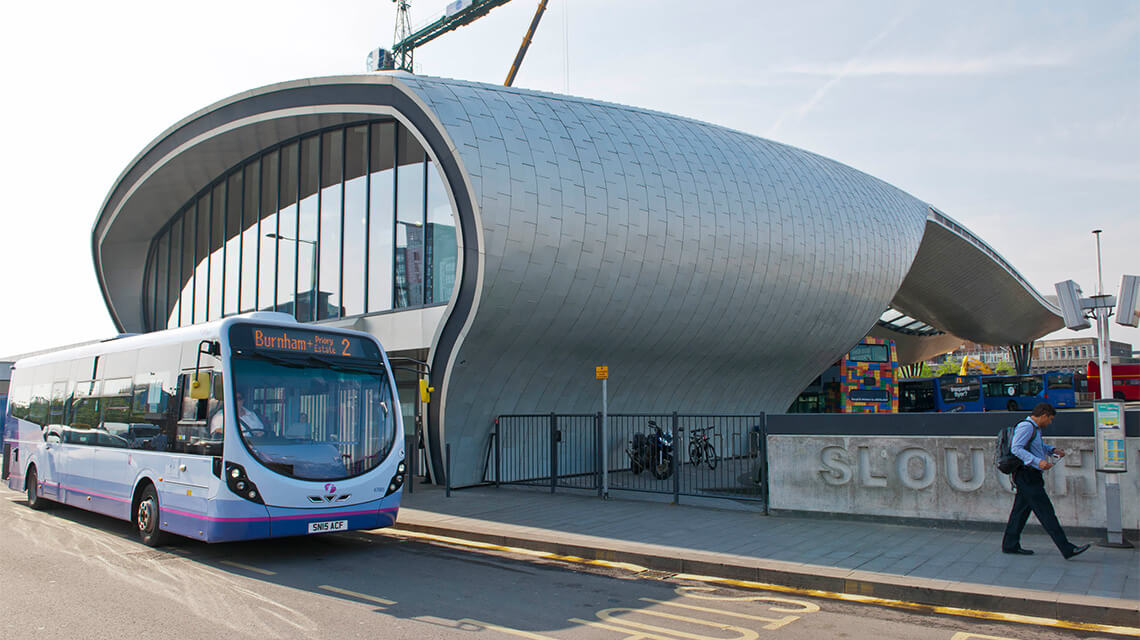 Located in east Berkshire, less than 20 minutes from Central London via train, Slough is a flourishing business hub, a rapidly-expanding centre of regeneration and a thriving commuter catchment, soon to benefit from Crossrail once services commence - all contributing to Slough's appeal as a hot property location for Buy-to-Let investors.
Following recent tax changes impacting the Buy-to-Let market, landlords are increasingly scrutinous of the areas they invest in to target properties that promise both value for money and high rental yields.
With London's property prices steadily soaring, landlords are looking further afield for their next investment and Slough is certainly proving to be a popular choice.
So what makes Slough so appealing to Buy-to-Let investors?
Regeneration
Despite its proximity to London and cultivated suburban locations such as Eton and Windsor, Slough has previously suffered reputational challenges.
Home to Europe's largest trading estate in single ownership, Slough's business status has been its crowning glory since its birth in the 1920s; however the area's evolving infrastructure will see Slough continue to progress as a prime catchment area where residents will desire, not only to work, but also to live and play.
A £1bn regeneration project is currently underway to provide a new commercial district, new homes, and retail and leisure space. More businesses and residents will be welcomed into the area as a result, rejuvenating Slough's reputation, boosting its economy, and increasing its appeal to young professionals and growing families looking for a home outside of the capital.
Part of the regeneration is already complete; in 2011, a new bus station was introduced, linking the train station to the town centre, with more pedestrian-friendly routes dotted around the area for improved safety and aesthetic appeal. Also, The Curve - Slough's brand new premier library and cultural centre - opened to the public in December 2015, adding to the community vibe, and creating new opportunities for residents and visitors to enjoy.
Business
Previously labelled as 'Britain's Boomtown' by the Observer, Slough is the UK's most productive town, contributing a whopping £8bn to the national economy. A huge cluster of global companies have their European and UK headquarters based in Slough, particularly within the IT, pharmaceuticals and automotive industries, including O2, BlackBerry, McAfee, Honda and GlaxoSmithKline.
Heathrow Airport is yet another employment hub, being situated less than seven miles from Slough, and with the prospect of a third runway, the population could be set to rise even further, bringing good news for Buy-to-Let investors.
Transport
Whilst offering a more laid-back lifestyle, away from the hustle and bustle of the capital, Slough is exceptionally close to a number of transport links for easy access to London, the rest of the UK and beyond. The town sits in between three major motorways - the M40 to the north, the M25 to the east and M4 to the south - whilst the M3 is also within close reach, less than 20 minutes' drive away.
For international travel, Heathrow Airport is approximately a 15 minute drive away, whilst Gatwick and Luton can be reached within the hour. If that wasn't enough, Crossrail will connect Slough's mainline station with the capital, cutting journey times and eliminating transfers, whilst the Western Rail Access will provide a new high-speed service to Heathrow Airport in a record six minutes, compared to the current times which can take up to 40 minutes.
Last year, property values were forecasted to rise by up to 47% due to Crossrail, according to JLL. With the average home found to be worth around £315,731, it was estimated that by Crossrail's introduction this would rise by £148,393 to £464,124!
As attention continues to move further away from London, whereby proximity will become an issue of the past, the market will inevitably catch on to the trend, making now the time for Buy-to-Let investors to cash in and watch as their investment grows, whilst the area evolves and attracts new tenants.
Robust Rent Revenues
We are now living in what's dubbed 'Generation Rent', not just due to increasing property prices, but also due to the flexibility of a modern lifestyle, where the younger generation seek an easier lifestyle without the hassle of property maintenance, and don't want the rigidity and responsibility of owning their own home.
Property prices in Slough have increased by nearly 23% over the last year (Foxtons), but it is still found to be more than 40% cheaper than London. Landlords looking to expand their portfolio or wanting to explore their options for their first Buy-to-Let purchase should certainly consider Slough, where currently a quarter of the homes owned in the area belong to private lessors.
According to a report conducted by CBRE, Slough is the third most popular rental hotspot and receives the largest monthly rent revenues, along with other areas such as Reading and Southampton.
Properties around the town centre currently have a rental price of £795 per month, providing landlords with a gross yield of 5.9%; however this will no doubt increase in the coming years as the area transforms and property price predictions come to fruition, including the anticipation that homes will increase by £275 to £400 sq. ft. by 2020.
New to Buy-to-Let? Let us help you through the process with our dedicated Buy-to-Let guide.
Property
Slough is one of the UK's most lucrative towns for business and now, as London's property prices continue to increase, homeowners and investors are looking to this Thames Valley location for its residential prospects, promising capital growth thanks to transformative projects such as Crossrail.
Atria is located within a 10 minute drive of Slough station and showcases nothing but affordable elegance. Now sold out, this development comprises a collection of 120 contemporary studio, one, two and three bedroom apartments that all feature energy-efficient appliances and a stylish design.
For further information about what it would be like to live in Slough please click here to view our area guide.
Edited: 8th August 2023