Hotel-Style Developments Rule London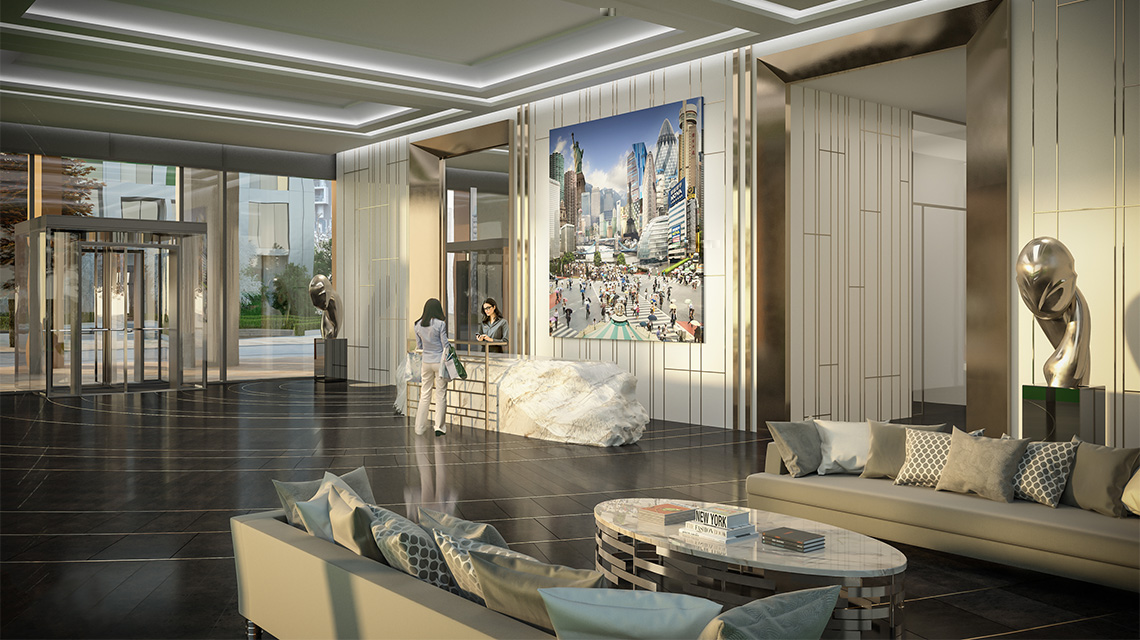 Over the years, tastes have changed when it comes to buying property as wealthy buyers no longer desire large houses in the countryside with winding staircases and acres of land, they are after lavish London pads with stylish interiors, hotel-style facilities and incomparable city views.
In order to keep up with the trend of trophy apartments and to give buyers what they want, developers are creating properties that offer nothing but luxury and indulgence. In fact, Kay & Co have released statistics that show that '35% of units under construction or completed in 2014 are in 5* developments.' Out of these luxury developments, over 70% of them can be found in the prestigious locations of Marylebone and Fitzrovia in London's West End.
The Increase of London's Luxury Property Sector
The incline in the capital's luxury property market has encouraged London estate agents such as Kay & Co to state 'some of the best addresses in the world can be found in London's new luxury apartment complexes, where residents enjoy much more than just unparalleled living space with some spectacular views…it's just like living in a hotel.'
There has been a significant shift in the property market over the last decade where sales in the luxury sector have significantly increased. According to Knight Frank's Global Development Report from 2015, the amount of prime luxury properties sold in 2014 in London was approximately 1,638, which was a monumental increase from the 524 luxury properties that were sold in 2009. It has even been said that London's ultra-prime property market has now overtaken New York's and it is not expected to slow down anytime soon as it is estimated to continue rising over the next decade.
Why is London the Most Desired Location for Luxury Property?
There is a reason that London is such a coveted address amongst people worldwide and that is because it is a known as a 'World City.' London has everything you could possibly need and imagine all in one place; culture, education, business and luxury are just moments apart from each other and this is something that investors cannot fault, resulting in why London is one of the world's most desired cities to live in.
One of London's luxury estate agents, Garton Jones, has reinforced London's deluxe appeal by stating that 'for many international investors, London has long been a go-to haven. With its iconic cultural landmarks and track record of strong capital gains plus increasingly attractive rental incomes, the UK's most popular and exclusive addresses are in high demand.'
Which Features Set London's Luxury Developments Apart from the Rest?
When it comes to indulgent living, investors want more than just opulent interiors and unbeatable views, they want the development to be complete with lifestyle facilities that will provide them with five-star living that is comparable to that of an extravagant and lavish hotel. Currently, one of the most in-demand development features is a cinema and/or a private screening room, allowing residents the exclusivity of enjoying a motion picture in a plush setting away from the bustle of an average cinema.
Everyone knows that a health and fitness craze begins every January, but the start of a new year does not have to constitute new lifestyle habits. New five-star developments are more frequently including health facilities to cater to fitness fanatics and encourage the well-being of residents. As said by The Telegraph, 'fitness is becoming a major focus for London's luxury developers. Just as high-end apartments are starting to look like the swankiest hotels, so must the facilities.'
Another development feature that would appear to be an absolute essential, and on the top of many purchasers' wishlists, is the addition of a 24-hour concierge service. Residents want the assurance that their wants and needs could be taken care of in the snap of a finger, including dry cleaning, valet parking and cleaning services. This attentive service is so important for purchasers of luxury developments because then they are free to explore the endless wonders that London has to offer, from high-end shopping to sight-seeing and fine dining.
Galliard's Luxury Offerings
Galliard Homes has ensured it caters to these demands in luxury property with an array of different developments throughout London due to include all of these luxury trends and more, making each development second to none in the capital's luxury property market.
Residents of the impressive development Harbour Central in Canary Wharf will be guaranteed a life of sheer leisure and relaxation as they will have the privilege of being a member of the development's exclusive 'Club Maine.' Facilities will include a lavish health and fitness spa where occupants will be able to enjoy access to treatment suites, a sauna and steam room, as well as a remarkable fully-equipped gym. The private screening room, consisting of 20 seats, will define intimate film viewing and will be the answer after a busy day stomping the pavements of Canary Wharf.
Galliard Homes' brand-new and exclusive development in Shoreditch, The Stage, will provide everything that investors could want and more. There will be an impressive gymnasium and health facilities within the complex and as an additional bonus, residents will be guaranteed a three-year complimentary gym membership, so there will be no excuse to postpone health and fitness goals until the start of each New Year. As well as comprising a private 20-seat screening room, The Stage will take it one step further and will also provide a 200-seat sunken amphitheatre exhibiting original artefacts from Shakespeare's Curtain Theatre where Shakespearean performances can be enjoyed, which is without a doubt one of the development's most defining features.
Each of these developments will also include an incomparable 24-hour concierge service which will provide residents with a hotel-esque experience, offering dry cleaning, laundry and other household services which will allow residents a more relaxed lifestyle where they can bask in the luxury of the development and take more time to enjoy the marvels that London is renowned for.
Edited: 7th December 2022