Relocating to Bristol: George Baffoe-Djan, Head of Strategic Partnerships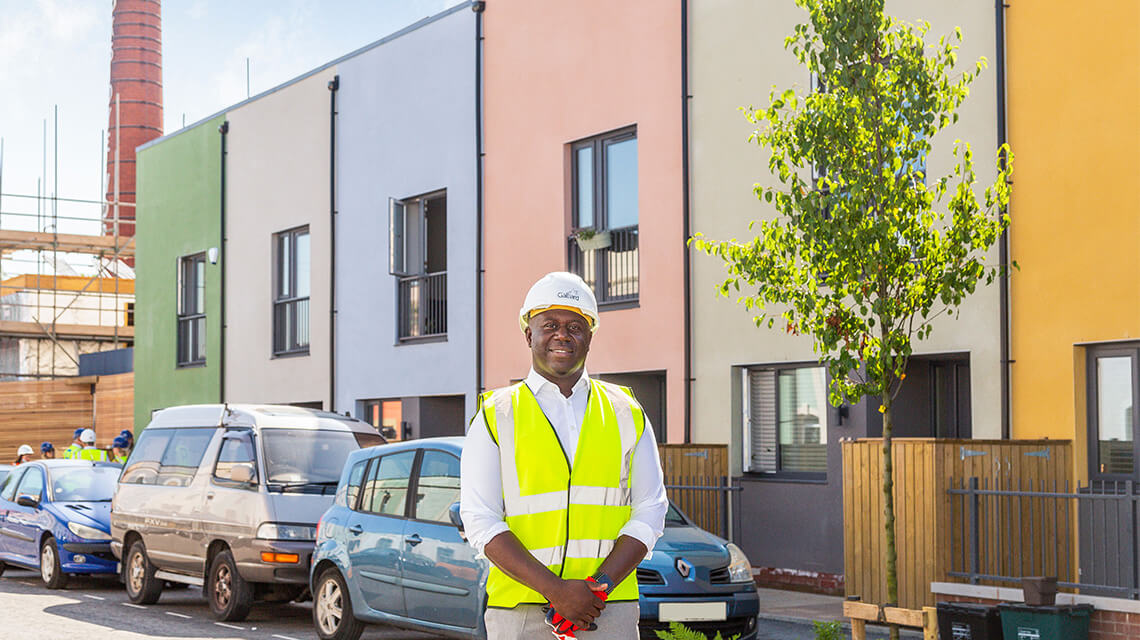 In early 2020, I relocated to Bristol with my family and began the task of getting to know the city. With the goal of finding sites for redevelopment, I knew I needed to do more than simply learn about Bristol and the people who live here. As Head of Strategic Partnerships, I am well practiced at making connections and putting myself out there. Today, two years on, I am proud of the relationships formed and the positive changes so far influenced – this is only the beginning!
Getting to know a new city is more than meeting your neighbours
The negative stereotype is that when developers come to a new location, they will only engage with the local community when a planning application is concerned, with little care beyond that. I was well aware of this, especially how it may look to locals regarding a London developer coming to their home. I knew from the start I wanted to disprove this and take a very different approach, to fully embrace Bristol's community and lay foundations for a long-term relationship with this city.
Galliard has developed new homes in and around Bristol previously, including the harbourside Brandon Yard and award-winning Hope House in Bath, in partnership with Acorn Property Group. By working with Bristol-based partners we have been able to get to know the local property industry and find out what is important to buyers here. Beyond finding sites for redevelopment, I've committed myself to seeing how best Galliard can support campaigns and make a direct impact on people's lives here.
One of the biggest lessons learned is that engaging with a community goes beyond sending emails and instead it's much more focused on a feet-on-the-ground, friendly door knocking approach! Our cities are complex and unique, so a 'One size fits all' approach to community engagement doesn't work. With each element, it is key to understand who is involved, what they need and how best to be involved. Sometimes it is being the middleman to make an important introduction. Other times it's being part of a conversation, helping to generate ideas and find solutions as part of a collaborative strategy.
Creating strategic partnerships
An initiative I'm very proud of is signing the Bristol Property Inclusion Charter, which aims to promote diversity and support minorities in the Bristol property industry. It's important for us that wherever possible we work with companies that share our values, so ensuring our partner companies are also signed up to support the charter. The wider this network grows, the more positive change we can influence on the local industry, making it fairer for all. I'm proud of who I am, and I am very aware that I may be a different face to the industry norm. Galliard has a long history of helping to champion diversity and support minorities, and in Bristol individuality and diversity is so significant.
Another scheme I'm passionate about is Building Bristol, led by Bristol City Council. The initiative is helping to deliver career opportunities, employment and skills plans across the city's many development sites. This way we can tackle educational and economic inequality and help boost skills and training opportunities. Our first development site to incorporate this will kick off later this year, something I am very excited to see in action.
For our local schoolchildren, I've been delighted to connect with Bristol WORKS. The programme sees local businesspeople invited to schools to talk about their careers. I want to show Bristol's young people that a career in property is multifaceted, not just hard hat work on a building site, and how to get onto these diverse career paths. My own interest in property was sparked at school, and I first got involved working for Galliard at a young age as an intern during school holidays, before then going on to university, so I'm keen to introduce working in this industry to the next generation.
Another way in which we've managed to connect with local school children is through our work with St Pauls Carnival Community Interest Company, a fantastic organisation. We were fortunate to work with them and St Werburgh's Primary school to showcase the children's artwork on our Brooks Dye Works site hoarding, bringing life and energy to the construction phase. It's these small changes that make a positive difference to our environment, and for many of the pupils who live at Brooks Dye Works, they got to see their art come to life.
Beyond these social initiatives, it is really wonderful to see the positive physical impact our developments have made here. At Brooks Dye Works, in St Werburghs, we're seeing local wildlife emerge and interact with their new environment. It is an inner-city site, with an industrial heritage, but after rain we are very lucky to see ducks, heron and kingfishers enjoying the flood alleviation landscaping. My family has felt very welcomed by our new neighbours and it is wonderful to experience life at one of our sought-after developments.
The future of Bristol
We have very exciting projects in the pipeline across Bristol, working with some fantastic partners including BBS Capital, Melburg Capital, Apsley House Capital and PG Group. I hope that my growing respect and understanding of this unique city will help us deliver sought-after homes and amenities for local buyers. The beauty of regeneration and redevelopment means bringing new life to disused sites and helping a city grow in ways which are beneficial to all.
Edited: 17th May 2023