Why Slough is the Next Property Hotspot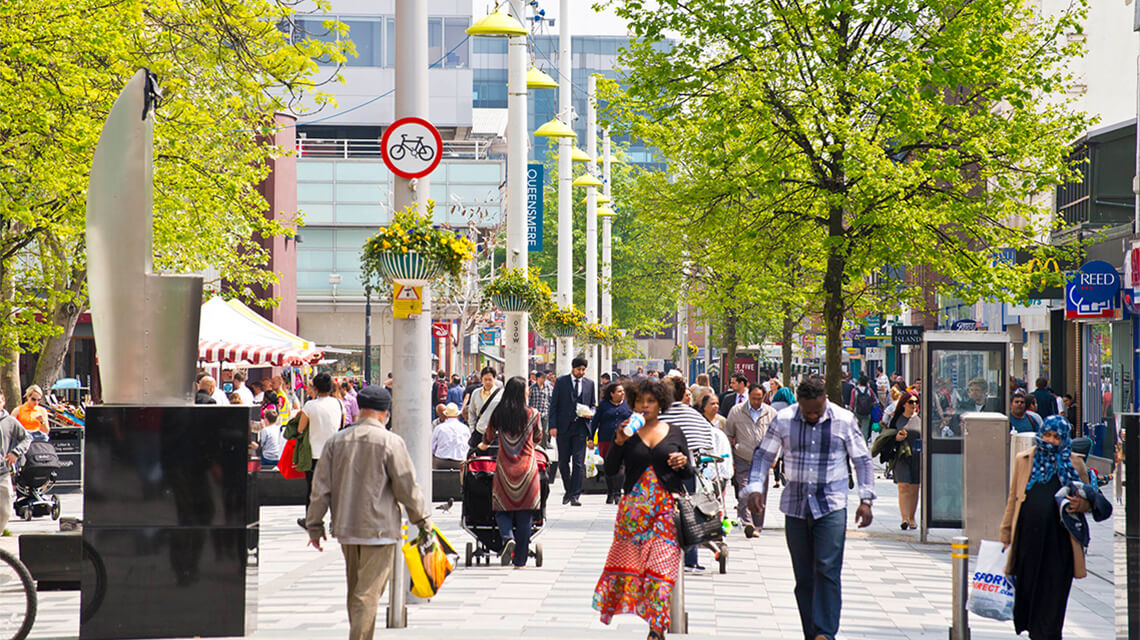 With Crossrail, Western Rail Access to Heathrow (WRAtH) and regeneration worth £1 billion planned over the next 25 years for Slough, this thriving new property hotspot promises lucrative investments.
A Thriving Business District
Home to Europe's largest trading estate in single ownership, Slough is a dynamic business district with more than 4,600 businesses located in the area, including international dynamos such as O2, Unilever, Honda and Ferrari.
The Thames Valley as a whole has been commended in the fDi Intelligence's 'European Cities and Regions of the Future' report, being regarded as the 'Silicon Valley of Europe', with Slough coming in third place for its excellent infrastructure.
Boasting close proximity to the capital and Heathrow Airport, it is obvious why Slough is the preferred residency for some of the world's biggest names. Contributing approximately £8 billion to the national economy - double the UK average - Slough is the third most productive town in the UK.
With business booming, it is high time that Slough's recognition as a thriving residential catchment balances the scales, and with regeneration on the cards, a reputation rebirth will indefinitely follow.
Regeneration Worth £1 Billion
Slough has an exciting future ahead with more than £1 billion having been invested in the rejuvenation of the town, promising a new commercial district including a hotel, bus station and expansive retail and leisure space.
The ambitious project, named The Heart of Slough, is already underway with a brand new cultural centre, The Curve, set to open in December 2015. The centre will feature Slough's premier library, a state-of-the-art computer suite, performance space, a museum and a contemporary café. The aim of this regeneration is to bring Slough into the 21st century, making it a leading cultural and creative quarter within both the UK and Europe, and more than 39 sites across the Borough are set to experience a transformation over the next 25 years.
According to Bracknell Forest Council's Executive Member for Economic Development and Regeneration, Councillor Marc Brunel-Walker, "this is the biggest regeneration investment Slough has ever seen".
Faster Travel Connections
Crossrail
The major professional services and investment management company, JLL, predicts Slough will be a flourishing property hotspot once Crossrail is implemented.
Once introduced, it will connect Slough directly to London's major stations including Bond Street and Tottenham Court Road in just 30 minutes. This brings great news for both Buy-to-Let investors and young professionals as it is estimated that property values will rise by 48% by 2021 due to Crossrail; meaning if you buy now, high yields later on will definitely make it worth the investment.
Western Rail Access to Heathrow (WRAtH)
If Crossrail was not enough, the Western Rail Access to Heathrow (WRAtH), a brand new direct rail link between the west of England and Heathrow Airport, is expected to begin in 2019 and is scheduled for completion by 2024.
Despite being less than seven miles from Heathrow, Slough's inhabithands currently have to journey 35 minutes by bus or more than 45 minutes by train, changing at London Paddington; but once WRAtH is introduced, this will decrease to just six minutes - cutting off nearly 90% of the current journey times.
The much-anticipated project is expected to result in more than £800 million of economic activity and provide jobs for an estimated 42,000 people, and there is no doubt that Slough will enjoy a big chunk of this success.
A Rewarding Residential Investment
There is no better time than the present to invest in Slough with regeneration underway and Crossrail's introduction now less than two years away. The price gap between the country and the city is the widest it has ever been, but as plans move forward to fruition, this is surely set to change.
According to emoov.co.uk's market evaluations, Slough is part of the "60% increase club"; in 2014 house prices were an average of £165,144 but the 2020 prediction is set to rise nearly £100,000 to £264,230.
It is an exciting time for Slough with infrastructural growth driving it forward as a thriving contender for business and culture, where residents can live, work and play whilst enjoy the best of county life and city convenience.
Property
Raising the bar for luxury living in a major regeneration zone, Skyline offers an exquisite selection of stylish studio suites, and one and two bedroom apartments - all expertly designed to Galliard's high specifications.
This is ideal for first-time buyers and Buy-to-Let investors, and with regeneration projects and the anticipation of Crossrail, property prices will only continue to rise, promising capital growth and high rental yields.
With prices from £199,995, Skyline offers residents luxury and convenience, being less than 30 minutes from Central London via train.
Skyline is now sold out. For further information, please click here to view the development on the Galliard Homes website.
Guaranteed to display affordable elegance at its finest, Galliard Homes is transforming this former office building into a fabulous new development comprising 120 contemporary apartments.
Located within a 10 minute drive of Slough station, where key destinations including London Paddington are reachable in 17 minutes, this development will be the ideal solution for those who want to escape the London prices, but still be within close reach of the city. Purchasers of a property in this development will benefit from having Stamp Duty fees paid, in addition to receiving a free furniture pack upon purchase.
Atria is now sold out. For further information, please click here to view the development on the Galliard Homes website.
Edited: 13th December 2022