Extending the Stamp Duty Holiday by David Spittles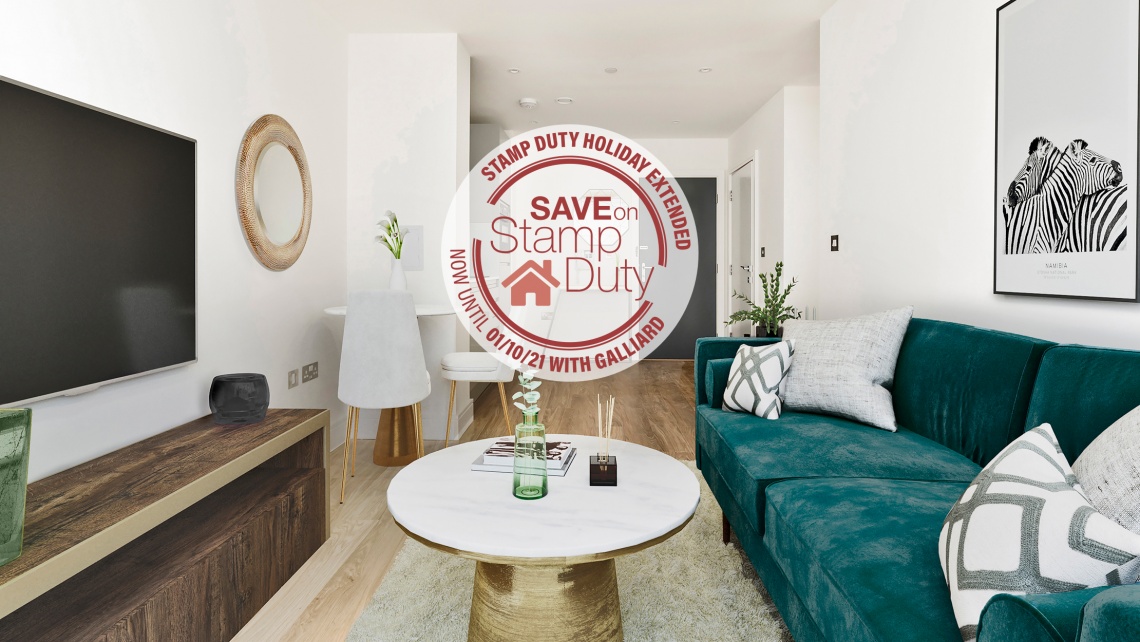 This guest article was written prior to the Stamp Duty Holiday changes announced by the Government on 3 March 2021 and all information was correct at the time of publishing. To view the most up-to-date information on the Stamp Duty Holiday and Galliard's extended deadline, please click here.
While Rishi Sunak agonises over whether to extend the stamp duty holiday beyond the end of March, Galliard has taken the bull by the horns and lengthened the deadline by six months until October 2021 across its developments.*
This is heartnening news for home-buyers. A cliff-edge looms due to a bulging backlog of transactions unlikely to complete prior to the March deadline.*
The remarkable housing market rebound has sparked a record number of deals but the system has been overwhelmed and cannot keep up with demand. Already deals are falling through due to buyers fearing the completion date will not be met. Rightmove reports a logjam of 650,000 properties changing hands.
Currently, no duty is payable on the first £500,000 of a property's value, resulting in savings up to £15,000.
The latest data show that it is taking 126 days from the time an offer is accepted to legal completion, just over four months. An estimated 100,000 deals will not be finished by 31 March.
By taking advantage of Galliard's offer, buyers can proceed with confidence, and guarantee that £15,000 saving.
Clearly there is buyer appetite. Despite the New Year lockdown activity exceeds the same period a year ago, which itself had been buoyed by the post-election Boris bounce, according to Rightmove. Visits to its website are up 33pc. Mortgage analyst Twenty7Tec reports that conveyancing searches are close to a two-year high. Galliard's own enquiries are up 39pc.
Housing market resilience has repeatedly surprised economists. The market has been on a gravity-defying run. Mortgage applications have soared to their highest level since 2007, spurred by a coronavirus-induced reappraisal of property preferences.
2021 might also be a year of two halves, with the market going into overdrive later this year when the vaccine programme is embedded.
Two factors are preventing the slowdown that most property "experts" predicted.
The first is the extent to which the government has gone to prop up people's income.
In 2008, the UK spent 1.5pc of gross domestic product on alleviating the carnage of the global financial crisis. To tackle the pandemic, the government has spent 26pc of GDP.
The second factor is the extent to which lockdown has prompted people to reappraise their property needs and desires, and move home.
Combined, these two drivers have resulted in a rare phenomenon - pent-up demand from a large number of people with the means to buy or move because of lower living expenses and government support measures.
As FT writer and MoneyWeek editor-in-chief Merryn Somerset Webb puts it:
"Nothing makes you reassess how much you like your home than being imprisoned in it."
Study the geographical nature of transactions during the last year and it is no surprise to discover that outer London has been more popular than inner London. As life gets back to normal, people are likely to remember the underlying reasons for their original choice of location.
Since the stamp duty holiday was introduced last summer, homebuyers in London have enjoyed the biggest savings - an estimated £190m, with 49pc of buyers paying nothing at all having completed below the £500,000 threshold.
Certainly the stamp duty holiday has boosted sentiment as well as affordability, but at some point what the Chancellor has given he will take away.
Galliard's extended stamp duty offer is available across inner and outer London locations. These include fashionable central neighbourhoods, fast-improving commuter towns and leafy suburban hotspots - all ripe for a perfect post-pandemic lifestyle, depending on your priorities.
Buyers also benefit from service charge refunds plus free furniture and interior design packs.
Prices start as low as £195,000 at in-demand outer east London areas such as Chelmsford and Romford, while the incentives also apply at Newhams Yard in
Bermondsey.
This south-of-the-river district popular with loft-dwellers and artists is so close to Trafalgar Square and the Bank of England that it gets into the large print pages of the A-Z. The development's "industrial luxe" factory-style apartments cost from £695,000.
Across the Thames in Docklands is Harbour Central, a new micro neighbourhood with elevating public spaces and street sculptures in bronze by renowned artist David Breuer-Weil - ideal for the Covid era. Prices from £575,000, with Help-to-Buy available too.
Working from home is also easier at Westgate House, Ealing, known as the "Queen of the Suburbs" because it is London's greenest borough. This scheme of 352 apartments has hotel-style amenities plus hot desk facilities in an open-plan workspace area. Prices from £295,000.
By extending the stamp duty holiday by six months, Galliard is providing certainty at a time of uncertainty - and giving a much-needed boost to younger buyers who struggle to save the necessary deposit, often the biggest obstacle to getting on the ladder.
Click here to learn more about the Galliard Homes Stamp Duty Holiday Extension.
*Please note this information was correct at the time of publishing and has since changed.
Edited: 26th October 2022