Marylebone's Rising Prime Central London Status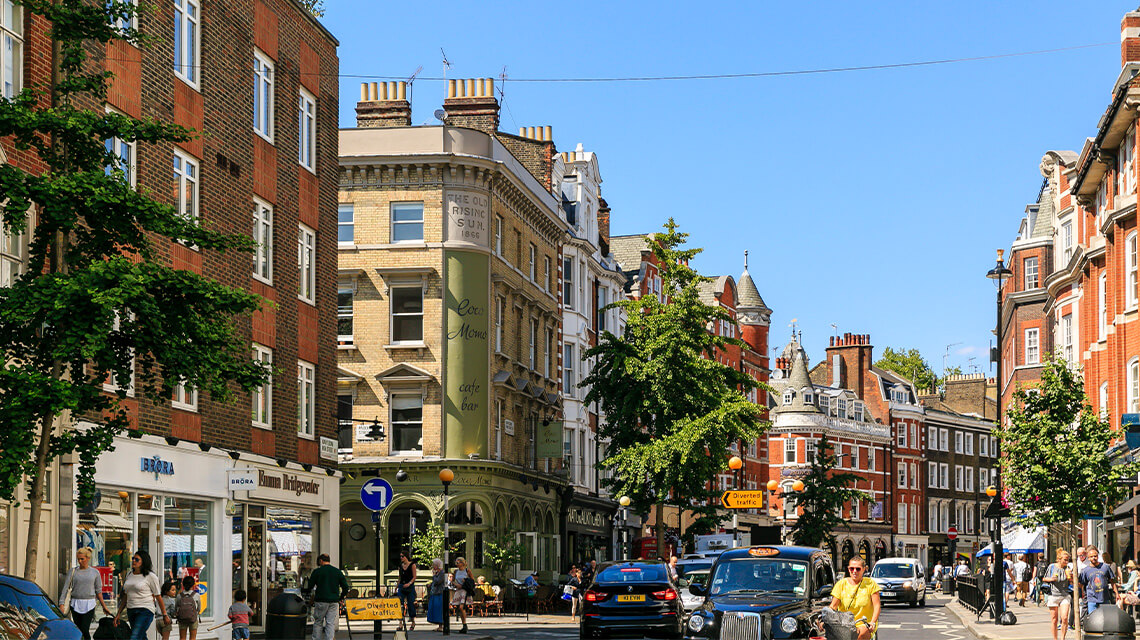 Following revitalisation over the last 20 years, Marylebone has been transformed from a lacklustre high street into a dazzling showcase of elite boutiques, fine dining and luxury residences.
In 2008 Marylebone joined the likes of Mayfair, Belgravia and Kensington on the Prime Central London index and thereafter continued to rocket, reaching the super-prime league by 2013 according to figures by Knight Frank.
Once regarded as Mayfair's younger and arguably less important sibling, Marylebone's Prime Central status has risen more significantly than any other area in London, firmly displacing its reputation as the 'poor' relation.
Galliard Homes regard Marylebone as a key area for Prime Central London investment having released our third Marylebone development in as many years at The Chilterns. Driven by market demand, once completed The Chilterns will add to Galliard's luxury Marylebone collection which includes The Marble Arch Apartments, Great Cumberland Place, The Montagu and 7 Portland Place.
Continue reading to find out more about Prime Central London and the allure of living and investing in Marylebone.
Prime Central London Overview
Prime Central London (PCL) is a term commonly used by London property market professionals to define high-end residential property hotspots within Central London. Although the definition of Prime Property can vary depending on the source, the term is broadly characterised as the top 5% of homes by value.
Typical indexes by Savills & Knight Frank refer to 'prime league' Central London locations being those which achieve sales in the £5m-plus bracket and 'super-prime league' locations delivering sales of £10m-plus on any given individual property.
A global financial centre and cultural, historical hub enriched with the arts, music and fashion, London is internationally regarded as a 'safe-haven' for property investment due to its political stability and 'world-great' status. As a result high-end property in Prime London locations continued to be an attractive investment not only for wealthy UK residents, but also overseas purchasers who account for around 38% of buyers.
Despite election uncertainty at the beginning of 2015, the Prime Central London residential market has remained resilient over the first half of this year, outperforming mainstream property locations. Savills' five-year forecast values predict 25.5% capital value growth for Prime Central London compared to 10.4% across the rest of London.
The Growth of Prime Central London
20 years ago there were only four Prime Central London districts within Savills' premier division of property - Mayfair, Knightsbridge, Belgravia and St James's. Naturally, a demand for prime housing in these best-known locations raised the sales values leaving investors seeking value-for-money outside of Prime Central London's epicentre. By 2012, following an influx of high-end property development outside of traditional prime boundaries, 10 new locations gained Prime London status. These included Notting Hill, Holland Park, Regent's Park, Kensington, Chelsea and of course Marylebone.
An April 2015 report by Pastor Real Estate on The Residential Development Market in Prime Central London identified Marylebone as Prime Central London's 'rising star', with the area undergoing a rapid transformation in terms of property development. The report identifies that of 13 prime residential development schemes set to complete in 2015, 11 are in Marylebone.
Marylebone's Appeal
It is of little wonder that Marylebone has become the Prime Central London address of choice for development and investment. With a setting that elegantly blends heritage, quality and community Marylebone's plethora of conveniences work together with its distinct and central location to form the ultimate London lifestyle.
It is Marylebone's unique mix of attributes which makes the neighbourhood appealing to such a wide variety of demographics and industries. From young professional commuters who can conveniently reach their workplace from this central location, to families attracted by Marylebone's village ambience and 'empty-nesters' who move to be closer to the restaurants and theatres of the West End, Marylebone undoubtedly has universal appeal.
To discover more about Marylebone's endless array of boutique shopping, fine dining and cultural attractions read our guide to Living in Marylebone, London W1.
The Emergence of 'Super-Prime'
Today, the story of Prime Central London is increasingly becoming the story of 'Super-Prime'. Where Prime London was determined by location, today's Super-Prime residences also showcase the highest specifications and most generous lateral spaces. In short, high-end investors are seeking the ultimate Prime London residence that they can call home rather than pied-a-terre which simply offers location.
In 2013, three £10m-plus sales catapulted Marylebone from 'prime league' to 'ultra-prime' where it has remained ever since due to an influx of brand-new high-end luxury developments.
This year Galliard will deliver The Chilterns - our most prestigious 'Super-Prime' development to date.
The Chilterns
The Chilterns consists of 44 luxury apartments and two deluxe penthouses that will offer an unprecedented and elite standard of living in Marylebone.
Each property will feature the highest technical specifications coupled with the finest examples of progressive interiors inspired by world-renowned designer Rabih Hage providing a seamless blend of comfort and innovation. The Chilterns will offer secure underground parking, a gym, spa and a 24-hour concierge service. Perhaps most tempting, residents will have the opportunity to own a private basement wine cellar.
The Chilterns will offer two 'Super-Prime' penthouse residences, each delivering sumptuous and spacious interiors and generous external entertainment areas for private use.
Are you looking for a flat in Prime Central London? For further information about the availability of The Chilterns in Marylebone, have a look at the property on the dedicated microsite.
Edited: 22nd March 2023