Living in Wapping, London E1W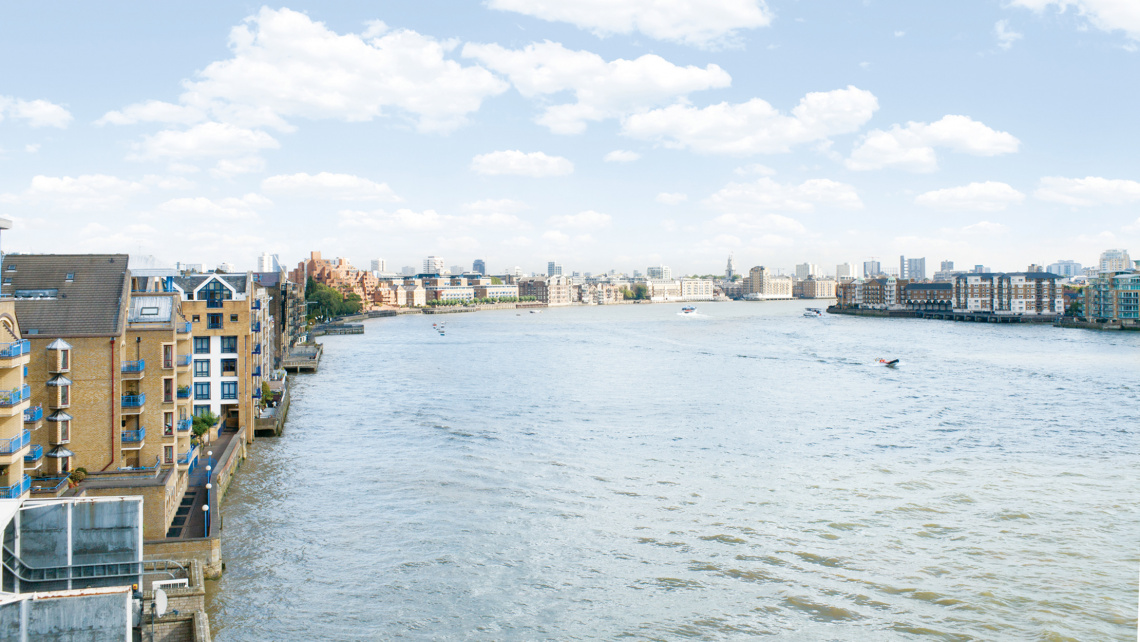 This charming district in East London is the ultimate place to experience a slice of London's past maritime character that can often be forgotten in today's busy London lifestyle.
Wapping is relatively small and self-contained, lending it a charm and community spirit all of its own. This riverside locale boasts panoramic views of the Thames and a peaceful ambience, but is still only a short distance away from both the heart of the City and Canary Wharf. Wapping is an area with its own distinctive flair because of the contrast between the old docks, cobbled streets and the recently renovated warehouses, not to mention the rich history that lies within them.
Now sold out, this development by Galliard Homes brings an essence of sheer luxury to the riverside district of Wapping; an opulent warehouse conversion boasting 37 trendy, yet sophisticated apartments with modern features such as stylish, loft-style exposed brick walls and an exquisite residents' rooftop garden. The combination of the contemporary design and the fabulous views of the Thames give Wapping Riverside a unique character and an inviting ambience.
History
During the 18th and 19th century Wapping was the ideal place for ships to offload various goods and it predominantly attracted seamen and manufacturers who were essential for carrying out maritime activity. However, the tables turned for Wapping in the 20th century as it was ravaged in the Second World War during the Blitz. The downfall of the London docks in the mid-20th century negatively affected the district further and Wapping unfortunately became derelict. However, things started to look up in the 1980s when the deserted warehouses were seen as the perfect archetypes for residential conversion. Since then, Wapping's popularity has continued to grow and it is fast-becoming one of the most sought-after residential areas in London.
Food and Drink
Wapping is home to an abundance of pubs and restaurants that all present customers with a very warm and friendly atmosphere. Smith's Restaurant is one of the most popular restaurants in the area as it is famous for its delicious fish which can be enjoyed while looking at the superb view of Tower Bridge. For a more laidback and casual vibe, then Laksha Bay is an essential place to visit in Wapping; this restaurant captures the spirit of India with its use of traditional flavours and exotic character.
For something a little more quintessentially British, then why not head on over to The Prospect of Whitby and enjoy a beer with some friends or tuck into an indulgent Sunday lunch with the family. This traditional pub has its original flagstones and wooden panelling and was apparently one of Charles Dickens' favourite spots.
Entertainment and Culture
There is quite a variety of cultural and entertaining activities to do in Wapping, and there is something suitable for everybody. Tobacco Dock is one of Wapping's most exciting assets as it brings so much diversity to the area; this venue is an ideal place for exhibitions, awards dinners, launches and much more. In fact, Tobacco Dock holds 10,000 people and for the eighth year in a row it is to be the venue for the popular StreetFest art and culture festival.
A great venue for lovers of all things musical is the Wilton's Grand Music Hall as it is the setting for concerts and live music, and there are also tours available so one can appreciate everything this venue - one of the oldest music halls in the world - has to offer.
Green Space
Wapping Rose Garden is the place you want to be to get some peace and tranquillity. Take a walk along the greenery and admire the flourishing rose bushes whilst taking in the fresh air.
Shopping
Even though Wapping is not known for its wide choice of shops, there are still a few hidden gems that are tucked away in this district and are certainly worth the visit. For quality bread and cakes that will convert you from supermarket-bought baked goods, P & J Bakers is quite something and is a firm favourite amongst the locals.
Somewhere that you can find fresh and high-quality produce is Wapping Market; flowers, ice cream, fruit and vegetables, the list could go on forever. This market is closed for the winter but opens again come late spring and supports local farmers whilst never failing to provide delicious produce.
However, with the shopping malls in Canary Wharf being less than a mere 20 minutes away, Wapping is incredibly convenient for those who love to hit the shops and wear out those wallets.
Education
St Peter's London Docks Primary School
Local Council
London Borough of Tower Hamlets
Getting There
Wapping Overground station allows for fast connections to key destinations such as New Cross and Shoreditch can be reached in minutes, whilst Jubilee line services can be reached from Canada Water via the Overground line or alternatively DLR services from Shadwell via the Overground line.
Canary Wharf is only three stops from Wapping Overground via Canada Water and with the anticipated arrival of Crossrail to Canary Wharf, the area is set to benefit from close proximity to enhanced transport links.
DLR
Shadwell - 10 minutes to Canary Wharf
Rail
Wapping Overground Station - 7 minutes to Shoreditch High Street
Shadwell Overground Station - 5 minutes to Shoreditch High Street
Looking for a riverside apartment in London? For further information about Galliard Homes' development, Wapping Riverside, view the development and property availability on our website.
Edited: 22nd November 2022