The Fitness Focus in Wimbledon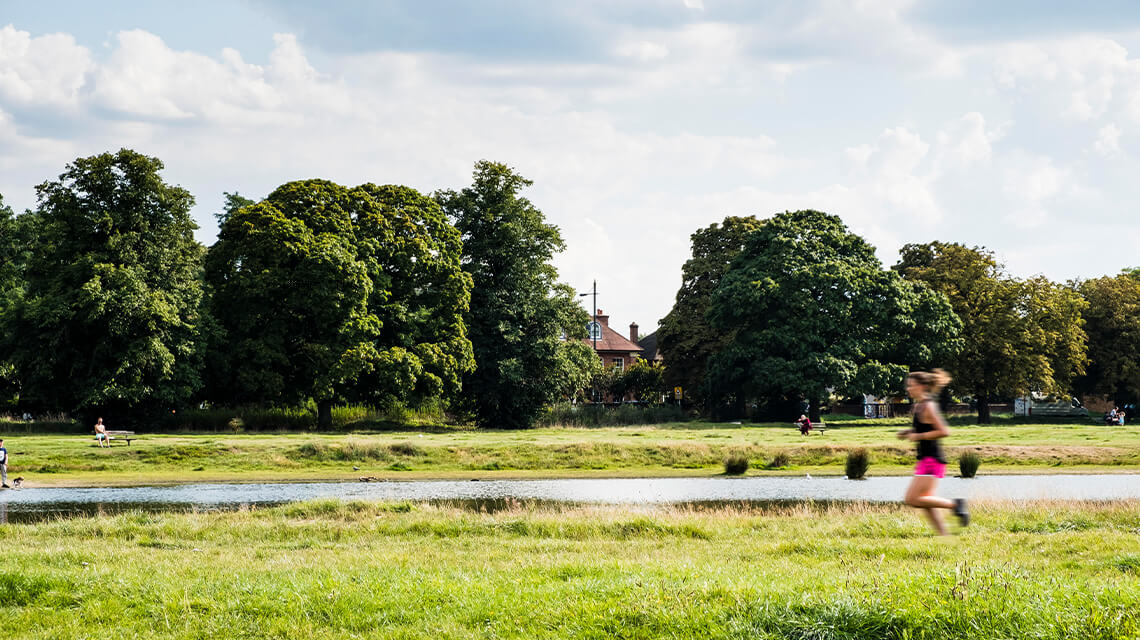 Whilst Wimbledon is, of course, renowned as the tennis hub of the UK, the sports trend isn't just limited to a few weeks a year when the championship takes over the country. Health and fitness is ingrained in the community and reflected through the local amenities and services from cooking classes to martial arts.
History of Sports in Wimbledon
Sport in Wimbledon can be traced all the way back to 1236 when the Village Stables opened - the oldest recorded horse-riding stables in the UK. The stables still run, offering lessons, hacks, EQUICISE and even a state-of-the-art, interactive horse-riding simulator. With the vast expanse of beautiful countryside between Wimbledon Common and Richmond Park, horse-riding here is an incomparable experience.
In 1928 the Wimbledon Greyhound Stadium officially opened with greyhound races running until 2017 when the stadium closed. It held the annual English Greyhound Derby every year from 1985 and proudly owned the title of one of the biggest, and one of the most famous, greyhound racing venues in the UK. Until 2005 it was also home to the Wimbledon Dons Speedway team, who won multiple times in multiple leagues across their career. The stadium is a huge part of Wimbledon's history and the prospect of AFC Wimbledon moving into a newly-built stadium on the same site is an exciting venture for the Wimbledon community.
Before 1877 the local sport of Wimbledon was croquet, and it was only following the introduction of lawn tennis to the club in 1877 in a bid to raise money, that the sport began to rise in the social eyes of the community as one worth pursuing. Fast forward nearly 150 years and the annual Wimbledon Tennis Championships are considered a classic part of English summertime culture. The record for the longest match was between John Isner and Nicholas Mahut in 2010: they played 11 hours and five minutes for a total of 183 games, across three days, with Isner finally coming out on top in the final set. If three days playing tennis sounds like a lot of hard work, indulge instead in the classic strawberries and cream, with the average standing at 166,000 servings of strawberries per year during Wimbledon.
Alternative Sports
As well as offering horse-riding lessons, football teams for all ages and, of course, tennis, Wimbledon also plays host to a wide variety of sports and health-focused facilities.
Running
The active running club, The Windmilers proudly boasts 600 members of all ages and abilities, and a number of different options including social runs, triathlon training with swims and cycle training, track runs and hill training.
Dancing
Dance is hugely popular in Wimbledon, with a whole host of styles and workshops offered: Ballet, Ballroom, Latin, Urban, Salsa and even Private Wedding Dance lessons offered in a number of different academies within Wimbledon. Paola's Body Barre has also recently opened a studio in Wimbledon. The classes combine Ballet Barre Conditioning, HIIT and Functional Training for a dynamic and efficient workout.
Martial Arts
Offering children and adult classes in Mixed Martial Arts, Aikido, Self Defence, Brazilian Jiu-Jitsu and Kickboxing to name a few, Wimbledon is the ideal springboard for anyone looking to extend their fitness and skills to include martial arts. With a strong basis in scientific principles and providing skills you will carry with you throughout life, Martial Arts is an invaluable sport in which to invest your time and energy.
Hashi Cooking Classes
In 2001, Reiko Hashimoto set up Hashi cooking and became the first person in the UK to teach the art of making sushi and other Japanese cooking. Based in Wimbledon, Reiko offers classes, courses and private workshops and events focussing on the Japanese diet staples. She has also published two cookbooks and her classes have been recognised on Trip Advisor with a Certificate of Excellence.
Green Touch Spa
The Green Touch Spa and Massage, just a two minute walk from Wimbledon station, offers Swedish massage, Thai Massage, Reflexology, Hot Stone Massage, Aromatherapy - the list goes on. Embodying the village lifestyle that Wimbledon offers, an escape from the chaos of the inner city, the Green Touch Spa promises to distress, relieve pain and improve sleep. The Asian influenced décor and frequent special promotions ensure that no regrets will follow a visit to the Green Touch Spa.
Wimbledon Grounds
Sports-led regeneration can exponentially transform an area and this will be no exception for Wimbledon. Taking the lead in sports-led regeneration from Stratford and the Queen Elizabeth Olympic Park, as well as the reopening of Wembley Stadium in 2007, Galliard Homes is delighted to be working with the Wimbledon community and Peabody New Homes on a brand new mixed-use development site entitled 'Wimbledon Grounds'. The two residential blocks, Stadia One and Stadia Three will be home to a selection of new-build apartments featuring the highest specifications for modern living, whilst the landmark development will also house commercial spaces and a brand new football stadium to bring AFC Wimbledon home to Plough Lane.
Edited: 4th April 2023