Sports-Led Destinations and the Property Market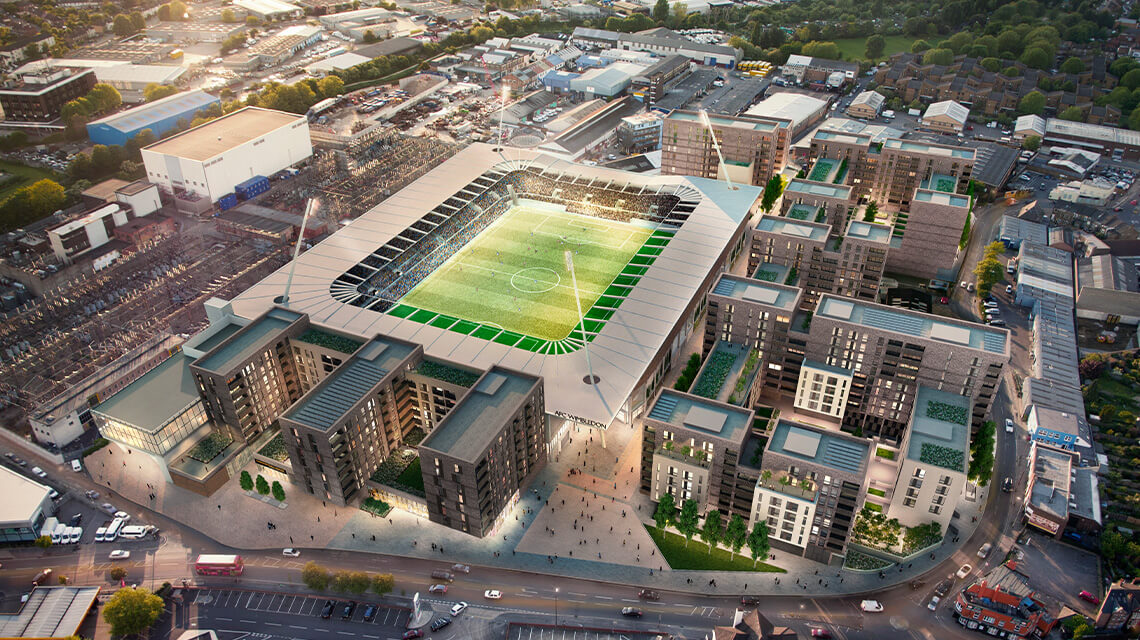 The cornerstone of any emerging residential destination is, without a doubt, regeneration. The London 2012 Olympics proved just how sports-led regeneration, in particular, can transform an area and elevate its status on both local and international stages.
Now, areas across London, and indeed the whole of the UK, are following suit, driving attention and investment by creating sporting landmarks in both up-and-coming and established locations.
East London: From Stratford to Spectacular
Prior to the Olympics, Stratford and its surrounding area was largely looked upon as the down-and-out stretch of East London. Now, in 2018, property experts describe how the capital is 'shifting eastwards' following the success of 2012, with businesses flocking to the area, in addition to the so-called decrepit locations of yesteryear now emerging as go-to residential hotspots.
At the centre of it all is the Queen Elizabeth Olympic Park.
Spanning 560 acres and housing eight permanent venues, including the artwork-come-theme-park-ride ArcelorMittal Orbit, the London Aquatics Centre and, of course, the London Stadium, which is now home to West Ham United F.C. Whilst many commented about the costs of creating this new landmark in the lead-up to the 2012 Olympics, there is no doubt that the long-term benefits - such as the influx of investment and tourism-driven economic boosts - have outweighed the initial costs. It is expected that more than 40,000 jobs will have been created on the Park by 2025, whilst planning permission has been granted for more than 4,000 homes.
The property market in this area has also transformed massively. Research by LonRes, highlighted by Homes & Property, identifies a 71% price rise between 2005 and 2016 in Stratford, with the wider Borough of Newham experiencing a 47% growth within the same period.
Galliard Homes' Stratford development, Capital Towers, sold-out in 2017 following successful ventures sought by both domestic and international investors looking to tap into the post-Olympic property market.
West London: The Success of Wembley Stadium
The UK's largest stadium, used for both concerts and football matches, reopened in 2007 following extensive redevelopment and has since then accelerated the property market in Wembley and the surrounding areas of West London, such as Acton, Ealing and Harrow. According to Halifax data highlighted by City AM, property prices in postcodes closest to Wembley Stadium have jumped up by more than £200,000 - or 70% - since its reopening.
Head of Housing Economics at Lloyds Banking Group Martin Ellis said in 2017: "The Wembley area has undergone a great deal of regeneration over the past 10 to 15 years…as a result businesses and households have been attracted to the area and more recently, average house prices surrounding Wembley Park have outpaced the rest of London and the UK overall."
Galliard Homes' new Ealing development, Westgate House, is just a few miles south of Wembley Stadium, and east-facing apartments on the upper levels will enjoy views towards the stadium. Thanks to the rippling rejuvenation in the area following the reopening in the stadium, property prices in Ealing have steadily risen, and with Crossrail services anticipated, real estate experts such as JLL believe that property prices could rise by as much as 50% by 2020. At Westgate House's off-plan sales launch in 2017, prices started at just £225,000 for a studio apartment. Following the launch's success, planning was submitted and attained to build a further three levels to accommodate more homes for avid first-time buyers and investors in the area.
South London: A Brand New Football Stadium for AFC Wimbledon
Wimbledon's famous dog track is set to be transformed into a brand new football stadium, where AFC Wimbledon will take its residency from 2019. The new £25m stadium is expected to hold an audience of 11,000, with the hope of being able to accommodate a capacity of 20,000 in the future. Construction on Plough Lane is due to commence in the summer of 2018, which will run alongside the building of 602 new apartments surrounding the stadium. Residents of this development will enjoy landscaped green squares, new retail stores, a fitness complex and a six-court squash club.
Stadia Three - the first phase of homes, comprising 114 one, two and three bedroom apartments - are now selling off-plan with an anticipated completion of 2021; by which time, investors are likely to have seen impressive exponential growth.
Galliard's Planning and Development Director Mike Watson states: "The new homes will include affordable housing for local people and will make a significant contribution towards Merton's own minimum 10-year target for new homes and the regeneration of this part of Merton."
Wimbledon fans and South-West London residents alike are overjoyed at the anticipated return of AFC Wimbledon to their namesake home. The original Wimbledon FC were forced to leave their grounds on Plough Lane in 1991 and went on to share Selhurst Park with Crystal Palace until 2003, before moving to Milton Keynes and renaming themselves as the 'Milton Keynes Dons'. AFC Wimbledon was formed as a result of ongoing support from dedicated Wimbledon fans and the team is currently based in Kingston-upon-Thames.
The move back to Wimbledon represents a transition back to the team's 'spiritual home' as well as a brand new era of successful regeneration, investment potential and residential desirability in a coveted South London location. Home to the oldest tennis tournament in the world, Wimbledon is already heavily affiliated with the sporting world, so the opening of this new football stadium will only amplify this hub's presence and notoriety on the world stage of sport.
Edited: 7th December 2022