Construction Begins for Timber Yard at the Ground-Breaking Ceremony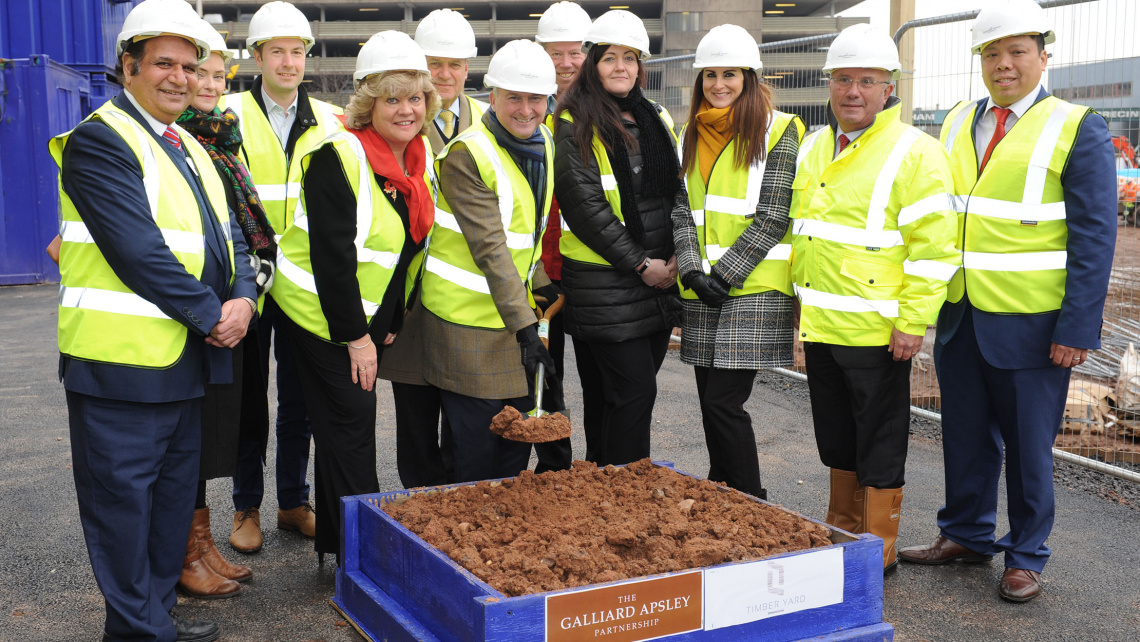 The ground-breaking event for Timber Yard, held on 31st January 2019, marked the official start of construction of the latest development to come to Birmingham by joint venture partners Galliard Homes and Apsley House Capital.
Timber Yard is the first private, large-scale residential scheme to take-up residence in Birmingham's Southside district for over a decade. The development will comprise 379 contemporary apartments across two residential buildings, East and West block.
The first release, East block, will feature a range of one, two and three bedroom apartments while the West block will include a mix studio, one and two bedroom apartments. As well as modern interiors throughout, residents will benefit from a concierge service, a private gym, a club lounge and a screening room.
The ground-breaking event was attended by Cllr Ian Ward, leader of Birmingham City Council, who marked the official start of the development. Cllr Ward stated that "the start on site at Timber Yard is a real statement of intent by Galliard Homes and Apsley House Capital. The Southside district of Birmingham is undergoing massive regeneration and is attracting significant investment from developers who recognise the long-term potential the area offers."
Birmingham is quickly becoming a prime area for property investment opportunities from both domestic and overseas investors. Its affordability combined with its employment and business opportunities mean that many are looking towards Birmingham for their next step into the world of property investment. Timber Yard will provide potential investors and home-buyers with the opportunity to invest in a rewarding area.
Planned projects around the area including HS2 (High Speed Rail 2) - set to almost half journey times from Birmingham to London to just under 50 minutes - have consequently led Birmingham to attract the attention of many new buyers for its proximity and ease to the capital. This will allow more commuters to look as far as Birmingham for property.
With 75% of East block sold during the first release, it is evident that many investors and home-buyers have already taken advantage of this superb development. Stephen Conway, the executive chairman of Galliard Homes noted that "We had a really positive response from buyers during the sales launch for the scheme, which not only demonstrates that there is strong demand for apartments in this up and coming area of Birmingham, but also that buyers recognise that the product we are delivering to the market is of the highest quality, yet still value for money."
Gerard Nock, chairman of Apsley House Capital, said: "As the first development in our Birmingham portfolio to start on site, this is a significant milestone for ourselves and Galliard Homes." Timber Yard is the first development underway in the Galliard homes and Apsley House Capital Birmingham partnership. There are other sites in planning for different areas in the thriving city of Birmingham.
Gerard Nock also goes on to note that "We have plans to deliver 2,800 new homes across the city, with Timber Yard the first out of the blocks. As the first, it will showcase the trademark high-end specification the partnership is bringing to the new homes market in Birmingham."
For more information about Timber Yard or to speak to a member of our sales team call 020 3409 2270.
Edited: 7th September 2023