Birmingham: The Midlands' Chief Transport Hub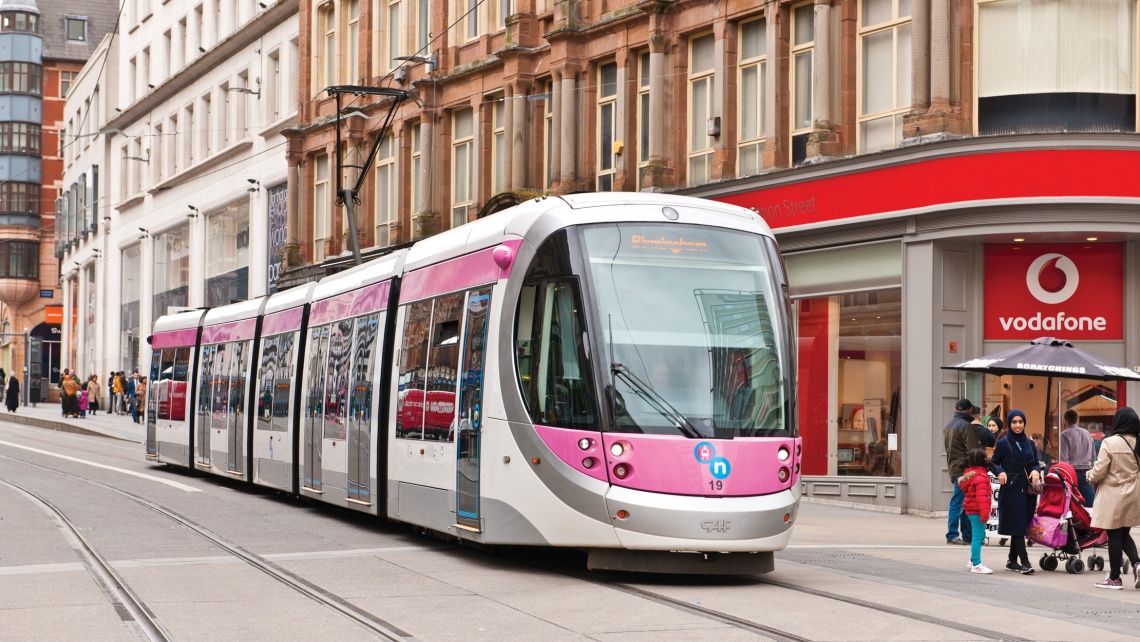 Birmingham is one of Britain's major transport hubs and the Midlands' chief district for commerce and connectivity; home to one of the country's leading airports, the Midland Metro and a vast rail network that will soon be home to Europe's fastest high-speed railway, HS2.
Situated approximately 100 miles north-west of London, Birmingham is the UK's second most populous city and is home to Europe's youngest residents, with around 40% of the population found to be under the age of 25. With this many people travelling in and around the city, you can expect that the transport network across Birmingham is equally as impressive. Whether you're moving here or just visiting, here are all the ways you can get around:
Car
One of Europe's biggest motorway junctions, the Gravelly Hill Interchange - or more commonly known as the 'Spaghetti Junction' - is just two miles from Birmingham's city centre and merges the M6 with the A38 and A5127 above two railway lines, three canals and two rivers. Birmingham as a whole is encircled by three motorways - the M6, M42 and M5 - accessible by various A-roads, whilst the M40 is also accessible to the south east for a direct route towards the capital. Take the A45 to reach Coventry in the east or the A41 to access West Bromwich in the west, or reach Redditch via the A441 running from Birmingham's city centre.
Average car journey times from Birmingham City Centre:
Wolverhampton - 40 minutes
Coventry - 40 minutes
Leicester - 1 hour
London - 2 hours and 30 minutes
Bike
One of the best ways to see the city and get around is by bike. Birmingham is currently undergoing a 'cycling revolution' whereby public spaces and road junctions are being transformed to cater to the growing number of cyclists, whilst creating a greener environment for the city as a whole. Birmingham Council has pledged to have at least 5% of all trips in the city made by bike by 2023, reaching 10% by 2033.
Residents and tourists alike now take advantage of Brompton Bike Hire, which works in the same way as the Santander Cycle Hire in London - more famously known as 'Boris Bikes' - and is an affordable option to sightsee and get from A to B.
Bus
A huge proportion of journeys in the West Midlands are made by bus - an estimated 84% - which makes this the most popular method of getting around the city. There are around 50 operators serving the County, with many of them using Birmingham as a central terminus.
Metro
Running from Wolverhampton to Birmingham, the Midland Metro - or tram - is another great way to get around and is something unique to the north of England, so if you're new to the area it is one of the best modes of transport to try and familiarise yourself with. More than 6.2m journeys were made in the West Midlands by tram in 2016-2017 - equal to 17,000 people a day!
Mainline
The city centre's three principal train stations include New Street, Snow Hill and Moor Street, with Birmingham's recently redeveloped New Street station, dubbed the UK's busiest interchange, catering to a capacity of more than 52m passengers each year. A train leaves every 37 seconds from New Street to cross-country destinations including Manchester, Liverpool and London Euston. For services to Stratford-upon-Avon and London Marylebone, head to either Snow Hill or Moor Street.
Average train journey times from Birmingham New Street station:
Wolverhampton - 17 minutes
Leicester - 51 minutes
Manchester Piccadilly - 1 hour and 29 minutes
London Euston - 1 hour and 24 minutes
HS2
High-speed 2 (HS2) is the revolutionary railway network set to run services between London and Birmingham by 2029 as part of its first phase, before being introduced to destinations further north including Liverpool, Manchester and Leeds. Once finished, journey times from Birmingham to London are expected to be cut by 40% to 57 minutes down from two hours, whilst the stretch from London and Edinburgh is also anticipated to be cut by an hour to three hours and 30 minutes. HS2 will be welcomed at Birmingham Curzon Street station, which is the world's oldest railway terminus and is set to undergo a huge transformation in preparation for the new line.
Air
Birmingham Airport is the UK's seventh busiest airport and offers flights to more than 150 worldwide destinations, including long-haul flights to Toronto, New York and San Francisco.
Boat
This is a slightly less conventional way of getting around, but it's on our list because Birmingham, in fact, is home to more miles of canal than Venice! Running at around three miles per hour, it's maybe not the best option for your route to work, but if you're feeling adventurous, head to Gas Street Basin near Brindleyplace and hop on a narrowboat to soak up the city sights.
To find out more about this incredibly diverse city and all that it has to offer, take a look at our Birmingham area guide.
Belgrave Village
Just a short distance from Birmingham city centre, Belgrave Village will deliver 438 brand-new, contemporary homes to Birmingham. A wise first-time buyer or investment choice, the site will comprise a selection of one and two bedroom apartments alongside a range of two, three and four bedroom houses. Various on-site amenities will complete the site.
Explore Belgrave Village today.
Melrose Apartments at Park Central
Situated just a 15 minute walk from Birmingham New Street station, the Melrose Apartments at Park Central would be an excellent option for both first-time buyers and investors looking for a new-build property in this world-class destination. Choose from a selection of contemporary one, two and three bedroom apartments situated just minutes from city centre amenities and surrounded by Park Central's eight acres of beautiful parkland.
Park Central is now sold out. For more information, please visit the development page or use our property search tool to find other available properties. Alternatively, call us on 020 3409 2270 to speak with our team.
Timber Yard
Located just a three minute walk from the vibrant Chinese Quarter, Timber Yard comprises a selection of contemporary studio, one, two and three bedroom apartments, many of which feature a private balcony, terrace or winter garden. All residents enjoy access to communal landscaped courtyard gardens and a range of exclusive leisure facilities, including a residents' gym and a club lounge. The mixed-use site also features 10,000 sq. ft. of retail and leisure space.
Timber Yard is now sold out. For more information, please visit the development page or use our property search tool to find other available properties. Alternatively, call us on 020 3409 2270 to speak with our team.
Edited: 30th November 2023