Keeping the Property Market Moving by Our Sales Director, David Galman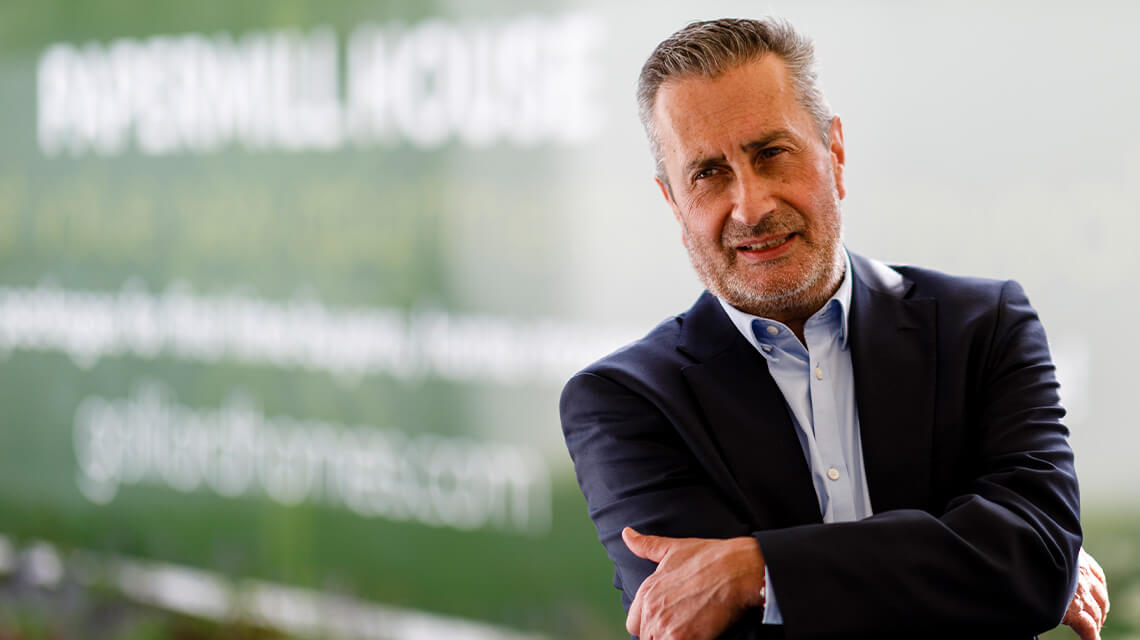 'An Englishman's home is his castle' - a proverb used since the 17th century, yet never has this sentiment rang more true or accurate than in today's climate.
This guest article was written prior to the Stamp Duty Holiday changes announced by the Government on 3 March 2021 and all information was correct at the time of publishing. To view the most up-to-date information on the Stamp Duty Holiday and Galliard's extended deadline, please click here.
A home - our most valuable and prized asset
For me and my family, lockdown necessitates daily local walks, giving us the opportunity to admire streets of beautifully manicured lawns, front gardens and extremely well-maintained properties, altogether demonstrating that we are a nation that takes great pride and pleasure in our 'castles'.
Lockdown has made us re-evaluate our homes whether it be the need for home improvements or a desire to relocate. Zoom and Microsoft Teams video calls have perhaps made people a little envious of what they can see on the screen … 'wow, look at her kitchen', 'I wish I had an open-plan living room like that'.
In our sales office, we have noticed the varied effect that staying at home has had on our buyers' needs and requirements. From outside space to close proximity to parks and woodlands and space to work from home, all of the mentioned have jumped to the top of our buyers' requirements lists. No longer does proximity to the office become a leading factor.
Why is it important to keep the property market moving?
The strategic importance of the housing market to the overall economy is often ignored, however its close links to consumer spending are endless.
Whether it be DIY stores, furnishing shops, garden centres, or electrical homeware retailers, not to mention employing window cleaners, home help and gardeners, everything that we spend money on within the home is intrinsically linked to the property market.
To put it simply, when house prices rise, homeowners become better off; as a consequence consumer confidence soars and therefore so does spending and the overall health of the economy.
So how can Galliard Homes help?
The necessity to keep the property market alive is apparent, along with buyer demand, so how can Galliard Homes assist to keep everything moving?
As a government essential business, we have been and continue to be open for business as normal. Not only are we still here to help you in person (by appointment only), but we are also available on the phone or at the end of a keyboard. Sales suites & show apartments are operating with social distancing measures in place, alternatively we have created virtual tours and viewings as an option.
Not only do we have a varied range of properties for sale across London, the Home Counties, Birmingham, Bath, and Bristol, but we also pride ourselves in offering the best buyer incentives.
Government schemes with an extra Galliard boost
The new Help to Buy: Equity Loan (2021-2023) scheme, an evolution of the Help to Buy Equity Loan (2013-2021), has been launched by the government.* A fundamental change to the scheme is that only first-time buyers now qualify, and in my opinion, this is a good thing as it was always aimed to help the 'have nots' rather than the 'already haves'.
Help to Buy is fantastic for new buyers, allowing them to borrow up to 40% of the purchase price from the Government via Homes England (with a Help to Buy: Equity Loan, subject to eligibility, terms and conditions). Repayments do not begin for five years, allowing time for some property inflation, and for buyers to settle. The reality is that the government will be partners with a large percentage of the next generation, that's no bad thing.
For more information on Help to Buy visit our dedicated page. Find your Help to Buy agent here or use our property search to find your Galliard Homes Help to Buy property in London.
Where have you been if you have not heard about the government's stamp duty exemption, a temporary stamp duty holiday, which runs until 31st March 2021?* Following the announcement in July, the government have reported that residential property transactions rose by 21.3pc in September with 33pc of homebuyers planning to spend their savings from the tax break on home improvement and renovations, boosting business and jobs.
Help to Buy + Stamp Duty Holiday = the perfect combination to get first-time buyers affordably on the property ladder, correct? Well, unfortunately not exactly. The new Help to Buy scheme is only open for completions from the 1st April 2021, meaning that the buyer will miss the Stamp Duty Holiday end date, so if the property that they are buying exceeds £300,000, there will still be a rate of stamp duty to pay.*
That's where Galliard Homes comes to the rescue. As a business, we have decided to extend the Stamp Duty Holiday for our buyers until the 1st October 2021.*
Additional Galliard incentives that you may be able to take advantage of are:
Complete furniture pack
Service charge holiday
Legal fee contribution
…we can even supply the right salesperson to carry the buyer over the threshold!
Buyers, enquiries, and market outlook
At Papermill House, Romford, Wimbledon Grounds, and Westgate House, Ealing, the vast majority of new buyers are young first-time buyers getting themselves on the property ladder.
We are also seeing an increase in overseas interest. International buyers, perhaps more than ever, are keen on London, worldwide turbulence always centres on flights to safety.
Enquiry levels have increased, sales remain strong across the portfolio and as a group, we are keen to find more development opportunities.
* Please note this information was correct at the time of publishing and has since changed.
Edited: 7th December 2022