Property Investment Hotspots 2015 - Spotlight on E14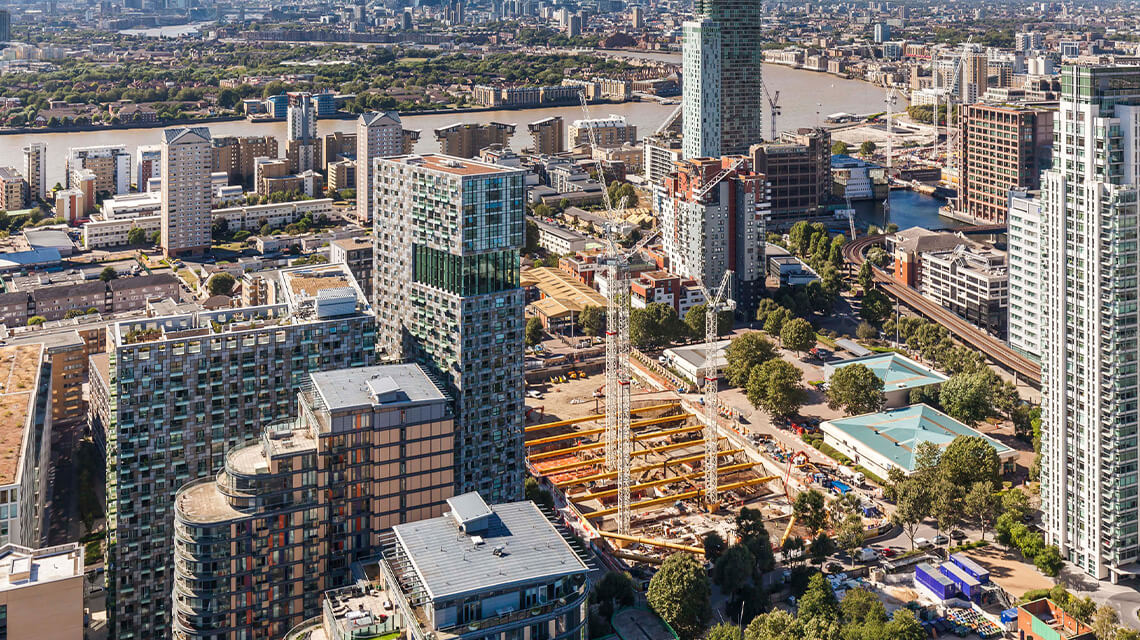 At Galliard Homes we have been developing property in the capital for over 23 years with a number of landmark property investment schemes within our portfolio including County Hall, The Whitehouse Apartments and New Capital Quay. With growth and regeneration at the forefront of our business, our aim has always been to bring strong capital growth and solid yields to our loyal customer base.
The property spotlight is constantly changing its focus with new areas emerging due to infrastructure upgrades, government initiatives and emerging business centres. However, one area which has remained a constant for property investment is the London Docklands incorporating Canary Wharf.
Property Values are on the Up
When choosing a location for your property investment it is important to consider price growth trends. Knight Frank's April 2015 figures from their Spring Residential Report highlights a striking 9.2% house price growth in prime Canary Wharf over the past 12 months; greatly exceeding the overall average figure of 2.8% for Prime Central London and 4.5% for Prime outer London.
These figures are even more intensified when it comes to new-build property developments. In 2014 it was reported that strong demand for Canary Wharf and Docklands property had forced the average price of new-build schemes to approximately £1,100 per square foot. By 2015 this figure has already risen to £1,200 and Knight Frank has forecast the 2018 price to reach £1,750 per square foot.
Regeneration is at the Heart of E14
The London Docklands' transformation from a derelict East London industrial dock to one of the capital's leading financial districts is well-reported, especially the re-development of Canary Wharf which bears no resemblance to its former days as a fruit and vegetable unloading centre.
Today the regeneration of this locale continues with new businesses creating a demand for further homes in the area, and an increased footfall attracting more retail and leisure facilities. This spring has seen the opening of 'Crossrail Place'; advertised as 'a brand new world', the indoor/outdoor centre offers shops, eateries, a cycle gymnasium and a cinema complex.
The 'Crossrail Effect'
Transport links and infrastructure expansions have historically played a key part in property price performance, especially in the London property market. The extension of London Underground's Jubilee line in the late 1990s was the largest addition to London's transport network in more than 25 years and was thought to have generated a land value of about £9bn.
2021 will mark the much anticipated arrival of Crossrail and Canary Wharf is tipped as one of Crossrail's biggest winners with international property agents JLL predicting a price growth forecast of 44% by 2020. The station will be amongst the largest on route, providing direct links to Heathrow for the first time as well as six storeys of shops, restaurants and cafes.
Buy-to-Let Potential
With 105,000 employees working in the Canary Wharf Estate, Canary Wharf is a keen rival to the City of London as the UK's financial centre. From major banks to leading law firms and media agencies, Canary Wharf's tenants include Credit Suisse, HSBC, Bank of America, Barclays, Clifford Chance and Reuters.
However, Canary Wharf is no longer the residential address of choice for Wharf workers only. New-build luxury schemes, a fantastic array of dockside amenities, and excellent DLR and Underground transport connections have attracted tenants from all demographics.
With a large rental catchment, the Docklands maintains a robust lettings market and therefore great potential for high rental yields.
A Proven Track Record
Galliard's first major redevelopment projects started in the London Docklands in the 1990s and has since continued to develop and invest in the location ever since. Buyers who have acquired homes in many of our past and present E14 schemes have seen their investments valued at or sold for significant uplifts.
Papermill Wharf - Sold in 1993
Properties at Papermill Wharf originally bought for £50,000 in this warehouse conversion scheme are now thought to be worth £500,000.
Lincoln Plaza - Sold in 2012
A one bedroom apartment at the first phase of our Lincoln Plaza site sold off-plan for £333,000 and has recently re-sold prior for £450,000; a 35% uplift!
Baltimore Tower - Sold in 2013
A two bedroom apartment at Baltimore Tower sold off-plan for £607,000 has recently re-sold prior to completion in 2016 for £800,000; that's a 32% uplift over the space of just two years.
Galliard's Latest Property Investment Opportunity
Harbour Central - Commenced Selling Off-Plan From 2015
This summer, Galliard Homes will introduce the second phase of our iconic Millharbour scheme to the sales market - Harbour Central. A mixed-use development incorporating a 42-storey all-private residential tower, residents at Harbour Central will benefit from exceptional interiors, panoramic views and a premier residents' club.
Orchard Wharf - New for 2017!
Brand new to the London Docklands, Galliard Homes is proud to present Orchard Wharf - a sensational offering of 338 apartments, duplexes and penthouses within one of London's most prolific regeneration zones. Each property will enjoy access to a private balcony, terrace or ground-level garden. Residents will be just five minutes' walk from East India DLR station, or 10 minutes from Canning Town Tube station.
Edited: 15th November 2022