Q&A with the Completions Team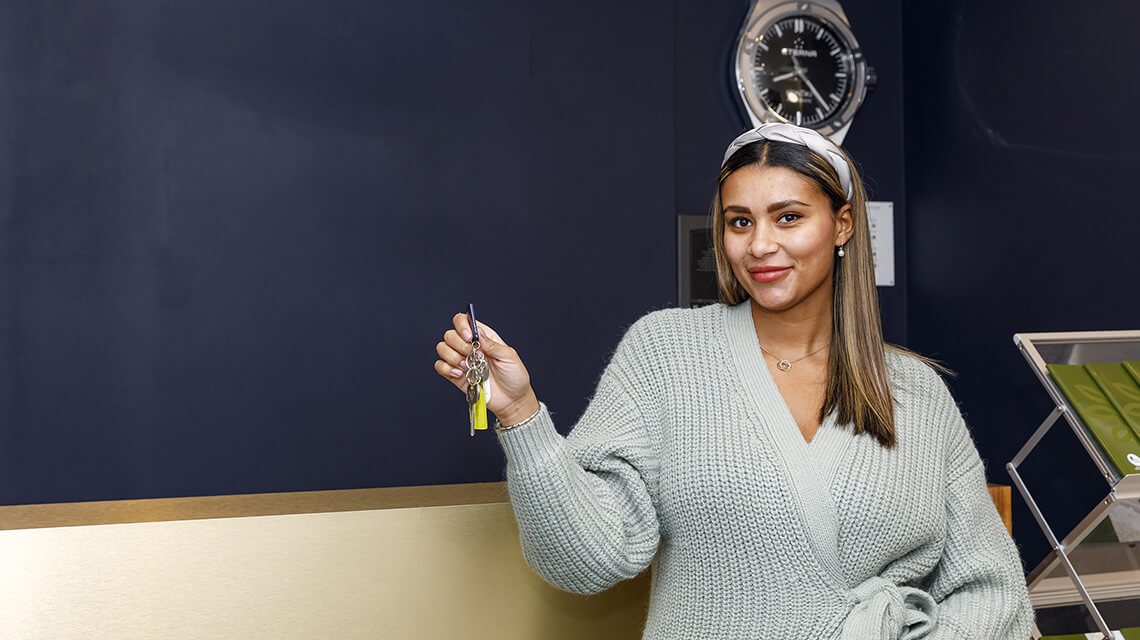 Moving into a new home – particularly if it's your first – can be a very stressful and confusing time. With lots of legal jargon being thrown around and the worry that something will go wrong at the last minute, it's understandable when people say that buying a property is the most stressful thing you'll ever do. But what actually happens once you have bought a property?
We caught up with our completions team to ask them some of our most frequently asked questions.
What is 'completion day'?
Completion day is the final step in the legal process of purchasing a property. Once the final payment is received by the vendor's solicitor and legal documents have been checked, your legal completion will be confirmed. You will then receive the keys to your new home and finally be able to move in.
Is it possible to complete on a new build property before it has been built?
No, it is not possible to complete on a new build property before it has been built.
How long does it usually take after contracts have been exchanged for a property purchase to complete?
If you are purchasing an off-plan property you may have exchanged contracts in advance of the property being built. In this case you will be issued with a 'notice to complete' when the property is ready for occupation.
If your property is already complete and ready for you to move into, then the period between exchange and completion can range from 5 – 12 working days.
How do I find out my completion date?
If you are purchasing an off-plan property you will be liaising with your appointed Completions Manager who will assist by providing regular updates on your completion date.
If your property is ready to move into then your solicitor will advise on timings for completion.
Who will I be liaising with/who is involved in the sales process?
Throughout your property purchase you will communicate with various individuals from the start of the process to the very end. You can typically expect to liaise with the following:
Sales Executive
Completions Manager
Mortgage Advisor
Solicitor
Help to Buy Expert (if you are using Help to Buy)
What happens on a snagging appointment?
You are invited to take some time to carry out an inspection of your new property to ensure that our high-standards of quality and workmanship have been achieved. You will be instructed to download our inspection tool in advance of your visit.
On the day of your inspection, your Completions Manager will guide you through the process and then leave you in your property to complete your inspection.
What happens on completion day?
Communicate with your solicitor in the morning to ensure that they have received all of the funds and documents required to complete your purchase. They are responsible for sharing these with the vendor's solicitors.
Once your completion has taken place, your solicitor will call or email you to confirm.
You will then hear from your dedicated Completions Manager who will arrange a time to meet you to collect your keys.
Your Completions Manager will then take the meter readings of your new home.
Then it's over to you – time to move in!
Read our moving-in checklist to ensure you are ready for the big day!
How can I prepare for completion day to avoid problems or delays on the day?
To avoid any delays on your completion day, it is important that you stay in regular contact with your solicitor in the days leading up to your completion. By ensuring that they have received all of the necessary paperwork and funds needed to complete your purchase, you will hopefully avoid any potential problems on the day.
Get to grips with all the legal jargon in our handy guide.
Once the property purchase has completed, what happens next?
Once your completion has taken place, you will meet your Completions Manager to collect your keys and take your opening meter readings of your new property.
What is included in my Galliard home owner pack?
Your Galliard Homes Home Owner Pack contains various documents, certificates, appliance manuals, leaflets, offers, and the important Home Owner Manual itself; it includes everything you could possibly need or want to know about your apartment and the development. For your convenience, the pack is provided electronically via our Clixifix system.
Who is my point of contact once I have moved into my new home?
Following legal completion your Completions Manager will introduce you to our Aftercare Team who will make contact with you directly to provide further information.
How soon after I have completed will I have to start repaying my mortgage?
Your mortgage will commence from the day of your legal completion. When completing your mortgage application you will have nominated the day you wish for your payment to be made. For example, if you completed on the 25th August but requested your payments on first day of each month, your first mortgage payment will be 1st September. Your mortgage advisor will be able to provide you with further information on this.
Read our golden rules for moving house.
Edited: 12th August 2022