Loft-Style Living at Carlow House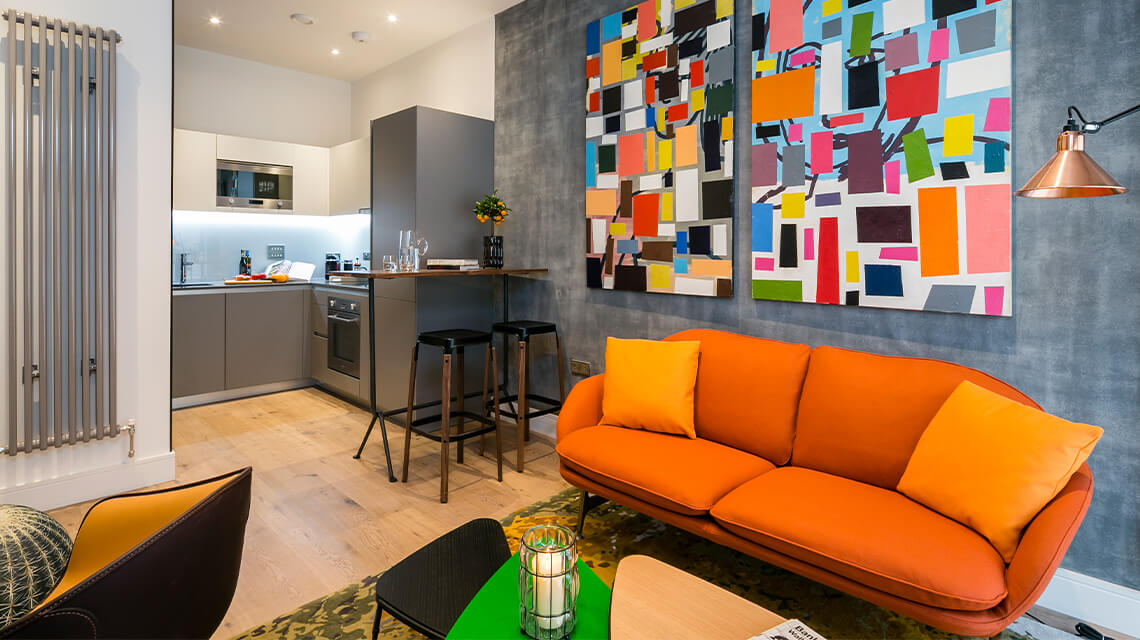 Impeccably designed to enhance a fashionable modern lifestyle, loft-style apartments are becoming increasingly popular with residents looking for a more edgy living space with an urban vibe.
Galliard's brand new converted warehouse development, Carlow House situated in the prestigious London postcode of NW1, is a fabulous example of luxury loft-style living, combining 1930s' Art Deco architecture with contemporary accents inspired by the award-winning interior designer, Rabih Hage.
Where It Started
The notion of 'loft-style living' was born in New York in the 1950s and 60s. Up-and-coming artists searching for affordable properties to rent would look to former industrial buildings, most often warehouses, where they could live, work and play all under one roof. Ground-breaking artist Andy Warhol popularised loft-style apartments when he moved his studio, the 'Factory', to Manhattan on East 47th Street. Artists then started turning rundown commercial spaces into their bohemian crash pads and would often use ground floor spaces to host exhibitions. Eventually the notion took off and reached the luxury end of the spectrum as wealthy art fans would visit these exhibitions and buy the apartments for themselves after being charmed by their rough yet well-composed character.
Today, loft-style apartments epitomise ultra-chic modern living, with developers examining the potential of down-and-out industrial spaces and using their striking features to create homes offering all the benefits of contemporary functionality with state-of-the-art appliances, sleek kitchens and stylish bathrooms, set against a backdrop of grand, high ceilings and exposed brick feature walls.
The Carlow House Experience
Comprising an enviable selection of 85 expertly-designed one and two bedroom apartments, Carlow House is the perfect investment for a first-time buyer or city worker looking for a chic new home in a salubrious NW1 location.
Expansive open-plan spaces, imposing Georgian windows, bare brickwork and rustic wooden floors all add something to the cosmopolitan lifestyle that cannot be achieved with conventional homes.
Open-Plan Layouts
Traditionally comprised of a minimal amount of walls separating each room, loft-inspired apartments enhance a flexible, dynamic lifestyle with open-plan layouts. Carlow House apartments all boast an open-plan kitchen and living area, allowing occupiers to enjoy a convenient and cohesive residential experience. Those who love to entertain guests will certainly benefit from these living arrangements, providing the chance to be a part of the fun even as they bustle away in the kitchen.
Natural Light
For residents who crave an abundance of natural light in their home, they will not be disappointed with Carlow House's vibrant apartments, well-lit by the impressive character windows. Also, with double-glazing featuring throughout, occupiers will rest assured that their home will retain heat and maintain energy-efficiency.
Trendy and Functional
The Carlow House apartments will feature refreshing white walls complemented by exposed brickwork for an artisanal feel, in addition to lavish hardwood flooring for utmost sophistication. Large format porcelain floor tiles will be featured in the apartments' bathrooms with underfloor warming for enduring comfort.
Kitchens will be flawlessly-designed to enhance style and functionality, featuring dark grey base units accompanied by white matt upper units - all with a concealed handle design for a sleek and minimalist finish. Smoke grey stone worktops and low-energy wall unit underlighting will add an extra touch of elegance, whilst highly-durable Smeg integrated appliances will highlight the apartment's high-tech efficiency.
Luxury Specifications
Proudly bearing the Galliard hallmark with highly-refined interiors and exquisite finishes, each apartment at Carlow House will also include:
Thermostatically-controlled central heating to living rooms and bedrooms
Recessed LED low-energy downlighting
Dimmer switches to living room and bedrooms
Sky+ TV connectivity to living/dining area (subject to subscription)
Stylish full-height wardrobes to all bedrooms
Video entryphone security
The Development
Set to be transformed from an Edwardian warehouse into an archetype of Art Deco architecture and refined contemporary design, this all-private development will be arranged around an impressive four-storey atrium, complete with a glass-domed lightwell and a lavish entrance foyer. The loft-style personality of the development will be observed in the industrial-themed wall finishes, adorned with eye-catching 'floating' planters at the upper levels.
Residents will enjoy the following benefits:
Enviable Location
Carlow House's central location in the heart of NW1 puts it right next door to Camden; a cultural hotspot bursting with bohemian eccentricity, with opportunities to enjoy art and music around every corner, not to mention its charming canals, alternative market and quirky shops.
For those wishing to reconnect with nature, the development is situated within an eight minute walk of Regent's Park - one of the Royal Parks of London - comprising floral gardens and canal sides, plus the world-famous London Zoo. Also nearby is Primrose Hill, one of the most prestigious districts in London where urban chic meets quaint village life. Teeming with boutique shops, classic eateries and fashionable restaurants, it is a favourite celebrity hangout. Its park provides the perfect space for both summer and winter activities, boasting one of the highest points in the capital from which to observe breathtaking panoramic views of the city's triumphant skyscrapers.
For a shopping experience like no other, Oxford Circus - home to the West End's illustrious Oxford Street - is just a fifteen minute Tube ride away from Mornington Crescent station.
Travel
Due to its fantastic Zone 1 location, Carlow House is the ideal base for both domestic and international travel.
Mornington Crescent Underground station can be reached within a three minute walk and offers direct Northern line services to key stations such as Tottenham Court Road, London Bridge and Bank.
Also within a mile's radius of Carlow House is Camden Road Overground station, as well as Euston, King's Cross and St Pancras International. Whether you are looking for weekend away in Manchester, Edinburgh or Paris, you are guaranteed an easy start to your journey with transport facilities this close.
Carlow House is now sold out. For further luxury apartments for sale in London search here.
Edited: 14th December 2022