Interiors Showcasing the Art of Urban Living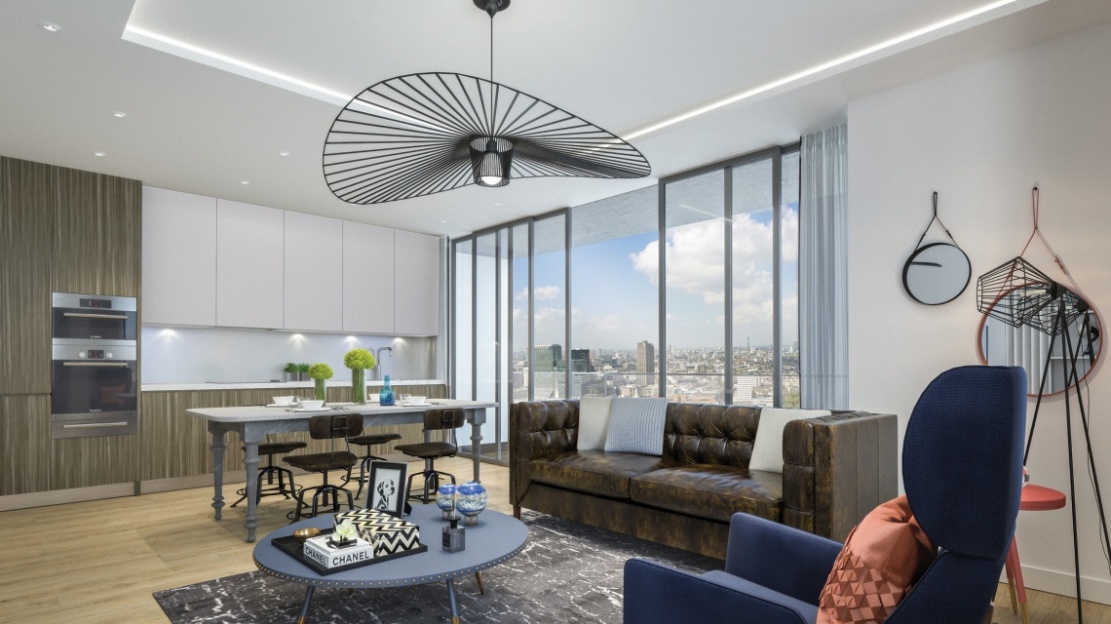 From period townhouses to five-star, contemporary penthouses and loft-style apartments to luxurious starter homes, Galliard Homes has an incomparable eye for detail when it comes to interior design.
As London's leading private property developer, with a reputation spanning 30 years, Galliard Homes has a diverse portfolio of developments - each with its own distinctive character conveyed through its impressive architecture and interior design.
Working together with some of the most renowned names in the industry, including Rabih Hage and Nicola Fontanella, Galliard Homes believes that the finishing touches create the lasting impressions of a home. Of course, once residents move in they will no doubt add their own personal accents to mirror their taste, so what Galliard does is create the foundation of a comfortable home environment, complete with durable, energy-efficient fixtures and neutral colour palettes for sophistication and high-quality functionality.
Take a look at the below Galliard developments, home to an elite selection of properties, expertly designed for modern, urban living.
Carlow House, Camden
Interiors to impress the: quirky, artistic and adventurous
Home to an exceptional range of 85 one and two bedroom apartments just a stone's throw from Camden High Street and Regent's Park, Carlow House marries city chic with bold, loft-style individuality for a truly eclectic residential experience. Set within a former Edwardian warehouse with a magnificent four-storey atrium, residents will appreciate the careful preservation of this development's history and character, whilst also noticing key contemporary features showcasing a perfect collaboration of eras.
Daring to Bare
Boasting authentic loft-style features such as Crittall-style windows and exposed brick feature walls, the design of this apartment is both edgy and luxurious. The award-winning Rabih Hage had a hand in the design of these apartments, demonstrating a 'rough luxe' approach, with bold colours and a sleek metallic kitchen design against a delicately-preserved industrialised framework.
Come down to Carlow Street, London NW1 7BS, and take a look for yourself, open Monday to Friday from 10am to 6pm.
The Chilterns, Marylebone
Interiors to impress the: traditionalist, romantic and indulgent
Situated in one of the most treasured spots of the West End - a favourite for celebrities to frequent - The Chilterns in Marylebone is a marvellous example of luxury and prestige with designer finishes and grand décor noticeable throughout its fine selection of apartments. The development is home to an exclusive lobby gallery featuring work from the celebrated British photographer, David Bailey, and each of the 44 apartments have also been gifted with their very own piece from the collection. From the exquisitely landscaped grounds to the revolving doors entering through to the lobby, residents will appreciate the immaculate presentation displayed throughout The Chilterns.
Multi-Faceted Perfection
Once again, Galliard has employed the innovative interior designer, Rabih Hage, to work his magic at The Chilterns. There are six different apartment types, each varying in design to appeal to a different personality: The Collector, The Voyager, The Minimalist, Neo-Heritage, Timeless and The Connoisseur Penthouse. Whether it is simplicity, a classic design, spa-like surroundings, or a highly-sophisticated space for showcasing treasured ornaments and art pieces, residents are sure to find the perfect backdrop to their contemporary lifestyle at The Chilterns.
Visit the marketing suite and show apartment at Apartment 204, The Chilterns, 24 Paddington Street, London W1U 5QY.
The Stage, Shoreditch
Interiors to impress the: creative, culturally-minded and fashionable
Situated in the heart of London's cultural playground, Shoreditch, The Stage will be a completely unique mixed-use development, housing the remains of Shakespeare's Curtain Theatre which once stood on the same grounds in the 16th century. Preserving such as treasured piece of literary history, there's no doubt that meticulous care and consideration has gone into the design of this building. As Shoreditch enters a new era of Prime property as one of the most desirable residential districts in East London, The Stage will be an utter reflection of this cultivated new status.
Where Cutting-Edge Meets Opulent
Argent Design's praised Nicola Fontanella - whose private clients have included Madonna and supermodel Naomi Campbell - is responsible for the interior design of The Stage, where luxury will seamlessly blend into a backdrop of hipster creativity and originality. The foyer and concierge reception of the 37-storey residential tower will immediately set the scene with its high, coffered ceilings, glass panelling and marble-effect flooring, demonstrating sheer opulence, juxtaposed with vibrant and outlandish pieces of artwork and furniture to enliven its Shoreditch theme.
The properties will continue to impress with a focus on clean-cut, geometric lines, custom-made finishes and hotel-style appeal. The studios will feature a bespoke triple-glass sliding screen, creating a dedicated bedroom space that is simultaneously partitioned and well-integrated with the rest of the apartment. Each property will also boast a bespoke entertainment unit - complete with a 40-50" LED smart TV, low-level cupboard space and bookcase storage - providing adequate space-saving functionality whilst also drawing the eye within the centre of the open-plan kitchen, living and dining area.
Why not take a trip down to Shoreditch and tour the show apartment, scrupulously designed by Fontanella herself. Just five minutes' walk from Liverpool Street station, you can find the marketing suite at The Viaduct, Fairchild Place, London EC2A 3EN - open seven days.
Silver Works, Colindale
Interiors to impress the: minimalist, modish and ambitious
Situated in the suburban-esque residential district of Colindale, which has recently been commended for its regeneration, the Silver Works is a superb new development set to provide a sleek selection of one, two and three bedroom apartments, as well as six sensational townhouses.
Forming a Suburban Oasis
Despite not being in Central London, there is no doubt that these properties will have an air of city extravagance about them. Framing the apartments will be natural oak flooring and porcelain bathroom tiling, whilst the centrepiece will no doubt be the kitchen, complete with tobacco wood-finished base units and matt white upper units - all with concealed handles to exhibit pristine, contemporary minimalism. Similarly to The Stage, the living area will boast a bespoke entertainment unit within the living and dining area, with low-level cupboard space and bookcase storage for sufficient space and style.
Observe the masterful work of Nicola Fontanella at the Silver Work's show apartment at the marketing suite on Grove Road, London NW9 0EB.
Wapping Riverside, Wapping
Interiors to impress the: inventive, nautical-lover and urban villager
Wapping Riverside sets the bar of luxury waterside living to an unprecedented level, incorporating loft-style accents similarly observed at Carlow House - a nod to its past as a Docklands warehouse. Each of the 37 apartments not only benefit from high-end specifications expected of the illustrious Galliard brand, but also the remarkable view of the River Thames and Canary Wharf from a private balcony and/or terrace. Tucked a short walk away from Whitechapel and just moments from
St Katharine Docks, the design of the apartments has been painstakingly thought-out to deliver a home that combines the high-tech functionality anticipated from a modern new-build with city sophistication, whilst also celebrating its industrial history and maritime charm.
Waterside Refinement
Galliard's aim was to create a development that oozed urban appeal on the inside, whilst from the outside effortlessly blending into its Wapping environment of village-style, cobbled-streets and preserved warehouses. Dark oak flooring and stone bathroom tiling flawlessly display the apartments' polished personality, whilst an exposed brick feature wall will add a touch of urban edginess, with the grey-coloured, metallic-finished kitchen units asserting its 21st century style.
Nicola Fontanella has perfectly captured the essence of nautical luxury at Wapping Riverside's show apartment with an aqua-inspired theme where whites and blues demonstrate 'watery hues', and leather-studded detailing exudes cutting-edge urbanity.
Visitors are welcome to tour the show apartment, located at 136-140 Wapping High Street, London E1W 1BH.
Edited: 17th November 2022