Live a Life of Luxury in Marylebone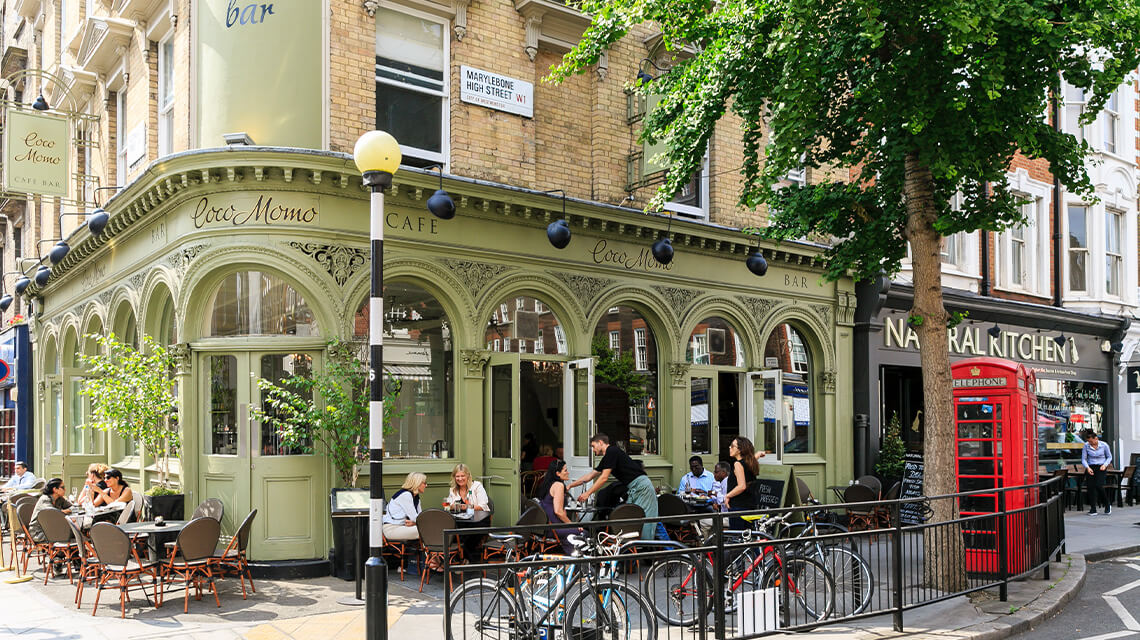 What are the words that first appear when you research Marylebone? 'Affluent', 'stylish' and a 'fashionable postcode' are a few that certainly stand out. Even by just looking at pictures of the area, the sense of prosperity and elegance is impossible to ignore.
The reason that it is so attractive is because it has a great charisma and individuality that sets it apart from its surrounding locations. If you live in Marylebone, you are in the great company of many celebrities, which further accentuates the fact that Marylebone is the place to live to experience luxury at its finest.
The Marylebone Lifestyle
So, what is it that makes Marylebone so luxurious? Picture this; wake up in your deluxe apartment in The Chilterns and bask in plush interiors, then take a stroll down the majestic pavements of Marylebone admiring the old Georgian houses whilst making your way to Brasserie 108, on Marylebone High Street, indulging in afternoon tea with rosé champagne and strawberries with your friends. Afterwards, why not saunter on down to Selfridges in Oxford Street for a spot of retail therapy, here you can enjoy the extensive collection of luxury labels and the beauty hall of every woman's dreams, it is only a short walk away so it would be rude not to. If the hustle and bustle of Oxford Street gets a little too much, then the various quaint boutiques in Marylebone itself, such as Huntergather and Oliver Bonas will allow you to peruse the shops without the commotion of Oxford Street. Once you and your wallet have had a nice day out, it is time to get ready to go out for dinner at Chiltern Firehouse, you may even bump into Kate Moss whilst you are in there as it happens to be one of her favourite spots in London. Now that the scene has been set, there is no denying that Marylebone is as luxurious as it comes.
Opulent Gardens
The availability of exclusive apartments and hotels within Marylebone are an asset to the area and has been the reason that its exclusive status has continued to rise. But Marylebone is more than just fancy restaurants and hotels, there is also some lovely green space within the area including Paddington Street Gardens, where one can take a stroll and enjoy some peace and quiet. In the summer however, these gardens are sometimes the setting for some exciting events such as a variety of open air concerts, a life of luxury is never complete without some live music in a beautiful park. It is clear to see how Marylebone is the definition of luxury as living here gives every resident an essence of comfort, sophistication and taste. However, we must not forget Regent's Park which only sits five minutes away and can be seen in all its glory from some of the apartments in The Chilterns, what a pretty sight that is.
Harley Street
Another element of prestige in Marylebone is of course Harley Street; the famous location that consists of endless clinics and practices that are packed with impressive and advanced equipment. There is no surprise why this place has a reputation that will not stop progressing and confirms to everybody how high-status Marylebone is.
Mayfair
A neighbouring district of Marylebone is of course Mayfair, which is certainly not a neighbour to be complaining about. Marylebone's proximity to this location just adds to the luxury, especially because of the fabulous restaurants that it is home to. Mayfair is full of mouth-watering Michelin Starred restaurants including Hibiscus which serves modern French and is simply divine. Another favourite is Tamarind, being the first ever Indian restaurant in the world to win a Michelin Star, it is most definitely worth a visit and will without doubt tantalise those taste buds.
Looking for a luxury flat in the West End? For further information about the availability of The Chilterns in Marylebone, please click here to have a look at the property on our dedicated microsite.
Edited: 6th December 2022