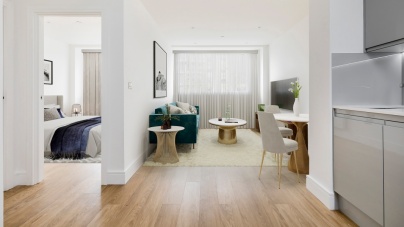 Looking for your perfect property? Look no further than Papermill House: a former-factory-headquarters-turned-fabulous-residential-development located east of the City of London in the popular commuter town of Romford.
About the Development
Papermill House could not be better located; residents will be within walking distance of the lively city centre — where there is a practically infinite choice of shops, bars, clubs and restaurants — as well as the historic Romford Market. Being a 13 minute walk from Romford station means that residents will have the whole capital at their fingertips. The commute to Liverpool Street from Romford station is direct and takes just 27 minutes with TfL Rail. Once operational, Crossrail services will offer an even speedier, direct connection to key destinations such as Tottenham Court Road, Canary Wharf and Heathrow.
The development consists of 115 well-appointed, excellently-equipped studio, one and two bedroom apartments spanning six levels, with all upper-floor properties enjoying their own private external space.
Papermill House is a brilliant choice for all types of buyers: first-time buyers searching for the perfect starter home to get a foot on the property ladder; young professionals and commuters looking for a base within close proximity to the City and Central London; young couples and small families looking for a suburban home near to good schools and close to the Essex countryside; Buy-to-Let investors looking for somewhere that could generate a rewarding rental income.
Properties at Papermill House start at just £195,000 and come with a selection of offers and incentives.
Offers and Incentives
Help to Buy
The Help to Buy Equity Loan allows those eligible to put down as little as 5% deposit. This means that anyone purchasing their Papermill House property with the aid of Help to Buy will only need a small deposit.
Want to learn more about this fantastic government-backed scheme? Here's everything you need to know about Help to Buy.
Fully Furnished at No Extra Cost
To make the moving process smooth and effortless, Galliard Homes is offering a furniture package with each property – completely free of charge! This is an incredible incentive to take full advantage of, whether you're purchasing a second property at Papermill House as a landlord or you're buying your first home at the development and are intending to move in straight away without the hassle and extra cost of furnishing it.
The free furniture package has been curated by the interior design experts at New Concept Interiors, who will ensure buyers have everything they need down to the smallest detail to make their new home stylish, modern and comfortable.
Service Charge Contribution
For the first three years, Galliard Homes is offering a service charge contribution. To find out more, please get in touch on 020 7620 1500.
Stamp Duty Holiday
With a Stamp Duty Holiday introduced by the Government in July 2020, buyers purchasing a home at Papermill House will be completely exempt from paying any Stamp Duty Land Tax on their property; meaning they could save a significant amount of money on their new home.
The Stamp Duty Holiday is due to end on 30th June 2021, however Galliard Homes is extending this deadline until 1st January 2022. We will deduct any SDLT that the buyer would normally be required to pay from the completion sums that are due on the purchase.
Here's Stamp Duty Holiday explained in more detail.
What are you waiting for? Call us today to book your viewing at Papermill House. We also offer online viewings.
Further Information
** Incentive applies only to properties reaching legal completion between 1st July 2021 and 1st January 2022. In the event that Stamp Duty Land Tax rates are varied or amended by the UK Government, this incentive only applies to SDLT rates as at 7 July 2020, i.e. one day prior to the current SDLT 'holiday'. Buyers who own multiple properties will still have to pay the 3% Higher Rates on Additional Dwellings charge.
020 7620 1500