Introducing Galliard's Platinum Collection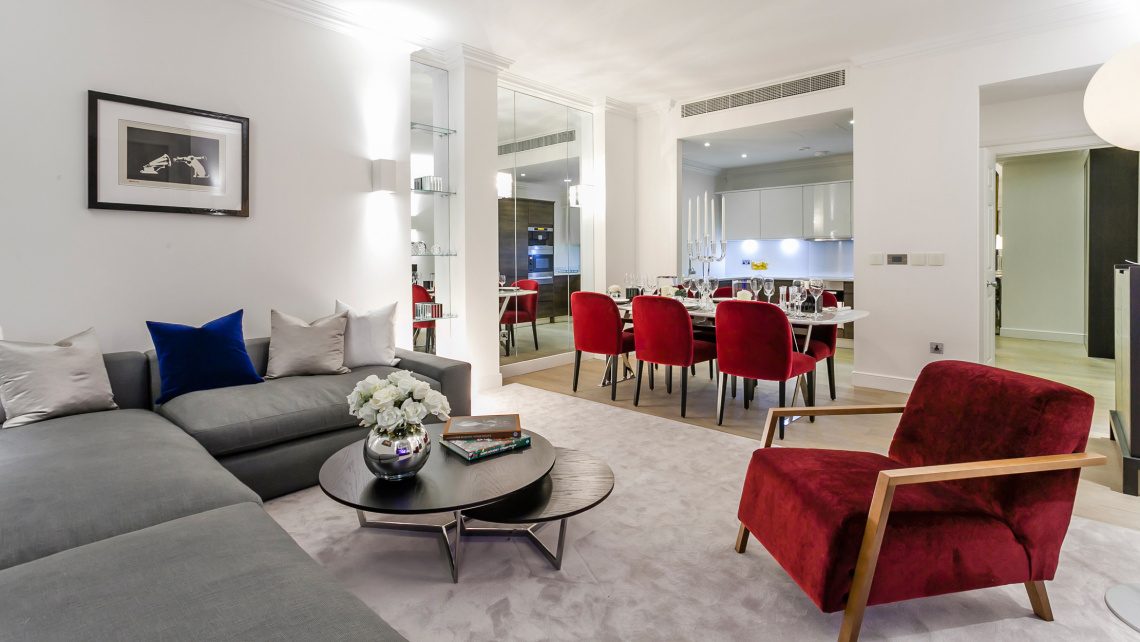 As London's largest private property developer, with 30 years of experience building in some of the capital's most prestigious locations, Galliard Homes is proud to present its Platinum Collection - a prestigious assortment of developments boasting hotel-style facilities and
premier properties worthy of Prime Central London status.
Galliard Homes launched its Platinum Collection back in 2013, setting a new standard of five-star living with properties boasting cutting-edge architectural designs, handpicked finishes by award-winning interior designers, the latest smart home technology and state-of-the-art facilities.
Marconi House in Strand was one of the first new developments attributed to the Platinum Collection, which then went on to win 'Best Large Development' in the Evening Standard New Homes Awards 2013. This year, Galliard raised the 'Platinum' pedestal even higher with the launch of its most expensive and dynamic property venture to date, The Stage in Shoreditch; part residential village, part shopping quarter, part commercial district and part heritage site, this brand new development will house more than 400 years of history whilst a striking 37-storey will be the embodiment of 21st century luxury.
Building a home worthy of Platinum status isn't just about bricks and mortar. There are many components that go into creating million pound homes.
What Makes a 'Platinum' Home?
A Sought-After Address
As experts in the property world, Galliard knows that when it comes to building new homes, it's the location which sets the scene for an elite lifestyle. So when it comes to building developments to represent the pinnacle of luxury living, you can be sure that it will be situated in a highly sought-after stretch of the capital.
The City of London, for instance, is home to no less than four of Galliard's Platinum Collection developments, which include Ludgate Broadway, the Lovat Lane Apartments, Red Lion Court and St Mary At Hill. Another firm favourite for market-leading properties is, unsurprisingly, the opulent West End - in particular the affluent celebrity hotspot, Marylebone - which is home to Galliard developments including Portland Place, Great Cumberland Place and The Chilterns.
In recent years, new areas across London have sprung to success, including the bohemian West End pocket of Fitzrovia, which is now home to Hanway Gardens - a boutique selection of 18 apartments and penthouses just one minutes' walk from Tottenham Court Road station. Down in East London, where London's new nucleus for technology - Old Street's 'Tech City' - is thriving, Galliard's newest Platinum Collection development in Shoreditch, The Stage, is set to both mimic and amplify the area's soaring success, sitting adjacent to the brand new headquarters for the e-commerce giant, Amazon.
Even the Docklands is now emerging as one of the most desirable residential hotspots, with its vastly improved transport infrastructure compared to that of 20 years ago, and the growth of its pioneering business district, Canary Wharf. Galliard Platinum Collection developments here include Baltimore Tower - a striking 45 storey tower just five minutes from the heart of Canary Wharf - and Wapping Riverside - a sensational warehouse conversion overlooking the Thames.
Deluxe Specifications
Whilst the Galliard hallmark is prevalent within all of its properties and developments, the 'Platinum' stamp makes for something that's a little extra special. Each and every detail is designed with the utmost care and attention, with bespoke finishes adding individuality, exclusivity and utter refinement for a breathtaking first impression and a long-lasting residential experience of comfort and splendour.
Take for example The Chilterns, which boasts bespoke kitchen designs by the award-winning Rabih Hage, complemented by high-tech Miele and Gaggenau integrated appliances for easy living in a highly sophisticated environment. A truly spectacular feature of this development is its variation of apartment types, designed to appeal to the occupier's specific needs and tastes. Take the 'Timeless' apartment, for instance, which is designed to incorporate the classic and contemporary for fans of antiques and tradition, or 'The Collector' for the art lover, with dedicated spaces for showcasing collections and unique objects.
Developments such as The Stage also come readily-fitted with bespoke entertainment units with surround sound and wireless technology, as well as a complimentary 40-50" LED Smart TV. The Belsize Park Collection's town houses and two bedroom duplex apartments even boast their own cinema/media rooms and gymnasiums, creating the perfect ambience for an exclusive lifestyle.
From the bedroom to the bathroom, you can be guaranteed that a Platinum home will be flawlessly designed with all of the latest fixtures to evoke admiration from every contemporary aficionado.
Luxury Facilities
Those investing in luxury London property are looking for more than just sophistication and comfort; they want a hotel-style experience that serves their every desire, and Galliard's Platinum Collection developments certainly do not disappoint.
At The Chilterns, residents can enjoy access to a private gym and spa facility, with a concierge service on call 24/7. As well as this, occupiers will benefit from an exclusive cinema and the chance to own their own wine cellar, stocked by Berry Brothers & Rudd.
Baltimore Tower is also set to spoil its residents with access to its health and fitness complex, 'The Club', which is expected to be the largest residential gym and leisure facility in London. To add to the experience, levels 43 to 45 will feature a split-level brasserie, bar and restaurant, offering the perfect space to dine, drink and socialise whilst soaking up the magnificent views of Canary Wharf's skyline.
The Stage will be yet another multi-faceted development, offering an array of luxury lifestyle facilities, including access to a private recreational lounge, screening room and the 32nd level sky lounge.
The majority of Galliard's Platinum Collection developments also come complete with extensive landscaped gardens, either at ground or rooftop level, as well as access to private external space - be it a balcony, terrace or garden - to add to the rich residential ambience.
Impressive Architecture
Whether it's sitting proudly down one of London's major thoroughfares or tucked away behind all the hustle and bustle, Galliard's 'Platinum' homes are sure to turn heads. New-builds have been strategically designed to stand out from the crowd whilst conversions are carefully restored to exhibit the building's timeless beauty.
Take Ludgate Broadway, a selection of nine opulent apartments set against the awe-inspiring backdrop of St Paul's Cathedral, which is set within a historic renovated building, and has been expertly refurbished to showcase traditional townhouse architecture despite its highly contemporary interior. Harley House (pictured) is yet another exquisite conversion, being one of the 'last grand residential landmarks that crowned the Edwardian era of splendour in London'. Walking around Regent's Park, those who spot the development will no doubt be transported back in time, whilst the residents living can relish living amongst a perfect blend of past and present.
Warehouse conversions are also increasingly popular in the luxury property world. Despite their previous dissociation with the glamorous and the refined, once converted into a Platinum Collection development, residents will appreciate the 'Rough Luxe' finish, as demonstrated in Carlow House, which preserves its history and echoes its unique character. Carlow House in Camden has been delicately crafted to marry Manhattan loft-style living with 21st century city luxury, and today stands as a fine example of 1930s Art Deco architecture, home to London's largest winter garden.
Similarly, Wapping Riverside is set to redefine affluent waterside living, combining original Grade II brickwork with designer interiors. Situated in the Wapping Wall Conservation Area, Galliard Homes has aimed to retain the site's industrialised heritage and link with London's maritime culture, which can be seen through apartment interiors such as the exposed brick feature walls and the private balconies overlooking the River Thames.
Read more about the rise of London's boutique developments here.
On the other hand, striking residential towers such as Baltimore Tower are designed to absorb the skyline it inhabits, captivating onlookers with its grandiose structure and eye-catching architecture. Dominating Canary Wharf's skyline with its cylinder-shaped residential tower, rising up more than 45 storeys - or 450ft - Baltimore Tower has been purposefully designed by Skidmore, Owings and Merrill to form a 'visually outstanding tower that has a changing array of perceptual effects as the sun moves around its curving form'. The innovative arrangement of the apartments will create a distinctive 'visual twist', whereby the outer balcony ring will shift and step to the right by mere degrees, forming a spiral-like effect which is accentuated even further when the light hits the building.
A Story Behind the Structure
Besides architecture, interior design and luxury facilities, what's important about any development introduced on the stage of sensational, five-star living is the story behind the structure. This is largely linked to location and history, whereby a site's cultural character is infused within the new design of the development to tell a story that will last generations into the future.
The Stage is a prime example of this. Established on the site of Shakespeare's original Curtain Theatre, this development's story goes back more than 400 years when the theatre hosted some of the most memorable Elizabethan plays, including Henry V, which is said to have premiered there. Now, following an excavation by the Museum of London Archaeology, construction of The Stage is set to commence for completion due in 2021. At the heart of the new site will sit what's expected to become the largest new public piazza in London, which will house a heritage centre and a sunken amphitheatre devoted to the history of the theatre, showcasing its remains, and will be open for the public to enjoy.
The Chilterns, on the other hand, will also have one extraordinary facet to its name. Being situated in one of the most treasured pockets of the West End - Marylebone - Galliard Homes decided that whilst The Chilterns ought to bring something new and dynamic to the luxury property stage, it should also celebrate the area's rich history and flavoursome culture. Exclusive to this development is a private lobby gallery, filled with photography taken by the esteemed British artist David Bailey. Part of his 'Marylebone Collection', all photographs were designed to capture the spirit and personality of Marylebone in an unforgettable way. This is the first private lobby gallery of Bailey's career, and as an added touch of exclusiveness, each apartment will be gifted its own limited edition piece. In years to come, The Chilterns will no doubt have a place in both the residential hall of fame and London's prestigious art scene.
Browse our exceptional range of available property.
Edited: 22nd November 2022