TCRW SOHO Generates Over £50m Worth of Sales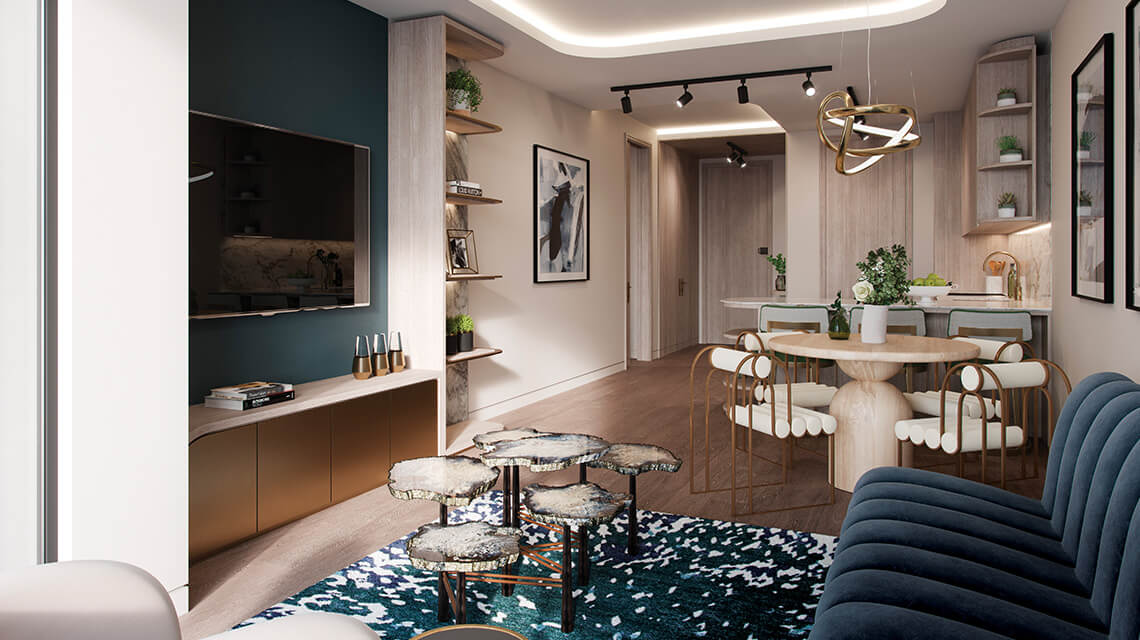 Galliard Homes is pleased to announce that the launch of TCRW SOHO, the £140 million Prime Central London scheme of 92 premium apartments located on Oxford Street at the corner of Dean Street, above Tottenham Court Road's Crossrail interchange, has generated over £50 million worth of off-plan sales to a wide range of buyers including owner-occupiers, investors and parents buying 'study-pads' for their student children.
During the launch, Galliard Homes released 81 apartments at TCRW SOHO for sale at prices starting from £899,000.* The launch consisted of a series of sales events attended by over 500 people, organised by Galliard Homes in conjunction with Savills and One Global. Over 30 apartments (almost 40% of the released stock) rapidly sold off-plan at prices of up to £2,278 per square foot, reflecting the high quality of the Galliard scheme and unique Art Deco and Georgian-contemporary designs of the respective pair of apartment buildings being launched.
Designed by multi award-winning architectural practice Hawkins\Brown with specification and interior design by Argent Design, TCRW SOHO, an acronym for Tottenham Court Road West, will provide 74,675 sq ft worth of residential accommodation and 9,939 sq ft of retail space, located above the new Tottenham Court Road Crossrail Interchange.
Scheduled for completion in Summer 2022 the landmark development will comprise two contrasting new buildings, one Art Deco and the other Georgian-inspired in style, bordered by Oxford Street to the North, Great Chapel Street to the West, Dean Street to the East and Diadem Court to the South.
The first of the two buildings released for sale, the six storey Art Deco building will provide 69 apartments, complete with a flagship 7,989 sqft Oxford Street retail unit and a separate ground floor entrance (Dean Street) and ticket hall for the new Crossrail interchange. Galliard Homes have now successfully reserved/sold 50% of the apartments in the Art Deco building.
The next building to be released for sale at a future date will be the five storey Georgian-inspired building which will provide 23 apartments and 1,950 sqft of new retail accommodation and kiosks fronting onto Dean Street and Great Chapel Street. Also for future release will be the upper penthouse apartments located across the top floors of both buildings.
David Galman, Sales Director at Galliard Homes says, "Over the next 5-10 years Soho and Oxford Street will become one of Prime Central London's most sought after residential addresses. Our TCRW project, alongside other new luxury developments, is transforming the top of Dean Street into a residential destination alongside new retail outlets designed as entertainment venues and brand ambassadors rather than traditional retail sales spaces. Pedestrianisation, Crossrail and electric vehicles are the three major 'game changers' for Oxford Street, making the West End a cleaner, much less congested and quieter place to live."
David Galman continues: "The strong off-plan sales at TCRW SOHO show that discerning people understand what Oxford Street is set to become and are buying into a location that is benefiting from massive regeneration and transformation into a residential address."
Set to become fully operational by Q4 2021, the new Crossrail Interchange at Tottenham Court Road will be one of London's busiest stations. A new ticket hall and underground station will be accessed via Dean Street, while the interchange will offer access to the Elizabeth line and the Northern and Central underground lines.
The Elizabeth line will have capacity for up to 24 high speed trains per hour, serving up to 170,000 passengers daily, with Tottenham Court Road providing high speed journeys to Heathrow Airport (28 minutes), Canary Wharf (12 minutes), Bond Street (2 minutes), City of London/Liverpool Street (5 minutes) and Stratford (14 minutes).
This development is set for completion in 2022. For further sales information contact us on 020 7620 1500 or visit our TCRW SOHO page.
Edited: 11th April 2023