Chinese New Year 2020 in Birmingham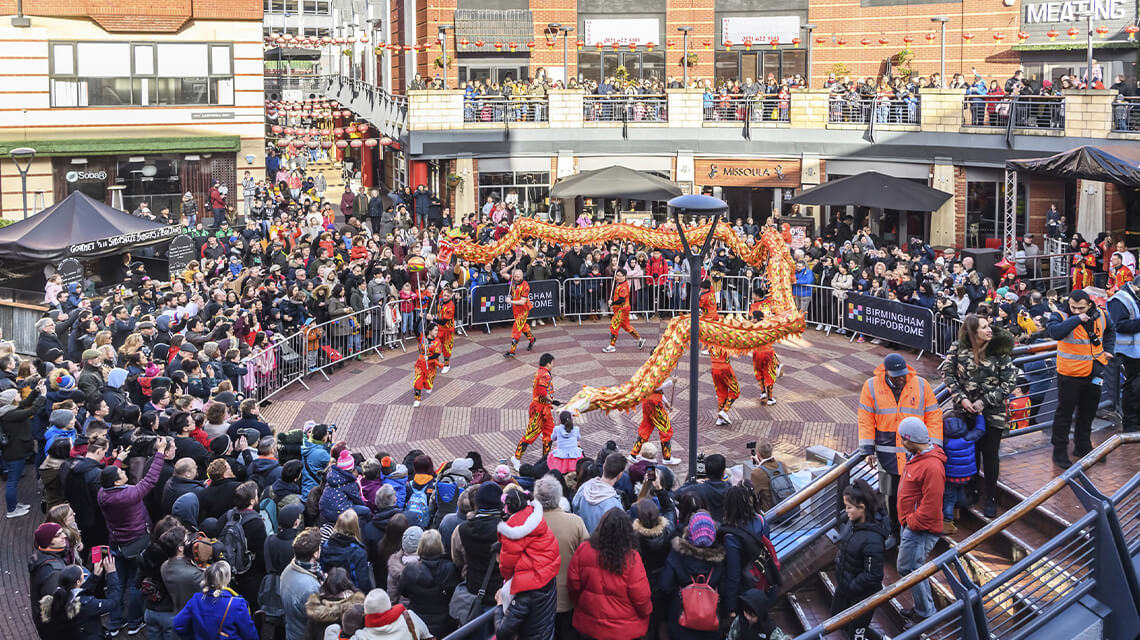 With a significant Chinese population, a growing interest from Chinese investors and a vibrant Chinese Quarter, it comes as no surprise that Chinese New Year is one of the biggest events to take place in the city of Birmingham each year. Whether you're a local or you're just visiting the city over the weekend, make sure you pop down to join in with the celebrations that will be taking place from the 24th - 26th January 2020 to welcome in the Year of the Rat. One thing's for sure, it's not an event to be missed!
The Galliard Apsley Partnership are delighted to be the proud sponsors of this year's Chinese New Year celebrations in Birmingham. Every year, the celebrations in Southside's Chinese Quarter get bigger and better, and are attended by more and more people. In 2019, the Chinatown new year festivities attracted over 30,000 people and this year is forecast to be an even greater turnout with the celebrations now branching out to more areas across Birmingham.
This year, the Chinese Festival Committee Birmingham and Birmingham Hippodrome are partnering up with headline sponsors Galliard Homes, Apsley House Capital and Birmingham Airport to present a weekend jam-packed with free entertainment to welcome in the Year of the Rat.
Friday 24th January
The weekend's celebrations will commence at 6.30pm on Friday with a Chinese New Year concert held at the University of Birmingham; set to feature performances from pianist Di Xiao, singer Mary Jess, violinist Ruth Angell and musician Sid Peacock.
Saturday 25th January
This year, Saturday marks the official start of the Chinese New Year. Bullring & Grand Central will play host to a series of breath-taking pop up performances followed by an enchanting lion and dragon procession. Shoppers can expect to see umbrella dances, acrobats, Shaolin Warriors, light-up stilt walkers and many more acts throughout the day.
Later on, more free performances and a fireworks show will take place at The Arcadian.
Sunday 26th January
From 12pm, Sunday's Chinese New Year 2020 events will kick off at The Galliard Apsley Partnership and Birmingham Airport Stage with a captivating opening ceremony, followed by a chain of shows such as a Shaolin Monk performance, a recital by the Robin Hood School Children's Choir, martial arts demonstrations and plenty more community acts.
If this weren't enough to keep guests and their little ones entertained, there will also be free children's craft activities taking place and the chance to sample the delicious flavours and aromas of oriental cuisine at the variety of food stalls on Eat Street (Inge Street).
Meanwhile, a roster of spectacular traditional performances and dances that are not to be missed will take place from 11.30am through to 4.30pm at Hippodrome Square, Hurst Street and The Arcadian. As if this fun-filled day couldn't pack any more entertainment in, there will also be a live premiere of Lying Together — the new film by world-renowned choreographer Corey Baker — at Birmingham Hippodrome's Patrick Studio, as well as live dance performances from Hong Kong Ballet and Birmingham Royal Ballet.
The celebrations will culminate with an impressive closing ceremony where the Midlands-based Choy Lee Fut Lion and Dragon dance team will perform.
For a preview of what's in store, check out this video.
Chinese New Year Fact File
Did you know these interesting facts about the holiday and the Year of the Rat?
To wish someone a year of happiness and prosperity, the phrase is 'Kung Hei Fat Choy' in Cantonese or 'Gong Xi Fa Cai' in Mandarin.
Chinese New Year is also known as 'Chinese Chunjie' or 'Spring Festival' and marks the new year in the Lunar Calendar. Other Asian countries including Vietnam and Korea also use the Lunar Calendar and celebrate related festivals such as Vietnamese Tet and Korean Solnal at the same time of year.
In the Gregorian Calendar, the Chinese Zodiac's new year occurs every year on a different date, usually between late January and mid-February. As there are 12 animals in the zodiac, it takes 12 years in the Gregorian Calendar for each animal's year to swing back around in the cycle; the last Year of the Rat took place in 2008.
In the Chinese Zodiac, the order of the animals is said to have been decided by the order in which they passed through the Heavenly Gate in the story. According to the Jade Emperor, the order in which the animals passed through the Heavenly Gate also determined their rank. As the Rat came first in the race, tricking and beating the Ox, the Rat ranks highest of all 12 animals.
In Chinese culture, the Rat is known for being quick-witted as he beat the Ox by tricking him. Rats are seen as a sign of wealth and surplus.
In Taoism, the Rat is 'yang' in the concept of yin-yang and represents the beginning of a new day.
Blue, gold and green are known to be lucky colours for Rats, while two and three are lucky numbers. By contrast, yellow and brown are unlucky for Rats, as are the numbers five and nine.
In Chinese superstition eating porridge, washing your hair or clothes, sweeping floors, saying unlucky words (like 'death') and doing needlework could bring bad luck for the whole year ahead.
For the celebrations, get your best red clothing on — it's always fun to wear bright colours but wearing red is especially appropriate as it is associated with good luck in the Chinese culture. If they're new clothes, it's extra lucky!
About The Galliard Apsley Partnership
Galliard Homes and Apsley House Capital are working together to create around 2,250 new homes in Birmingham with a series of exciting new residential developments and regeneration schemes. Learn more about our partnership with Apsley House Capital and the proposed future developments.
Timber Yard
Sitting right on the edge of Birmingham's Chinese Quarter, Timber Yard is The Galliard Apsley Partnership's first mixed-use development in Southside. Residents of the Timber Yard apartments will be moments from all of the Chinatown action where Chinese New Year celebrations take place each year; but once inside the calm, contemporary apartments, they will be transported to a world of tranquillity. In other words, the bustle of the lively Chinese Quarter will feel like a million miles away once residents step inside their relaxing abode, despite it being a mere two minute walk away.
Each apartment is decorated with neutral tones and includes a designer kitchen complete with integrated appliances. Residents of selected apartments will also enjoy their own private external space in the form of a balcony, a terrace or a winter garden. Those living at Timber Yard will have exclusive access to a number of on-site facilities including a residents' gymnasium and a screening room.
Timber Yard is now sold out. For more information, please visit the development page or use our property search tool to find other available properties. Alternatively, call us on 020 3409 2270 to speak with our team.
Finally, Galliard Homes wishes you a healthy and prosperous new year. Kung Hei Fat Choy!
Edited: 31st October 2023