Affordable Locations for First-Time Buyers (New Data)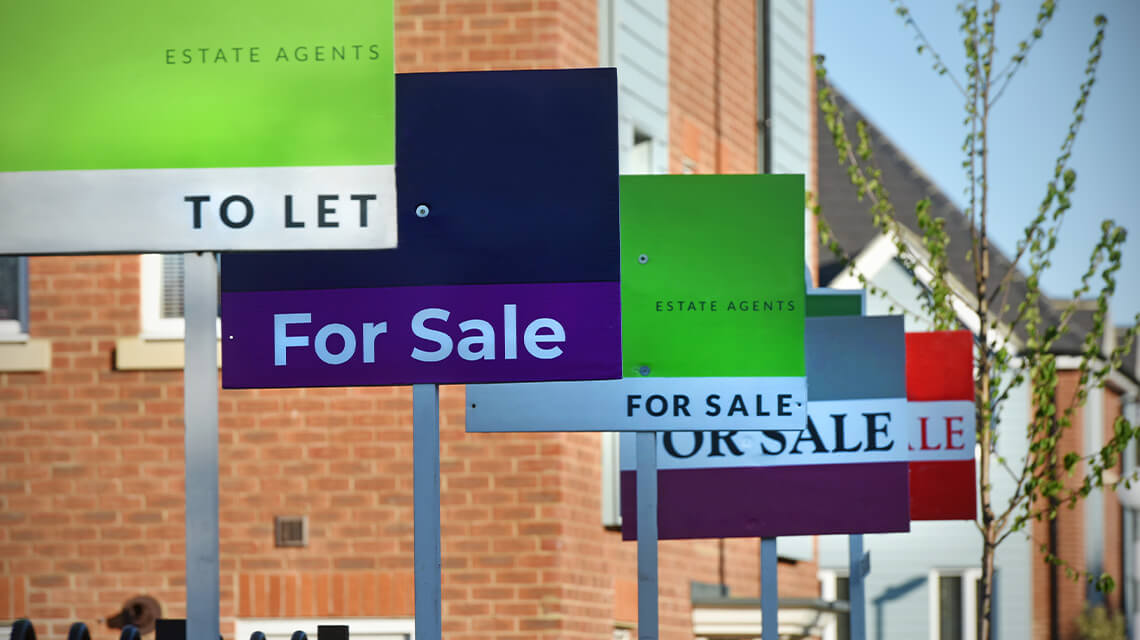 When you're looking to purchase your first home, it can be a difficult decision choosing where to buy. This is especially true if you're on a budget! The UK property market has been on a raging increase since April 2020, so finding a cheap first property can be a challenge.
This guide will walk you through some of the most affordable areas to buy if you're a first-time buyer, including some you may have not considered before on your search. Let's dive into it.
Birmingham, West Midlands
Birmingham has long been considered a good place for buying property. The area has been on a steady growth over the past 12 months, increasing property prices by a whopping 20%. This has left house prices hovering in the £260k range, which is still below the UK average of £283k. In total, 18,593 houses have been sold in the past year, the majority being established properties.
With the increasing prices and cheaper than average properties, Birmingham makes for a lucrative investment for first-time buyers. It offers an opportunity to grab a bargain and still make gains in capital appreciation.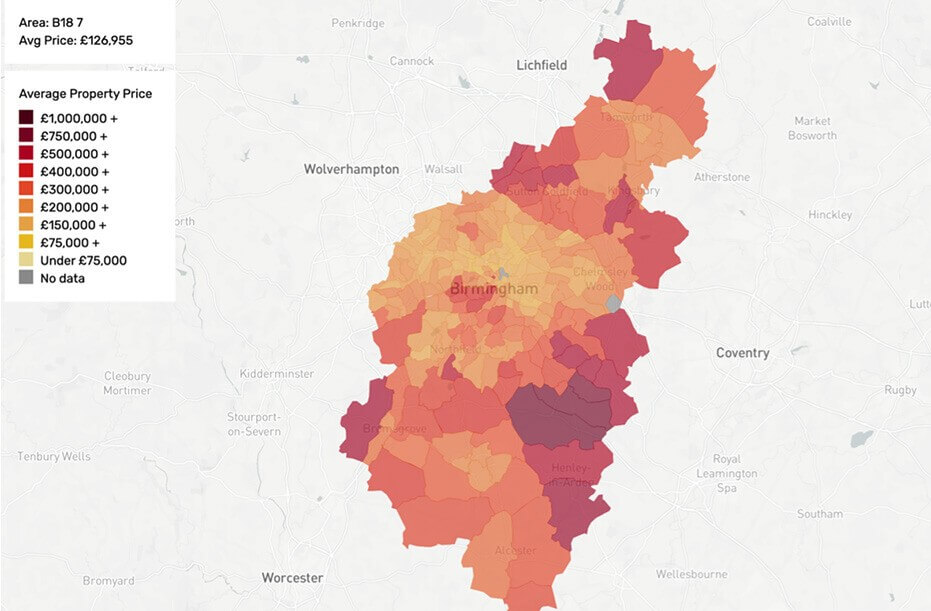 Don't let the £200k+ prices scare you either – this is just the average. Properties in the north of Birmingham are even more affordable for most first-time buyers. Some can be found for as low as £120k in areas like Aston.
Explore our brand-new city centre development, Timber Yard.
Bromley, South London
If London is on the cards for your first-time purchase, finding a cheap area can be a challenge. However, there are still properties that are affordable to those on an average salary.
The Bromley area has experienced superb growth over the past year, seeing a 23% increase. This equates to £111k; a hefty jump, even for London.
This now means the average house price in Bromley is £593k – ouch. However, believe it or not, there are still areas and postcodes within Bromley where first-time buyers can grab a bargain.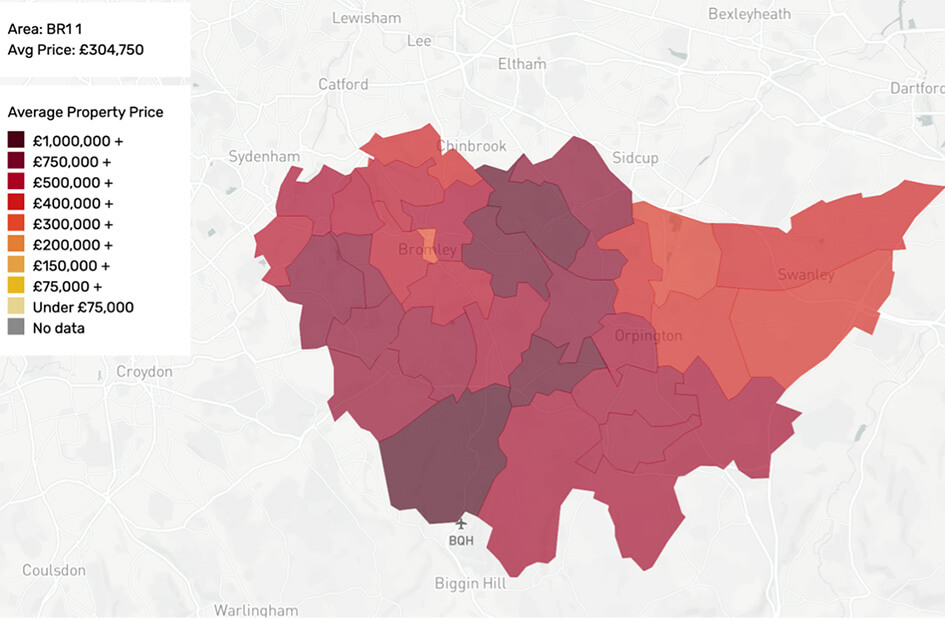 For example, there are still opportunities to grab properties for £304k in Bromley postcodes like BR11. Additionally, according to data from Property Market Intel, 2 bed properties have come down drastically in price in BR1. It is also possible to find 1 bed properties for as low as £80k!
Shoreditch, East London
If you're after another London location to keep an eye on for your first-time property purchase, Shoreditch could be a good option to consider.
The area is another one which has higher than average property prices but still contains hidden gems that make it superb for the first-time London buyer. House prices are sitting at £684k, but don't let this put you off.
The area has started to see a cool-off from its peak, steadily declining by -6% since 2019, with studios and 1 bed properties seeing some of the larger declines.

With a keen eye, first-time buyers can still grab a bargain within this area. There are still 1, 2, and 3 bed properties that can be purchased for under £400k!
Explore our flats for sale in Shoreditch.
Middlesborough, North Yorkshire
If you're wanting to explore your options in more depth and even branch out to the North of the UK, you can find some cheap deals in places like Middlesborough. This small northern town is a superb first-time buying location if you're seriously on a budget.
House prices here are currently sitting around £91k, which is drastically lower than near enough anything you will find in the country. Not to mention that prices have slowly been going up, which means you could find yourself in a good spot when it comes to selling in a few years' time.

Amazingly, you can find 2-bed properties in Middlesborough for £40k! Even if you move up to 3 beds or 4 beds, you'll still be able to get a property for as low as £100k. Keep an eye on this area if you're hunting for a bargain.
Leeds, West Yorkshire
Another solid choice for first-time buyers is the northern city of Leeds. This has always been a hotspot for investors due to cheap prices and up-and-coming areas, but it also makes for a good choice for a first property.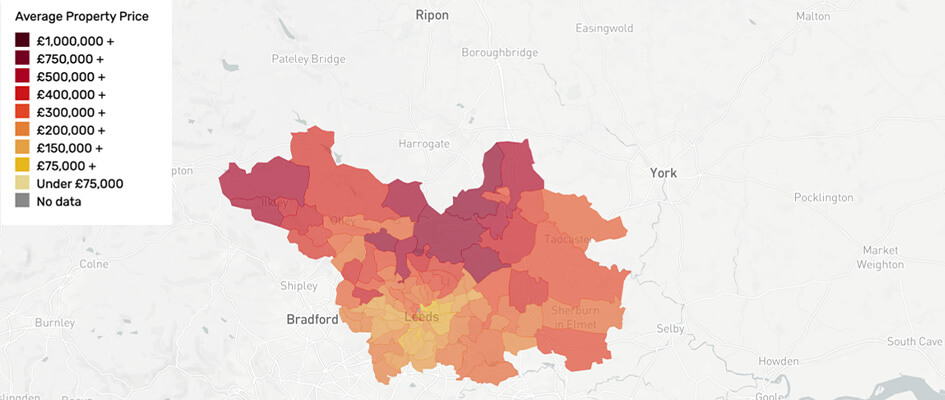 Leeds is one of the largest cities in the UK and has a very strong professional economy. In terms of current house prices, Leeds is still below the UK average at £279k. Prices have also been on a steady incline over the past 12 months, increasing by 38%, equating to £77k.

For first-time buyers, you can find properties for as low as £60k for a 1 bed. However, if you're after something larger, like a 2 bed, the lowest you could probably find is around the £70k mark. This will likely be for properties in the southern part of the city.
Wimbledon, South-West London
Our final location hotspot for affordable homes is Wimbledon. This South-West London town is of course home to the famous Wimbledon Tennis Championships and has fantastic transport links around the city.
The town's property market is an interesting one with homes starting as low as £225k for a 1-bed property. Even when moving up to a 2 bed, you can still find options for as low as £297k – which is monstrously cheap for London.

When comparing these prices to the average for the area, you can begin to see why these are a steal. Wimbledon property prices are currently sitting at £841k and have been declining over 2022 by -13%. This means if you were to wait a while, you might find yourself an even better bargain.
If you're looking at Wimbledon for your first property, keep a keen eye on 1 beds and 3 beds, as these property types appear to be dropping in price whilst 2 beds, 4 beds, and 5 beds, appear to be going up.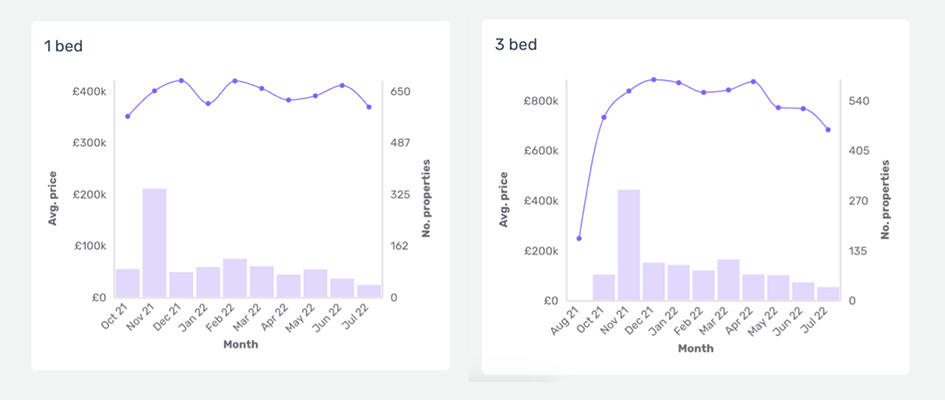 Find out more about our current availability in Wimbledon.
Summing it up
First-time buyers have a hard time getting their first home in the current market. Houses are moving fast, and the prices are staying high. However, even in places like London there are still locations that provide good opportunities for first-time purchases.
Check out the locations above if you're after affordable areas or areas which might be cooling off in price. If you need any further assistance or want to know more about one of our developments, get in touch today on 020 3409 2270.
Edited: 24th August 2023