First-Time Buyer Stories: Our Family Home at Orchard Wharf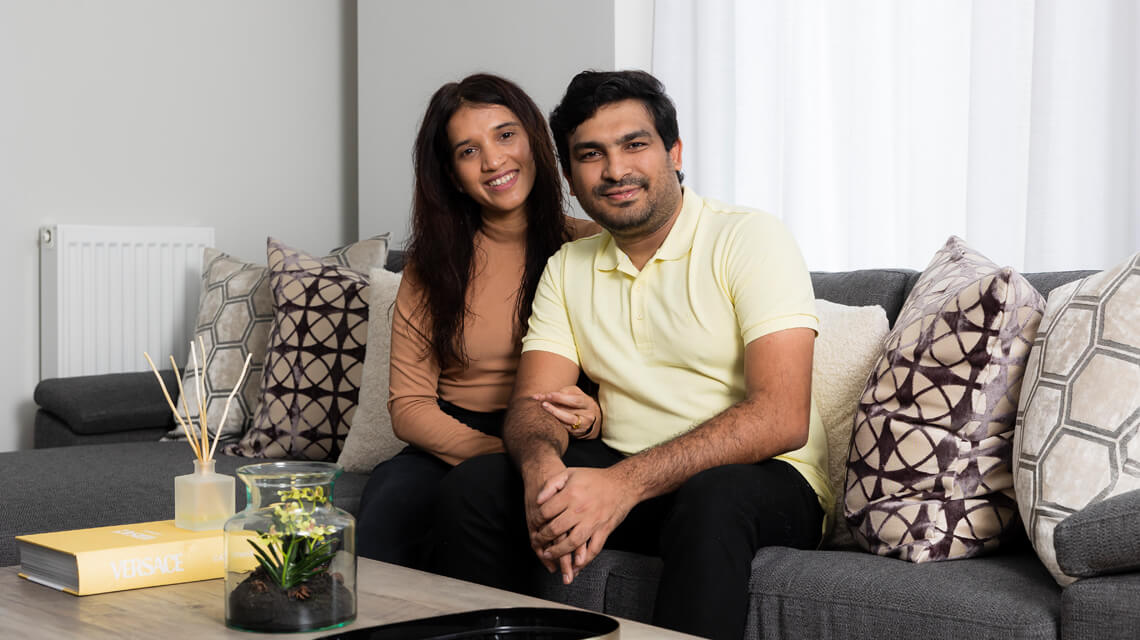 We're always excited to hear from our purchasers about their buying journey and experience. This week, we were delighted to catch up with Aquib and Falak, who recently moved into a three-bedroom apartment at Orchard Wharf with their two children.
We loved our chat with this cheerful couple, who were relieved that they had found the perfect home to raise their children and suit both family and working life.
Our Search Criteria
Parents to two young children, naturally, one of the most important factors for the couple when searching for a family home was space. They commented that 'finding a home which was flexible and suitable for family life was vital for us'.
Like many other young first-time buyers, their property search criteria included an easy commute, a community feel and local amenities within easy reach.
When they contacted the sales team at Galliard, we had the perfect development in mind.
The Buying Process
We booked Aquib and Falak a viewing at Orchard Wharf. 'The sales team originally showed us a two-bedroom apartment which we liked the look of; however, we felt as if we needed more room. Eager to help, they offered us a three-bedroom apartment with which we fell in love. The views across the water from the balcony are incredible and were a huge selling point for us.'
The family snapped up the apartment and moved in at the beginning of August 2022.
'The Galliard sales team were excellent', says Aquib. 'They were patient and extremely helpful throughout the process, and thanks to them, we have found our dream home that suited all our needs!'
An Ideal Location
With East India DLR Station within walking distance from Orchard Wharf, Aquib and Falak are just one stop away from Canning Town and the Jubilee line, which is just two stops away from Canary Wharf, ideal for Falak to commute to her office.
Residents of Orchard Wharf are not short of amenities or areas to relax and socialise with access to a café and retail facility, an outdoor pavilion, courtyard gardens and two recreational areas, as well as landscaped rooftop terraces. Aquib mentions that: 'The development is perfectly located for everything that we need - I can walk to the shops to grab a pint of milk in minutes, and there's even an IKEA not too far away if we need anything for the home'.
Finding a good enough area to raise their children was of great importance for the family. 'The kids love it here- there is a park nearby where they can play, and they have already made friends, which is great for us to see'.
Styling Our Galliard Home
Upon re-visiting the apartment, it is great to see the considered personal touches that have made it a home. The family currently use the principal bedroom as the couple's bedroom, the second bedroom as a guest bedroom and the third as the children's bedroom.
The couple loved that the apartment was unfurnished as it gave them a blank canvas to create their ideal home: 'We spent a great deal of time picking out all the furniture ourselves as we wanted to create a unique home that really felt like our own; we didn't want to settle when it came to quality and were so grateful to Galliard for providing the perfect building blocks within this apartment for us'.
Apartment Highlights
Whilst Falak commutes to the office, Aquib, like many workers post-pandemic, has the flexibility to work from home. Fortunately, the spacious open-plan feel of their living room has created a perfect office setting: 'The living room is our favourite room in the apartment and is where I spend most of my time- the large floor-to-ceiling windows mean the room is always bright and has a great energy.'
It's not just Aquib and Falak who love their new home: 'One thing that our children really wanted were customised bunk beds in their new room, which the space allowed us to do. The children are delighted with their bedroom, and we love that there is enough space to store their abundance of toys!'.
A word from Galliard
David Galman, Sales Director at Galliard Homes, says: 'We are delighted that first-time buyers such as Aquib are finding their dream homes at our developments. Orchard Wharf is an excellent development representative of what London living is all about. We welcome first-time buyers to speak to our wonderful sales teams to begin their journey onto the property ladder'.
Start Your Property Search
Whether you are a first-time buyer, an existing homeowner or a Buy-to-Let investor, Galliard's sales team has the expert knowledge to help you find your perfect property.
Browse our developments here or call 020 3409 2270 to speak to a Sales Advisor.
We look forward to joining you on your property search.
Edited: 24th August 2023