Riverside Rental: Buy-to-Let in Wapping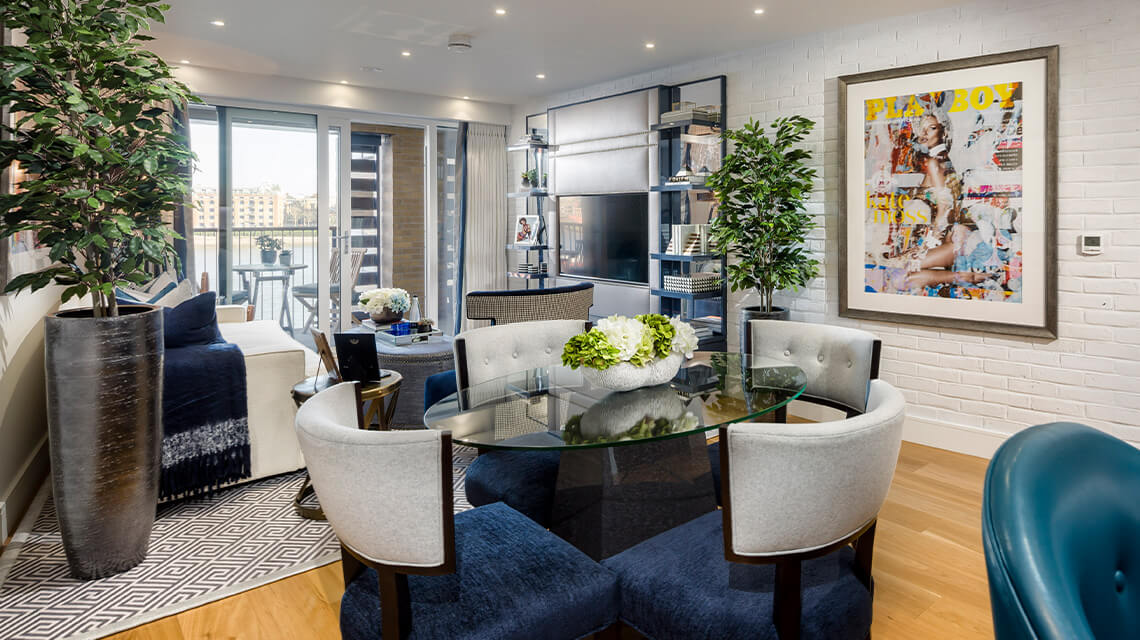 The current average London rental yield stands at 4.5%, yet Wapping is far outperforming this statistic; with impressive yields of up to 6% for a two bedroom apartment.
Furthermore, in comparison to previous years, rental properties are currently in short supply in the area, whereas demand is only growing. Facts such as these set Wapping apart from other London areas, and establish it as a strong investment opportunity in the Buy-to-Let market.
Tenant Profiles: Wapping
Superbly situated on the north bank of the river, Wapping makes up a thin strip of land that rubs shoulders with the likes of Canary Wharf, Tower Bridge, and the City of London. Wapping is indeed home to a diverse community of people, but rental properties are predominantly popular with young single professionals and professional couples, given their proximity to commercial districts and the capital.
Often denoted as London's best kept secret, Wapping is perhaps most fondly known for its village-like appeal; featuring quaint stone cobbled streets, Victorian warehouses, and old-world public houses. This twee, ambient charm, matched with a superior selection of primary schools also serves to establish this area as hugely sought-after by young families.
Snowballing Rental Values, Yields and Demand: Wapping
Across London, average rental values have increased by 12% on a like-for-like basis between 2013 and 2015, and are anticipated to remain on the incline given factors such as cumulative, real income rises; according to Barbon Insurance Group. Factors such as property price growth and mortgage criteria tightening are also having a causative effect on the rental market, in terms of establishing it as a comparatively more accessible and realistic option for house hunters to explore.
Whilst this may not necessarily be good news for first-time buyers, landlords stand to benefit substantially from lucrative investment opportunities, and particularly so in areas where demand for rented property is high and supply is, contrastingly, low. An area which fits the bill almost entirely is, of course, Wapping. Whereas the London average rental yield is 4.5%, Wapping delivers impressive yields of up to 6.0% for a two bedroom apartment. Furthermore, according to Felicity J Lord Estate Agents, rental properties are currently in short supply in the area when compared to previous years, whereas demand is only growing.
The Crossrail Effect: Wapping
The arrival of Crossrail to neighbouring areas, such as Whitechapel (four minutes away via Overground), Canary Wharf (15 minutes via Overground and Jubilee) and Liverpool Street (18 minutes via Overground and Hammersmith & City), is also sure to be a contributing factor in boosting rental yields and demand. In fact, research undertaken by GVA property agents predicts a healthy 1.5% rise in rental values in central locations up until 2017, and an incline of 2.0% thereafter. Cumulatively, they suggest that rental values will have increased by 17.5% over the course of Crossrail's inception (specifically, between 2012 and 2022).
Investing in the Wapping area is sure to be a smart move in Buy-to-Let terms, as owners are likely to reap the rewards for many years to come. The Barbon Insurance Group suggest that investing in Wapping and nearby Limehouse is a shrewd decision in terms of building a property portfolio or creating a pension pot, as both areas are characterised by steady capital growth.
Wapping Riverside
Galliard Homes proudly present Wapping Riverside: a choice selection of one, two, and three bedroom luxury apartments and penthouses within a Grade II listed setting. This spectacular Thameside warehouse conversion majestically presides over the river; offering a prime London residency. The development will incorporate a comprehensive lobby with a concierge and an exquisite residents' landscaped roof garden.
A Wapping Riverside property would make a fantastic rental opportunity, given the development's location: just 10 minutes' walk from the City, and in even closer proximity to the quaint hub of St Katharine Docks, with its leisurely haunts and nautical heritage. Poised immediately above Wapping Overground station, residents could not be closer to prime travel links, delivering them - via Overground services - to a vast array of locations; including the world class business district of Canary Wharf.
Wapping Riverside is now sold out, please click here for more property availability in London.
Edited: 21st November 2022