Buy-to-Let: What Tenants Look For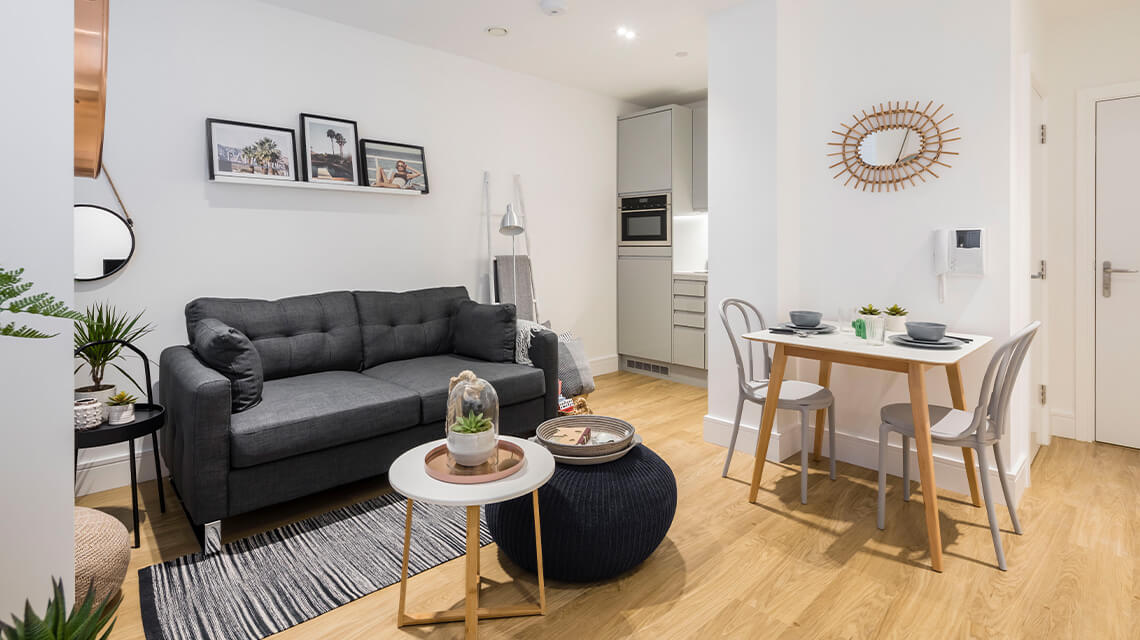 In an increasingly competitive Buy-to-Let market, with private renters now outnumbering homeowners in London for the first time in more than a decade, landlords must balance providing a home that offers the desirability factor and value for money if they are to stand out.
Whilst browsing Zoopla or Rightmove, prospective tenants will first be drawn in by the 'curb appeal' of an attractive photograph, but what distinguishes a flick-through property from a must-see?
Take a look at the essential features tenants are looking for when deciding on their new rental property.
Location
Location is perhaps the most crucial in this list, with accessibility to transport facilities being a huge plus. Many tenants are often prepared to pay more or sacrifice other needs for a property that is close to a train station; combine this with locality to convenience stores, restaurants and entertainment venues and you're sure to see a surge of interested tenants.
Before deciding on a property to add to your portfolio, make sure to research the area and the demographics before committing. As well as helping to determine what will attract tenants, this will also provide insight on any potential void periods and the length of tenancies. For instance, properties close to universities may very rarely see void periods with the constant influx of students, and may have tenancies that last up to three years.
Investing in areas of regeneration is also proving more popular, as investors are looking beyond Zone 1 for more affordable prices, with various redevelopment projects adding incentives such as capital growth and subsequent rental yield increases, as well as a vision for the area's impending transformation. Browse London's regeneration hotspots of 2016 to find out some of the best Buy-to-Let areas in London.
Value for Money
Be sure to research the market and the other properties in the area to see the average weekly/monthly rental prices so you can settle at a competitive rate. The majority of tenants will have a set budget in mind, so if you are slightly more expensive, make sure you have a legitimate reason - such as a closer proximity to a Tube station, inclusive parking or recent renovations - which is still likely to draw in tenants.
Attractive Interiors
The next step is purchasing a property with desirable features, or completing the renovations necessary to make it more attractive. A tenant's worst nightmare is finding what looks like the home of their dreams online only to be disappointed at the viewing.
A modern kitchen and bathroom will always catch the eye, with in-built facilities such as a fridge/freezer, oven and dishwasher adding to a property's appeal.
Neutral décor is also preferred by both tenants and landlords, as it allows occupiers to tailor their home to their taste, whilst giving landlords an easier time of maintaining the property and marketing it to new tenants following the end of the tenancy.
All of Galliard's properties boast open-plan living and dining spaces, designed to complement a flexible, contemporary lifestyle, and maximise on natural light. White-finish walls, one-strip wooden floors, porcelain bathroom tiling and oatmeal-coloured bathroom carpets are just a few of the premier specifications on offer; combining neutral tones with five-star quality. The kitchens are also completed to superb standards, featuring sleek stone worktops and stainless steel integrated appliances to enhance both style and functionality.
Looking for a property with personality? Galliard's Platinum Collection developments, Carlow House and Wapping Riverside, are both warehouse conversions and boast retained character features such as an exposed-brick feature wall within each apartment as an eye-catching, contemporary facet.
Entertainment Appeal
Tenants are often impressed with properties that are technologically-equipped and provide entertainment appeal to enjoy a relaxing lifestyle. Galliard's homes, for example, come with broadband and Sky+ connectivity (subject to subscription), with some, such as the apartments at the Silver Works in Colindale, even offering a bespoke entertainment system featuring a 40-50" smart TV, iPod docking stations and provision for surround sound technology.
Outdoor Space
Outdoor space, such as a balcony, garden or communal grounds, is fantastic for adding an extra 'wow' factor to your property, particularly if outstanding views are on offer.
Take a look at Galliard's new Terrace Collection at Central House in Hounslow, where all apartments will feature their own terrace, plus access to two landscaped communal gardens. If you're looking for something a little closer to the city, browse our developments in the Docklands, such as Maine Tower at Harbour Central - a 41-storey residential tower boasting magnificent views of the River Thames and the Canary Wharf skyline from the upper levels.
Green Homes
'Smart' homes are on the rise, with eco-friendly features and economical solutions becoming more and more desirable. The majority of new-builds and all of Galliard's homes include thermostatically-controlled heating, double glazing and recessed LED lighting; all designed to optimise comfort, maximise heat retention and minimise costs.
Security
Additional features such as a concierge service, secure parking, cycle storage and video entryphone security add both exclusivity and security to a property, promising residents peace of mind. Landlords investing in a new-build will more than likely find an audio-visual entryphone system already built in, for instance Galliard's homes all feature one of these, with many developments also boasting a daytime or 24-hour concierge.
Inclusive Parking
For many tenants looking for a property, parking is a must as purchasing parking externally could result in huge costs, especially if they are considering living in a town centre location or close to a train station. Landlords can attract tenants by purchasing their Buy-to-Let property with a parking space, and then including a fee within the rent each month. Properties with more than two bedrooms may require two parking spaces to suit couples and families who own more than one car.
New to being a landlord and need some Buy-to-Let advice? Read our essential guide to running a successful Buy-to-Let business to help you get started and use our Buy-to-Let guide to help you pick the development that's right for you.
Edited: 14th December 2022