Balconies - Thinking Outside the Box by David Spittles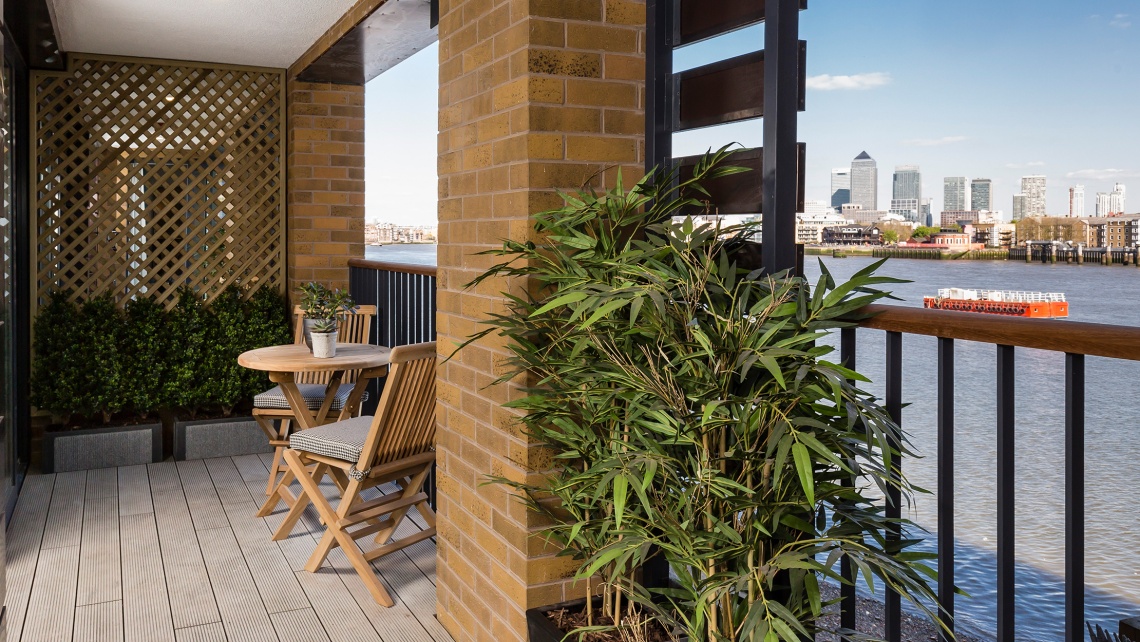 If coronavirus-induced home confinement has taught us anything about domestic architecture it is that private outside space is as coveted as a designer interior.
The lockdown has hit apartment dwellers harder than most owners or renters. While country folk have access to fields and meadows, and most suburban homes come with a garden, many city-centre residents have only a balcony.
But what a versatile and life-affirming space that is proving to be - not just a solitary green retreat but a forum for community cohesion and civic expression too.
Balconies have united to become a public stage - for impromptu singing and concerts, clapping key workers and cyber drinks with neighbours.
In a densely-populated city like London, private outdoor space is a luxury that will always add financial value. The price premium can be anything between 15 and 35 per cent, depending on size, aspect, view and design quality. Even small balconies can easily add £50,000 to the price of an apartment.
Our new-found appreciation of the amenity value of a balcony or roof terrace seems certain to accelerate the trend for better-quality outside space.
Already in London, more than 60 per cent of new apartments have some type of outside space, three times the level of a decade ago, and there are moves to put nature at the heart of housing developments.
A YouGov survey revealed that 53 per cent of homebuyers ranked outside space as the single most important attribute of a new home when asked to choose from a list of 20 features (private parking and energy efficiency were in second and third place).
Certainly architects and developers are thinking more creatively. So-called winter gardens - versatile indoor-outdoor spaces for year-round use - have come in from the cold. Balconies that cantilever out from a building provide little shelter from the elements of a north European country whereas recessed balconies do, and when they are big and deep enough to accommodate a dining table and chairs, planters, growing boxes for vegetables and herbs, they are a reasonable substitute for a garden.
In future, apartment buyers may find themselves being offered bespoke "garden" designs for their balcony, in the same way as they can choose tiles for their bathroom or a cabinet colour for the kitchen. The package might include limestone paving or decking, bronze-coated metal planters, all-weather furniture and a range of striking ferns and succulents, with plants tended by an onsite gardener.
Certainly balconies are becoming a defining feature of showpiece global architecture. In Singapore, cascading, extravagantly shaped and sized balconies characterise a building's sculptural form. This country has embraced "biophilic" design (homes that incorporate nature - daylight, fresh air, plants and water), while its "City in a Garden" ambition has already seen the proportion of the island covered by trees jump from 36pc to 48pc. A 300km "park connector network" includes elevated walkways that pass through lush forests and sanctuaries.
The human need for outside space is more pressing in densely populated cities. According to the UN, 83pc of the UK population lives in cities compared with 15pc before the industrial revolution.
Yet London has more green space than most world cities. As well as eight Royal Parks, there are heaths and commons, 600 traditional garden squares, numerous public parks plus nature reserves and well-kept community spaces tucked away in unlikely pockets of the inner city.
We all know that green space promotes quality of life. Indeed, every £1 invested in green space contributes £30 towards health and wellbeing, and £23 towards community safety, according to an independent survey commissioned by the Land Trust charity.
Faced with dire warnings about global warming, housing developments that connect outside and inside space and weave nature and greenery into their fabric are likely to have wider appeal.
As well as a personal private space in the form of a balcony or terrace, it could be an imaginatively-designed communal courtyard or roof garden, perhaps with equipment for exercising. By encouraging residents to take a stroll or sit down and relax, these semi-private communal spaces becomes an extension of the home itself.
London's biggest zen garden has been created at Islington Square, a former Royal Mail depot transformed into a fashionable new address with 263 homes.
The historic 4.5-acre site had been closed to the public for generations, but its grand double-arched entrance once only used by postal delivery vans has been opened and a new shopping arcade and civic square created behind the impressive facade.
The 795 sq m zen sanctuary has been designed by Chelsea Flower Show Gold Medallist and Bonsai-artist Peter Chan. In addition, copious green space has been created across the rooftops of restored buildings and newly-built apartment blocks.
Penthouses come with big decked terraces and private rooftop swimming pools, while street-level maisonettes have an internal courtyard - effectively an outdoor lounge - plus a garden.
A key architectural element is a new pedestrian route to a neighbouring conservation area of Victorian garden squares. This takes the form of a glass-roofed internal garden and retail mall plus an open-air tree-lined street.
Similar green credentials are a hallmark of other Galliard developments in London including Orchard Wharf in Docklands and Newhams Yard in Bermondsey, while listed Hope House in Bath offers heritage homes amid terraced lawns and six acres of parkland.
Edited: 17th October 2022