Reasons to Move to London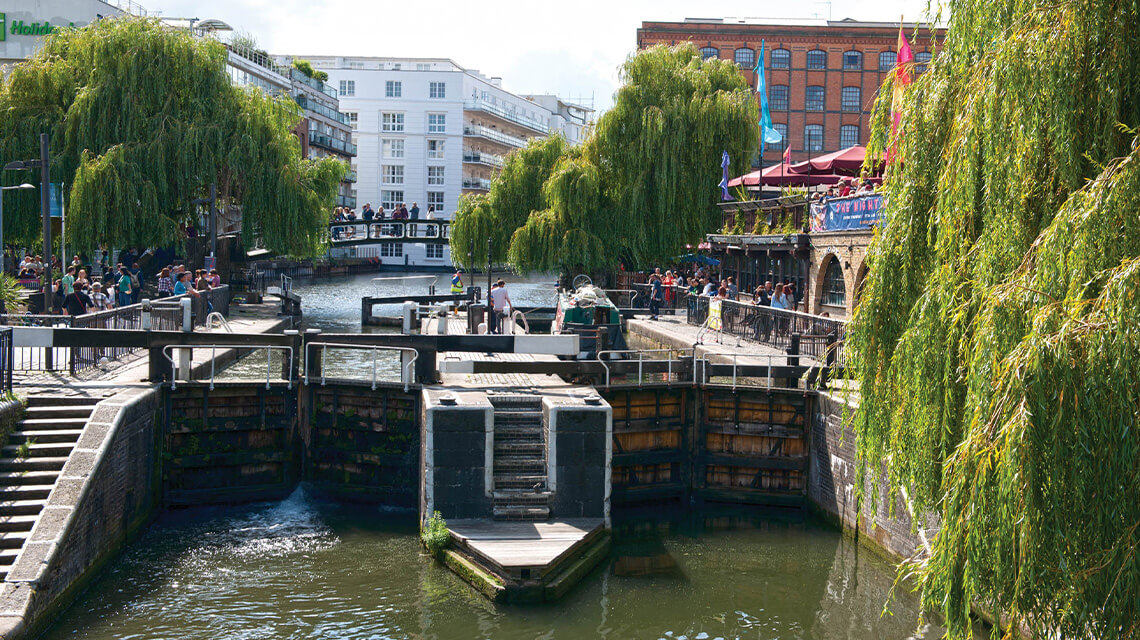 From fashion to food and booming business hubs to breathtaking landmarks, London is an international city with insurmountable appeal, attracting visitors and new residents from around the globe.
The UK capital is bursting with opportunities to indulge and explore. For all of you aspiring Londoners, here's what makes this city stand out from the rest.
It's a Chart Topper
Already dubbed a 'world city', a 'super city' and the 'world's most innovative city', there's no denying London's prominence on the international stage. Last year, it was deemed the 'world's most powerful city' for the fourth time in a row, largely down to its cultural offerings, accessibility and thriving economy. So whether your move to London is part of a shift or progression in career, or you're just looking for a new adventure, you can be guaranteed that you've found yourself in the right place.
History
With a history spanning more than 2,000 years, London's heritage is what makes the city so special. Architecture from the Roman, Tudor, Stuart and Victorian periods can be seen all around the city, some propped next to some of the most inspiring new-builds such as The Shard, The Walkie-Talkie and The Gherkin - making the Central London skyline a flawless spectacle of past and present.
Read about London's evolving skyline here.
Join the Community
When you move to London you'll be joining the countless number of celebrities who were either born and raised in the city, or have chosen to make it their home after falling in love with its infectiously vibrant atmosphere. In fact, London has the world's highest concentration of celebrities outside Los Angeles! Past residents have included poet John Keats, who was born in Moorgate, Charlie Chaplin, who is considered as one of the founding fathers of the acting and comic world, from Southwark, and renowned film director Alfred Hitchcock, who was born in Leytonstone.
For generations, London has been the European city of choice for entrepreneurs, aspiring artists, musicians, and ambitious writers, amongst many other cohorts, looking to have their name heard and pictured amongst bright lights. More recent residents have included singer David Bowie, who was born in Brixton, broadcaster David Attenborough from Isleworth and actor Daniel Day-Lewis, who was born in Greenwich. The number of A-listers residing in London is ever-growing, so if you do move to the capital, expect to feel a little star-struck at times!
Explore some of the hotspots where some of the biggest names in the literary world resided here.
Breathtaking Landmarks
London is the first city to have received TripAdvisor's 'Traveller's Choice Award' more than once, having been named the top-ranked city destination in the world, whilst the MasterCard Global Destination Cities Index placed it at a close second in the world's top travel destinations. With England having a reputation as one of the rainiest nations, and being a long way from any Mediterranean beaches, anyone who hasn't visited London might wonder what the allure is, despite the fact that the Queen resides there! But for anyone who has visited London, it's no shock that more than 19.88m people are expected to visit the city in 2016.
Without question, London's breathtaking landmarks are the reason most people head to the Big Smoke. From the Houses of Parliament, Big Ben and the Tower of London to Buckingham Palace, Westminster Abbey and St Paul's Cathedral - as well as more recent additions such as the London Eye and the O2 Arena - London is filled to the brim with opportunities to explore its vast history and regal culture.
A Melting Pot of Cultures
Whether you're coming from abroad or another UK destination, London welcomes you with open arms as one of the most multi-cultural destinations on the planet, home to more than 8.6m people - nearly 40% of which were born outside of the country. Experts say that if London continues to grow at the pace it currently is, by 2031 we will have more people who have moved from another country living in London than natives! It's already considered the sixth biggest French city in the world and overall more than 300 languages are spoken here.
A Different Character around Every Corner
Despite London's classically British appearance, preserved by its magnificent assortment of grandiose buildings and historical sites, London can be divided into an innumerable amount of districts, each with its own distinct character and niche. For instance, East London - particularly locations such as Shoreditch - is a magnet for hipsters, artists and admirers of the eccentric with its quirky bars, flavoursome coffee shops, idiosyncratic galleries and creative pop-up stores. Head towards the West End towards districts as Bloomsbury and Marylebone and you'll find yourself soaking up a different atmosphere entirely. Adorned with green parks, some of the capital's most renowned educational establishments, and within close reach of the revered 'Theatreland', the West End is the home of the extravagant and refined, offering a luxurious experience to all who grace its grand thoroughfares and Michelin-starred streets.
Whatever your personality and taste, you're bound to find a corner of the capital that suits you entirely whilst continuing to surprise and fascinate you on a daily basis. Take a look at our range of area guides to find the right location for you.
Transport
London was the first city in the world to have an underground railway system - the 'Tube' - and today it is regarded as one of the best in the world; third to be exact, closely preceded by Paris and New York. This year marks a new era for London transport with the introduction of the 'Night Tube', making this a curfew-free, 24-hour city for its visitors and residents.
Crossrail is also one of the capital's most renowned transport projects set to amplify the city's status as a leading innovator, creating a brand new east-west link running through London to cut journey times and ease commuter traffic.
Take a look at London's Crossrail hotspots here.
As well as this, the introduction of the 'Boris Bike' in 2010 was a huge turning point, creating more flexible and cheaper ways of seeing and getting around the capital. If that wasn't enough, Londoners can also travel by boat with a river bus run by MBNA Thames Clippers, providing services all the way from Putney in South West London to Royal Arsenal Woolwich in South East London.
Booming Business Hubs
With the City of London and Canary Wharf leading the way in the financial realm, Old Street breaking new ground in the technology world and new areas such as Shoreditch and the Olympic Village emerging as new creative and design hubs, the capital is crammed with potential. Whether you're moving here as a start-up or an established business, you can trust that you're in one of the leading destinations for your venture.
Beautiful Parks
Despite much of the capital being a concrete jungle with high-rise buildings dominating the centre, more than 40% of London is actually considered green space, making it the 'greenest city of its size in the world'. With eight acclaimed Royal Parks, including Hyde Park and Regent's Park, you'll be spoilt for choice on where to explore and immerse yourself in nature. For picnics, an absolute favourite is Primrose Hill, whilst Parliament Hill at Hampstead Heath offers the best view of the city in London.
World-Class Education
London is home to 48 universities, boasting the largest concentration of higher education in Europe, with many of these institutions considered the best in the world. If you're coming to London to study, you'll not only find yourself in one of the most dynamic and entertaining student cities across the globe, but you'll be astounded with the vast choice of elite establishments. Be it medicine, law, fashion or the arts, whatever you're subject, you will certainly be amongst the best in London.
The top three London universities are Imperial College London, a reputable science and technology institution, University College London and the London School of Economics - coming in the top five of The Times' Higher Education ranking of the best UK universities.
Fashion Frantic
Home to supermodels Kate Moss, Naomi Campbell and Cara Delevingne - as well as fashion moguls including Victoria Beckham and Stella McCartney - London is the European Mecca for fashion fanatics. In the words of designer Vivienne Westwood: 'There's nowhere else like London. Nothing at all, anywhere.'
From vintage boutiques down Brick Lane in Shoreditch to the designer quarter down Bond Street in the West End, you'll find inspiration and never-ending choice around every corner. A true British favourite is, of course, Harrods - offering the grandest of shopping experiences in London's most ostentatious district, Knightsbridge.
Entertainment
London is home to more than 170 museums, 850 art galleries and 300 music venues, so you can be sure that you'll never be bored in this tireless city. Enjoy street entertainment in Covent Garden, head to a West End show or take a tour around Shakespeare's Globe - whatever takes your fancy, London will excite and intrigue in abundance.
Festivals
Thousands of people flock from around the globe to London's festivals, of which there are around 250 held every year! One of the most renowned is, of course, the Notting Hill Carnival, which takes place on the Bank Holiday weekend at the end of August and celebrates London's multicultural community with live music, dancing, spectacular carnival floats, costume parades and exotic food.
A Foodie Haven
If you love food, there's literally no better place to be than London. Whether you're on a budget or fancy an upmarket treat, there is an unimaginable amount of choice available to you. Be it a swanky British pub, an artisan café or a Michelin-starred restaurant, you'll find London won't disappoint in delivering authentic flavours and buzzing environments in which to dine and socialise.
Afternoon Tea
Britain is famous for its afternoon tea and brunches, and where better than its bustling capital to enjoy a classic cup of English tea and delectable assortment of handcrafted pastries. When you move to the city, you'll quickly realise that tea is as quintessentially a part of being a Londoner as taking the Tube!
London Markets
The city's markets are a treasured part of London culture. If you're after fresh organic food, 19th century jewellery, second-hand apparel, or household bric-a-brac, there's a London market for you. Pretty much every district will have its own street market held at least once a week, but the cut above the rest has to include Old Spitalfields Market for its antiques and vintage clothes, Borough Market for its gourmet food and Camden Lock Market for its arts and crafts.
Considering investing in London property? Use our property search or browse our range of off-plan and available developments to find your dream home today.
Edited: 21st November 2022