East London's Progress Since the 2012 Olympics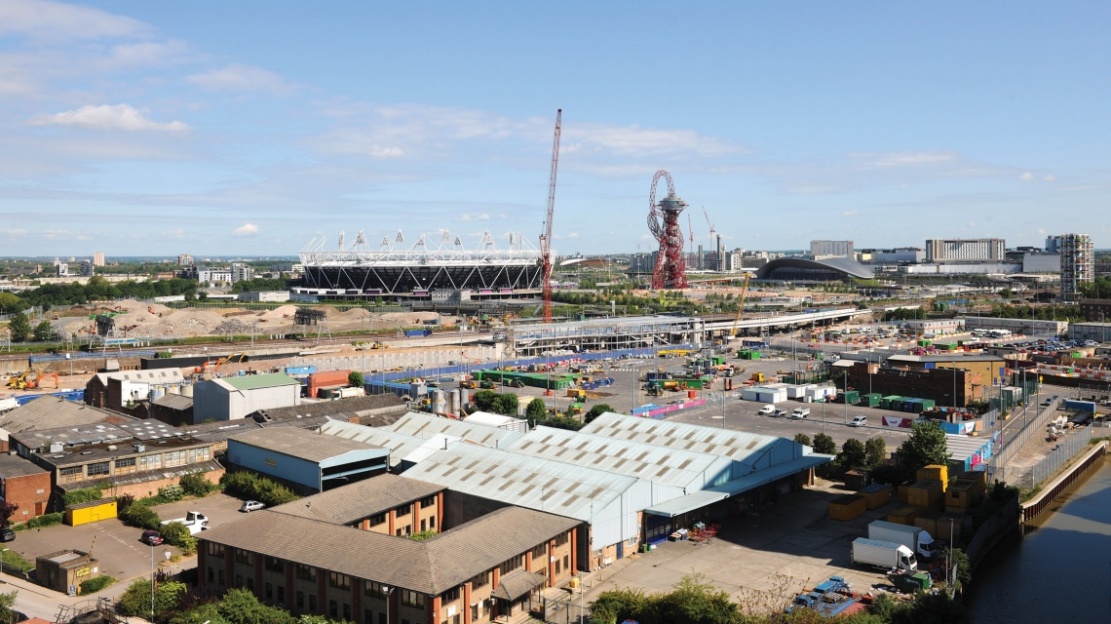 Once home to a 20ft-tall 'Fridge Mountain' on a neglected brownfield site two miles north of Canary Wharf, Stratford has come a long way since its pre-Olympic days. Before 2012, this pocket of East London hardly had a claim to fame on the cultural map of London, but today it is described as one of the most connected areas of the capital - second only to King's Cross - and one of the most visited leisure and tourist destinations.
The London 2012 Olympics was more than just a 16-day tournament celebrating international sport and culture; for London it was a chance to reinvent a key area of the capital in need of regeneration. The result? More than four billion people tuned in to watch the Olympic and Paralympic Games, and since then East London has gone on to welcome more business start-ups than anywhere else in the city, and more Londoners are said to live east of Tower Bridge than to the west, with a population that's set to flourish even more as 42% of all new housing in London is now being centred in the east.
Before the Olympics, Stratford - and East London as a whole - was already on its way to rejuvenation in both transport and infrastructure, but there's no doubt that the Games motivated further renewal in the lead-up to the tournament, and investment in the years following. London City Airport, Stratford International station and the Jubilee line were already introduced; Westfield already had its planning application put in before the Olympic bid; and Canary Wharf was well on its way to becoming London's leading financial centre, having a knock-on effect in the surrounding areas. Despite this, it would still be hard to imagine Stratford now without the Olympics. The area where the stadium now stands would still be a derelict wasteland, the 'E15' postcode - now home to the East Village, which previously housed the Olympians - would not be considered a sought-after residential address, and new businesses might only have looked towards the East for its affordability rather than the vast potential that it now has to offer.
Creating a Legacy for East London
More than £9bn of public money was poured into preparation for the Olympics, and between the summer of 2012 and 2014, the British economy saw a trade boost of more than £14bn, beating the initial target of £11bn by 2016 in half the time. It's now thought that this figure could reach a whopping £41bn by 2020. As well as this, the number of international visitors soared and the Olympic Park has now transformed into a community centre for sport, culture and business.
Former Mayor of London Boris Johnson stated back in 2014 that "…ambitious plans are in place to develop a constellation of educational, artistic, technology and cultural institutions on the site to strengthen our lead as a global force in these sectors, and deliver tens of thousands of jobs. This is a living legacy that is reaping economic and social dividends not just here in London, but across the UK."
The Queen Elizabeth Olympic Park
A year after the Olympic Games, the Copper Box Arena opened to the public as a world-class, community sports centre, and the park played host to a number of concerts, ceremonies and festivals including National Paralympic Day and the Sainsbury's Anniversary Games. By the end of 2014, London Aquatics Centre - the famous wave-shaped swimming centre designed by Zaha Hadid - opened to the public, as well as the Lee Valley VeloPark, the Hockey and Tennis Centre, and the ArcelorMittal Orbit - the UK's tallest sculpture, which features the world's tallest and longest tunnel slide.
Last year, Loughborough University opened its postgraduate campus in the former press centre at the Olympic Park, which is now part of Here East - a new digital quarter for East London, bringing start-ups and established names such as BT Sport to this thriving new spot of the capital.
In August this year, the Olympic Stadium opened its doors as the UK's new national centre for athletics and the permanent residence of West Ham United Football Club, anchoring its status as London's - and indeed the nation's - sporting hub.
This year will also see the first commercial spaces being occupied at The International Quarter - a £2.3bn project and one of the UK's largest mixed-use schemes that will provide four million sq. ft. of Grade A commercial space and 330 new homes with incorporated retail, childcare and community facilities.
Olympicopolis
Forecast to create 3,000 jobs, attract more than 1.5m annual visitors, and boost East London's economy by £2.8bn, the new Olympicopolis - or Stratford Waterfront, as it is referred to by its architects - is set to create a world-class education and cultural hub within the Olympic Park. It will house a new Victoria and Albert Museum - dubbed V&A East - and talks are also in place with the Smithsonian Institute - the world's largest museum and research complex - to open its first permanent museum outside of the United States here. Other residents are expected to include the Sadler's Wells theatre, the London College of Fashion and a second campus for University College London - the 'largest single expansion of the university since it was founded in 1826'. We can expect to see this grandiose new development up and running by the early 2020s.
Stratford Shopping Centre
Along with the number of residential developments now under construction within the area, Stratford Shopping Centre is undergoing its own rejuvenation. As well as new homes, we can expect to see more shops and public spaces, whilst the street market will be preserved to cater to its loyal community.
The juggernaut of Stratford, Westfield - UK's largest urban shopping and leisure destination - will no doubt continue to prosper, with expansions planned which will provide more retail space and around 8,000 new jobs in the next 10 years. This year it is also expected to see the highest ever footfall since its opening in 2011, thanks to its success in the Olympic spotlight.
Transport
Crossrail is no doubt adding to the allure of further-out locations from Central London, and East London is certainly benefitting. Property consultancy CBRE believes prices of homes around Elizabeth line stations will continue to rise until the opening of the new route, with the average property experiencing a hike of up to £133,000 in just two years. Currently, those travelling to Paddington station from Stratford would take around 31 minutes to complete their journey, but once Crossrail is in place, this will go down to just 18 minutes. Bond Street will be accessible in just 15 minutes, whilst reaching Heathrow Airport will be achievable in less than 45 minutes.
As well as this, talks are underway to increase the number of cars on the DLR to accommodate 50% more passengers and upping the frequency of trains. The introduction of the Night Tube has now also opened up more opportunities for Londoners, and no doubt East London's night-time economy will profit from London's migration to being a truly 24-hour city, especially in areas such as Shoreditch which are popular pockets of entertainment and culture.
New river crossings are also planned across East London, which will help ease congestion and crowding as the capital's population continues to balloon. Former Chief Executive of the London Legacy Development Corporation, Dennis Hone, spoke of the number of regeneration schemes planned across the area, stating 'I remember the East End when, if you lived on the Isle of Dogs, you had to get two buses to get to Stratford to shop - now it's transformed'.
Property
According to Homes and Property, Stratford is outperforming the rest of the capital with a property price growth of up to 71% since 2005 when London won the bid for the 2012 Olympics. Research from data analysts LonRes found that average values in the area surrounding the Olympic Park went from £171,081 to £293,105 in 11 years, which will only continue to rise as Stratford's commercial and residential scene flourishes with new developments.
The population of Inner East London is predicted to swell another 21% by 2020, making housing a key priority for the Mayor of London. The London Boroughs of Newham and Tower Hamlets have seen the fastest population growth in recent years, rising by 39% and 45% respectively between 2001 and 2015.
Before the millennium, wannabe Londoners would have looked to Central London for a new home, but as developments, businesses and landmarks are heading eastwards, investors are seeing the East End in a whole new light; and with prices still in another league compared to the prices found further west, it is still deemed an attractive and achievable choice for first-time buyers.
Galliard Developments
Capital Towers
Due for completion between 2016 and 2017, Capital Towers is set to comprise two residential towers - the 14-storey City West Tower and the 34-storey Sky View Tower - both comprising a total of 191 luxury apartments, each featuring access to winter gardens. The majority of the one, two and three bedroom apartments will enjoy dual-aspect views of Canary Wharf and the City, whilst all will be expertly designed for high-end, contemporary style and functionality.
Overlooking the Queen Elizabeth Olympic Park, this development is perfectly placed to take advantage of Stratford's new status as one of the UK's most forward-thinking and prosperous areas of regeneration.
The Stage
Situated just five minutes' walk from Liverpool Street station - the City's new Crossrail hub - The Stage is one of East London's most anticipated mixed-use developments, setting the bar for luxury living at a new precedent in Shoreditch. Sitting on the grounds of Shakespeare's Curtain Theatre, where the playwright himself performed in the 16th century, this development's reputation as a treasured cultural landmark and residential haven already precedes itself, three years before it is due for completion.
At the heart of the development will be what's expected to become London's largest new public piazza, which will be lined with pop-up stores and anchored by a heritage centre and sunken amphitheatre dedicated to showcasing the remains of the former theatre. The 37-storey residential tower will be home to a sensational range of one to four bedroom properties, all boasting access to a private balcony and/or terrace. Residents will be within easy reach of Old Street's 'Tech City' - where more regeneration is currently underway at the Silicon Roundabout - and the variety of bars, restaurants, fashion stores and entertainment options within Shoreditch.
Edited: 24th October 2023