"I want to say a huge thank you. I was not a typical first-time buyer but the help I got was just outstanding."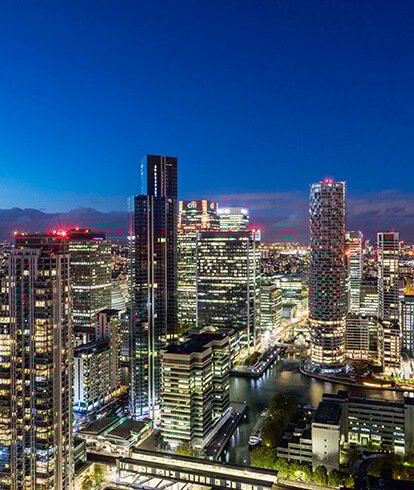 Why Buy with Galliard in Docklands
Once a thriving industrial dock, the 1980s saw a great regeneration for the Docklands area, transforming it into one of the largest financial centres in the capital today. Property in the area provides the ideal opportunity for Buy-to-Let investors and owner-occupiers looking for the perfect city home.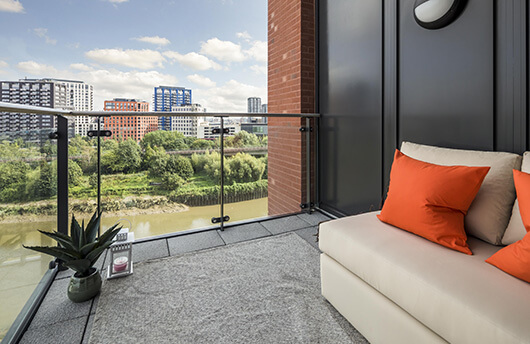 Living in Docklands
The regeneration of London Docklands has transformed it into the go-to destination for those looking to live, work and play. Not only is it home to powerhouse Canary Wharf – a thriving business hub – but it also offers an unbeatable dining and night-life option for the perfect riverside setting. The leisure and retail options are another reason why many move to the area. New build properties for sale in Docklands are in ample supply, with many offering high-end living in a central location.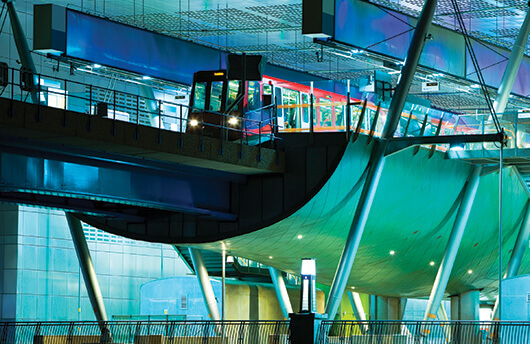 Transport in Docklands
Situated in Zone 2, the Docklands is a well-connected area of London offering excellent transport services such as the Jubilee line at Canary Wharf underground station, and the Docklands Light Railway (DLR). The arrival of Crossrail will provide even more ways for residents to commute around London and beyond and will help secure the area for future investments.
If you prefer to travel on the water then the Thames Clipper provides quick and easy transfers between Rotherhithe and Canary Wharf using the Doubletree Docklands Pier - all at the tap of your debit or credit card!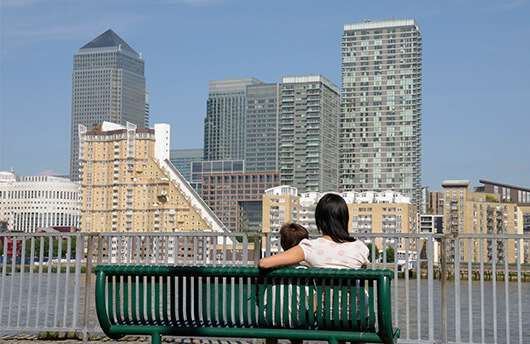 Schools in Docklands
Like most other parts of London, Docklands is no exception when it comes to the varied choice of educational facilities. Several Ofsted 'outstanding' schools can be found in and around the area, namely Bygrove Primary School and Canary Wharf College, as well as Rokeby School and George Green's School which are Ofsted 'good' schools. For those choosing to raise children in this popular area of East London, choosing good schools need not be a worry.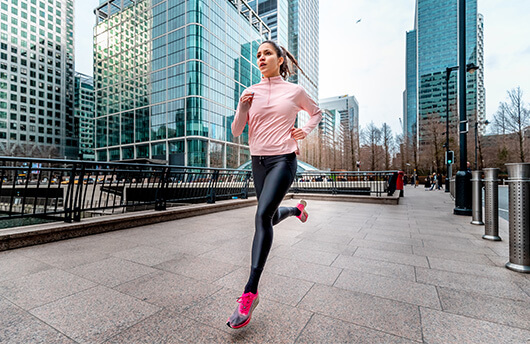 Keeping Fit in Docklands
Despite its corporate workplace reputation, Docklands has everything residents of E14 could need within a short walk. There are a number of gyms and fitness clubs for all budgets including PureGym, Third Space, and Nuffield Health whilst fitness classes such as yoga, pilates, and Bounce Fit can also be found locally. Alternatively, if getting out on the road is more your thing, the area benefits from some excellent scenery for those early morning jogs or weekend bike rides.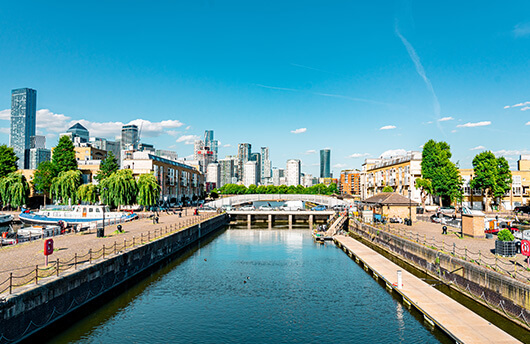 History of Docklands
Once home to one of the busiest shipping channels in the world, Docklands has a vast and interesting history. Upon the official closure of the docks in the 1980s, London Docklands was transformed into the area we know it as today. This regeneration sparked a change, and this once dull and dilapidated location became luxurious and in demand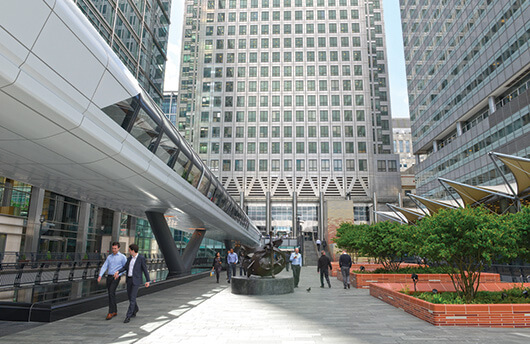 Property Price Trends in Docklands
Property prices in Docklands have remained fairly high over the past 20 years. Since many of the corporate workforce choose to live nearby the office, and with those working in Canary Wharf on some of the country's highest salaries, inevitably property prices are high.
The average sold price in Docklands in 2021 was £541,296 (Foxtons) whilst the rental market is also performing well. Docklands is a fine choice for Buy-to-Let investors seeking property for sale in Docklands as rental properties can fetch an average of £568 per week however many demand much, much greater rents.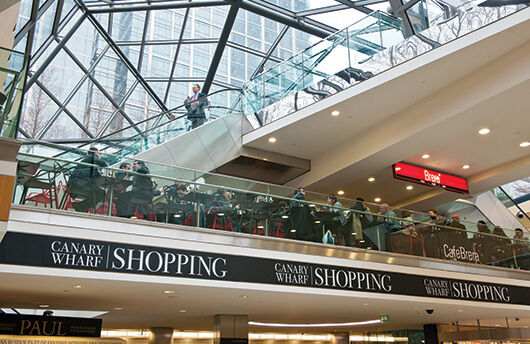 Shopping and Entertainment in Docklands
Want to shop until you drop? Well, you are in luck as London Docklands has an incredibly vast array of shops, restaurants, and bars. Over 120 stores feature across five shopping malls all within the vicinity of Canary Wharf E14, ideal for those living nearby. Likewise, there are so many choices when it comes to food and drink, with something for every palette.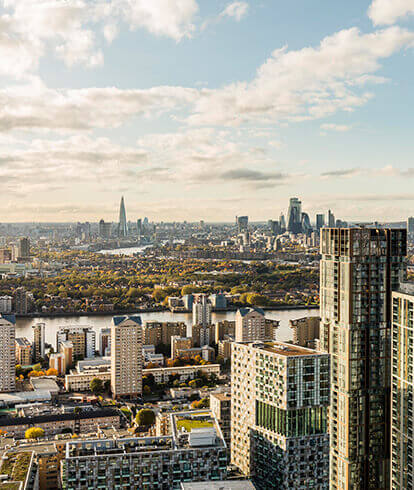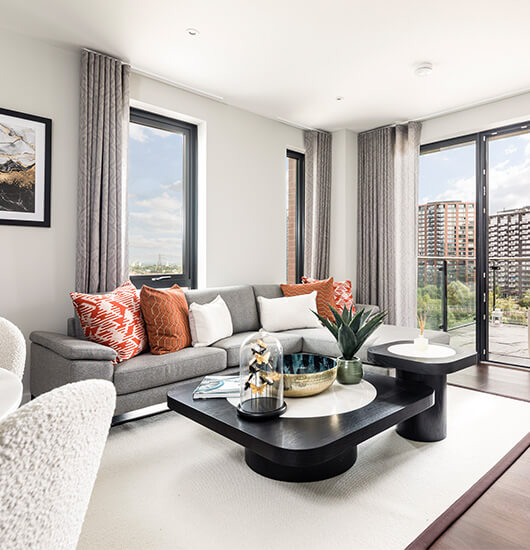 Buying with Galliard Homes in Docklands
Galliard Homes has been the market-leading property developer in the capital for 30 years. London Docklands was one of Galliard's first major projects in the 1990s and continues to be a prime location for property investment. Galliard Homes has been providing property for everyone, from investors to first-time buyers for a range of property types like flats, penthouses, and houses. If you're searching for off plan properties such as 1 or 2 bedroom flats for sale in Docklands, look no further.
Top Features of Galliard Properties in London Docklands
Galliard's strong reputation for building quality homes in London Docklands ensures that each property is finished to the highest standard. Many of our Docklands apartments offer striking panoramic views across London's skyline, while many also offer premium on-site facilities such as bespoke concierge services and fully-equipped residents' gyms. Generous open-plan kitchen and living spaces fitted with a number of modern conveniences can also be expected when purchasing a Galliard home.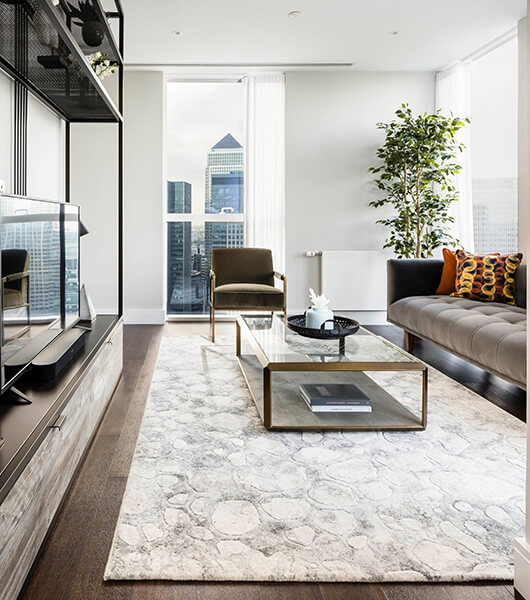 Ways to Buy in London Docklands
Help to Buy in London Docklands
Help to Buy is available on a number of our Docklands properties. Capped at £600,000 for first-time buyers only, the government-backed Help to Buy: Equity Loan scheme was introduced to encourage buyers onto the property ladder even if they only possess a small deposit. Help to Buy allows buyers to purchase with just a 5% deposit, as well as the assistance of a 40% loan (in London) towards the cost of the property, courtesy of Homes England, subject to eligibility, terms and conditions apply.
Explore our Help to Buy properties in Docklands.
Consider the Costs
New-build developments are extremely popular in London Docklands. Whether you're a cash buyer or purchasing with a mortgage, there are many costs to consider when acquiring a new property. Costs such as stamp duty, legal fees and moving fees can all add up quite quickly, however with Galliard Homes, you can save money across these areas meaning that your money can be better spent elsewhere. We offer huge savings on stamp duty, contribute towards legal fees and even fully-furnished your new home, free of charge (subject to negotiation).
Find out how you can save money with Galliard Homes.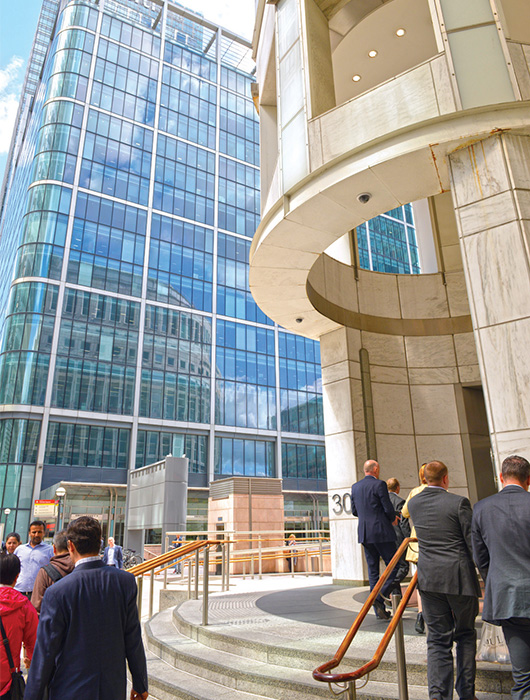 More About the Area
London Docklands was once home to the world's busiest shipping port. Having experienced a turbulent history, this thriving location is now home to multiple shopping centres, countless restaurants, bars an cafes and most notably, some of the world's biggest corporate names.
Big Businesses in Docklands
A central location for trade and profit throughout the years, London Docklands is a place synonymous with business. In 1991, the first of the big names we now associate with London Docklands started moving in. This was the catalyst which encouraged residential developers, including Galliard Homes, to start constructing in the area. Since 1991, the area has continued to flourish and is now one of the world's most recognised and important financial hubs. Names including HSBC, Morgan Stanley and Citigroup are just some of the corporates calling this area home.
Landmarks in Docklands
Docklands showcases some of London's finest high-rise architecture, notably one of Galliard Homes' luxurious developments, Baltimore Tower, which won 'Best Residential High-Rise Architecture' in 2017. There are also some historical landmarks in the area. Famously the UK's largest inland fish market, Billingsgate Market covers 13 acres including 98 stands, 30 shops, and an incredible 800-tonne freezer store! The market is a must-visit if you're in the area.
Featured Property for Sale in Docklands
Frequently asked questions
Is London Docklands a nice place to live?
Offering young professionals a plethora of things to do including five shopping malls, an endless choice of bars and restaurants and some of London's finest high-rise residential buildings, Docklands is undoubtedly a great place to live.
How far is Docklands from Central London?
Docklands is in East London, a short journey by train from Central London. The London Underground – operated by Transport for London – provides routes into Central London from East London. Residents of Docklands can be transported to Covent Garden or Oxford Circus in around 30 minutes and Waterloo in just 18 minutes from Canary Wharf station.
What is there to do in Docklands?
You will never be short of things to do in Docklands. Enjoy a Japanese brunch with friends at Roka, shop for some fresher-than-fresh fish from Billingsgate Market, visit the Museum of London Docklands to discover the long history of this iconic destination, or enjoy a day at Mudchute Farm, London's largest urban farm.
Is Canary Wharf in the congestion zone?
London Docklands does not currently sit within the Congestion Charge Zone however, it does fall within the Low Emission Zone (LEZ) and the Ultra Low Emission Zone (ULEZ).
Start the Process with Galliard Homes
Simply explore our website or contact our sales team directly to find a suitable property, view the property, make an offer, and watch us take you through every step of the sales process. Your new luxury apartment in London Docklands awaits. Buying your first home? Get familiar with the buying process with Galliard Homes. Get in touch with our expert team on 020 7620 1500.