North London V. South London - Where to Live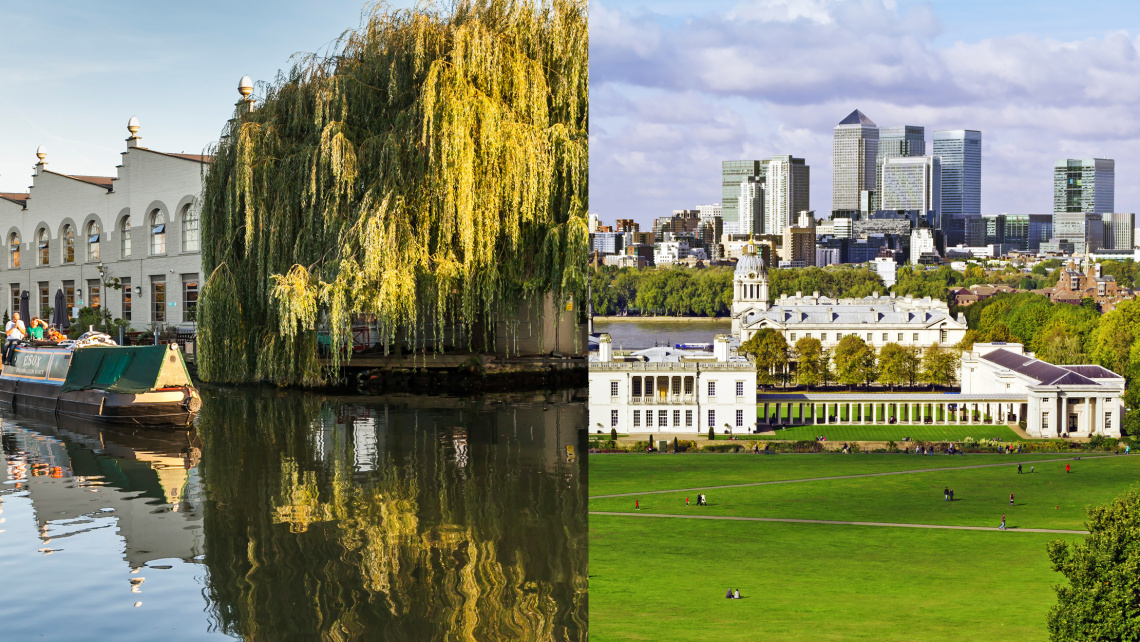 For generations, Londoners both north and south of the River Thames have claimed that their portion of the capital is the most desirable, offering the best in entertainment, cuisine and residential appeal.
Here's an impartial look at what each area has to offer to help aspiring Londoners decide which side of the river to make their home.
Which is Greener?
Back in 2011, the Boundary Commission for England officially divided London into its northern and southern halves with the north including 20 boroughs and the City of London, and the south incorporating 12 boroughs. Despite having a larger surface area, only 29% of land in North London consists of open, green space, compared to South London which is 34% parkland.
With Central London extending further geographically in the north than in the south, those looking for a truly urban environment - particularly young professionals angling for a city lifestyle - will no doubt opt to live in North London, with the more suburban south attracting families and established professionals looking for more tranquil surroundings.
Which is More Connected?
Looking at a Tube map, it's clear that North London appears more connected. In fact, there are on average 12 Tube stations per borough in North London compared to just three in South London; however the south does have more railway stations per borough than the north. However, plans are underway to develop South London's transport network further, including the Northern line extension between Battersea Power Station and Nine Elms, the Bakerloo line extension between Old Kent Road and Catford, and a proposed Overground extension between Thamesmead and Abbey Wood.
Take a look at the key areas along the Northern line here.
As well as this, the Night Tube has now welcomed a new era of travel for suburban Londoners, integrating the capital with its more distant counterparts, making living in Zones 3, 4 and 5 more accessible and desirable for those hoping to make the most of city and country living.
Which is More Affordable?
Typically, North London is more expensive than the south, largely because it incorporates more of Central London. According to Rightmove, last year saw flats sell north of the river for an average of £535,531 and £418,179 south of the river, with Islington and Lambeth coming in as the two most expensive areas, and Enfield and Croydon as the cheapest. In terms of growth, South London has inched forward as the current frontrunner with a 9% increase on the previous year, compared to 7% for North London, whilst prices have jumped 31% since 2013 for the south compared to 24% in the north.
Of course, the closer to the M25 either side of the Thames you go, the cheaper it will get, and with many up-and-coming areas now undergoing mass regeneration, investors are eyeing up both ends of the spectrum for affordable prices matched with potential for capital growth and connectivity. Colindale in North London, for instance, was recognised as a key area of opportunity in the Mayor of London's 2020 Vision, whilst the London Borough of Barnet named the area as one of its most successful in terms of growth and regeneration. In the coming years, we can expect to see a transformed urban quarter in Colindale, four new primary schools and 10,000 new homes estimated to surmount to an astounding £1.4bn.
What North London has to Offer
From the City of London to the West End, and Hampstead to Camden Town, North London is teeming with London's most cherished sights and attractions. You've got the Palace of Westminster, Buckingham Palace, St Paul's Cathedral and the Tower of London - the list goes on. For a fast-paced lifestyle with high-risers around every corner, North London will not disappoint.
Take a look at these 10 reasons to live in North London.
What South London has to Offer
Whilst some might say the fun stops once you cross the river, South Londoners would beg to differ. The south has its own fleet of attractions and entertainment destinations to wet the palette of even the most adventurous Londoner. Explore the South Bank - London's go-to spot for art fans - and London's foodie favourite, Borough Market, and not forgetting the elite business district, London Bridge. North London may have The Gherkin and The Cheesegrater, but South London is home to the tallest building in the UK - The Shard.
Edited: 28th November 2022