Put Your Foot Down and Buy a Home Within Walking Distance of Your Workplace by David Spittles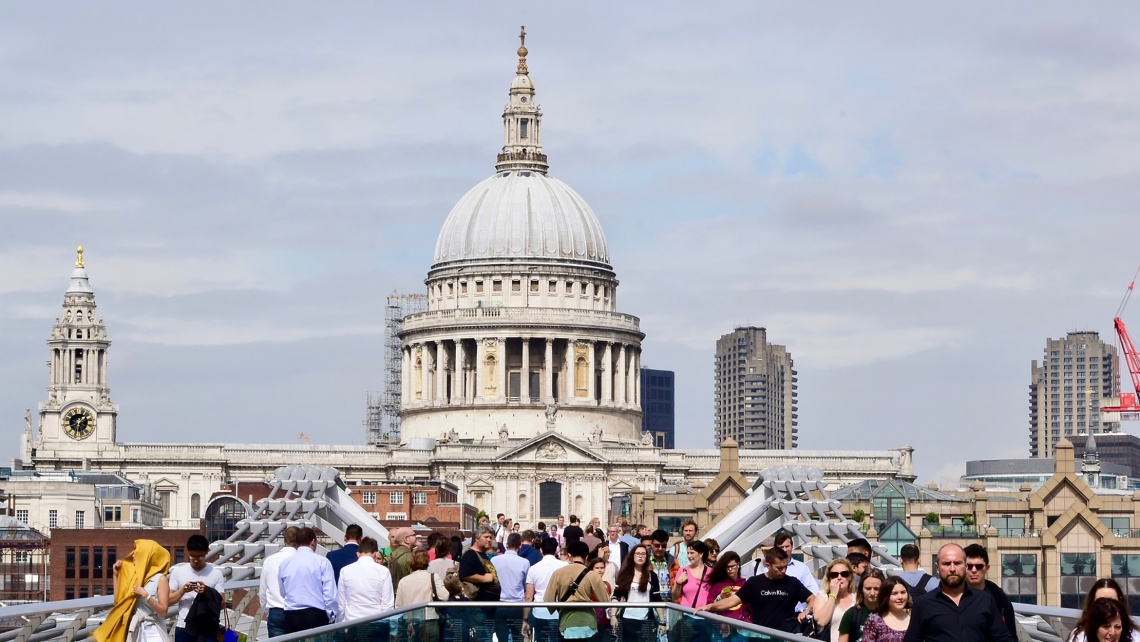 Commuters, cast your mind back a few months, before coronavirus struck.
Traffic jams, train delays, rail fare hikes, tube strikes, over-crowded carriages and heightened stress levels were reasons enough to give up the daily commute and buy a home within leisurely walking distance of the office.
Covid-19 and the quest for personal protection, good health and well-being has made the case compelling.
People who use multiple transport links are more likely to contract a virus, according to the Institute of Global Health. By contrast, a "fresh air" commute can bring a better quality of life, free up more leisure time and help you get fit.
Moreover, buying a home within or close to London's main business districts is likely to be the best investment you will ever make.
Post-lockdown, some people will prefer a rural retreat, but the pandemic is unlikely to reverse the trend for city-centre living.
Already there has been a demand surge.
London-wide Dexters estate agency reports a threefold increase in buyers searching for a central home compared to the same period last year. Property services group CBRE has announced a spike in the number of buyers wanting homes in "bullseye" locations such as Fitzrovia, Covent Garden, Southwark, Shoreditch and Islington.
London, of course, will endure as a world leader in commerce, culture, leisure and higher education, and people will continue to arrive for employment and lifestyle reasons.
In some ways London is becoming even more attractive as a place to live. It's the most "sustainable" city in the world, ranking ahead of competitors Stockholm, New York, Frankfurt, Singapore and Paris, according to consultancy Arcadis, whose global city index measures the three pillars of sustainability - social, environmental and economic.
It's a surprise to some that London has more green space than most world cities. As well as eight Royal Parks, there are heaths and commons, 600 traditional garden squares, numerous public parks plus nature reserves and well-kept community spaces tucked away in unlikely pockets of the inner city.
Transport for London's green agenda promoting cycling and reducing vehicle emissions is also boosting demand for homes near the office.
The congestion charge zone, which geographically defines the capital's beating heart, now applies seven days a week, from early morning until late in the evening. The £15 a day cost aims to deter polluting cars and improve the quality of life of those who live within the zone.
In response to Covid-19, London's mayor has introduced an £80m Streetspace programme creating better pedestrian and cycling networks and making it easier for people to maintain safe social distancing. Some central London streets and bridges are switching to walking and cycling only, and low-traffic residential zones encouraged.
The number of Londoners cycling to work has tripled during the last decade and is expected to soar again during the next decade. TfL says cycling could increase tenfold post lockdown.
Cycling can be cool and sociable as well as purposeful and good for the planet.
Housing developments along the route of the capital's dedicated cycle highways are addressing the needs of peddle-pushers by providing secure bike storage, cycle cafes and repair workshops.
Estate agents report rental hotspots around the numerous "Boris Bike" docking stations on the edge of travel zone one and, increasingly, it's a factor influencing where landlords buy property because they can achieve higher rents and fewer void periods.
All this feeds into another London phenomenon - the renaissance of urban villages and the emergence of vibrant new neighbourhoods shaped by mixed-use developments.
Covid-19 seems certain to accelerate the return of "localism", bringing better shops, amenities and social infrastructure such as primary schools to serve residents and the wider community.
Buzzing new business districts beyond the traditional employment hubs of the Square Mile and West End are also influencing walk-to-work home-buying decisions.
Shoreditch has become Europe's leading digital district; King's Cross, Paddington and London Bridge are fast-growing commercial zones rather than just arrival and departure points; Holborn is now "Legal-land"; creative clusters have formed in, Bermondsey, Clerkenwell, Camden, Southwark and Shepherd's
Bush and are spreading to cheaper pockets of the capital such as Hackney Wick, Leyton and Deptford.
Canary Wharf, already a global banking hub, is even becoming an offshoot of Whitehall in east London, with the relocation of civil servants.
Apartments at Orchard Wharf, moments from the Docklands office towers, cost from £493,000.
Canalside homes are popular as pedestrians can walk safely along the towpath, bypassing busy and hazardous roads. Green cycle routes are opening up too, particularly in east London and the Lee Valley. One-in-seven Hackney residents use two wheels as their main mode of transport.
Shoreditch has the advantage of being close to the City financial district, Canary Wharf, various hipster havens and canal paths providing a car-free conduit for those who jog or walk to work. And like Bermondsey, south of the river, the wider area also has a flourishing live-work sector that gives it a unique character.
The Stage, Galliard's dazzling new Shoreditch development, brings high-rise homes with a design punch plus offices, heritage restoration and a new cultural attraction. Prices from £699,000.
As well as abundant residents' amenities, the project commemorates the site's association with Shakespeare by showcasing the remains of the Elizabethan Curtain Theatre.
Bermondsey, south of the river, is so close to Trafalgar Square that it gets into the large print pages of the A-Z. Away from the fashionable Shad Thames warehouse enclave, the district is still affordable and quickly gentrifying, especially either side of a long railway viaduct with hundreds of refurbished arches running from London Bridge to Greenwich.
Newham's Yard, moments from Tower Bridge, is a scheme of "industrial luxe" factory-style apartments priced from £655,000. This pocket of Bermondsey has been home to artists and loft-dwellers since the 1970s. Designer Zandra Rhodes arrived in 1995, buying a cash-and-carry warehouse for a new headquarters and her Fashion and Textile Museum. Today it is one of the capital's hottest addresses, with bistros, boutiques, galleries, an antiques market and an entrenched artisan culture. Shard of Glass, Europe's tallest building and a base for thousands of workers, looms over this district.
What a marked social shift there has been since the heyday of the suburbs when breadwinners took the train to the City of London and were back home before 6pm.
Edited: 17th May 2023