Birmingham Property Market Insight May 2021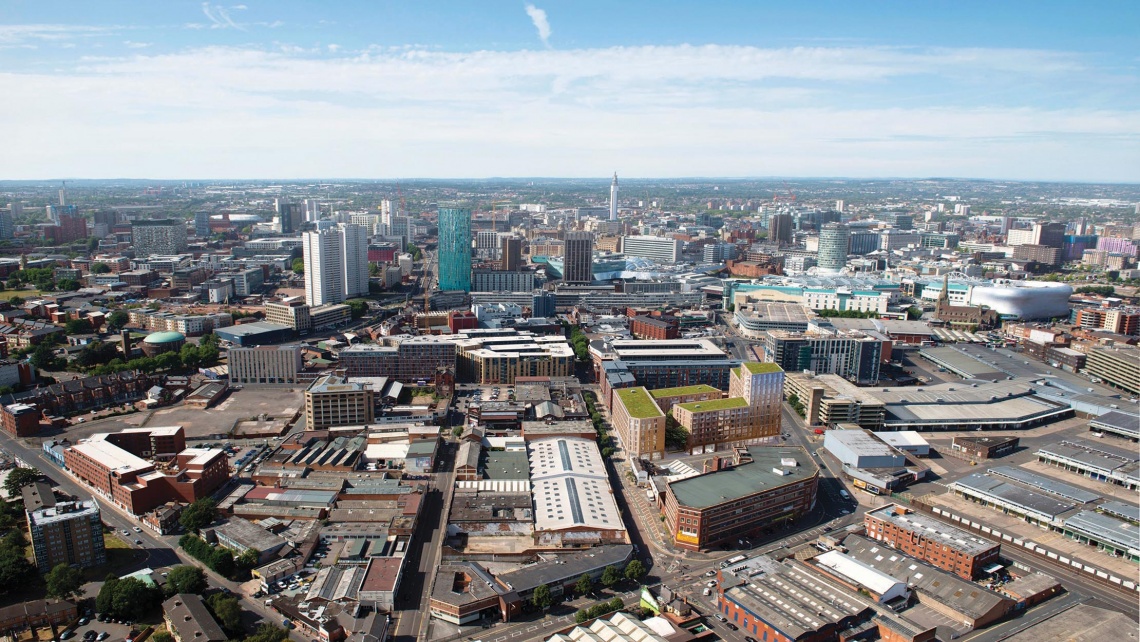 Home to our latest West Midlands development, Timber Yard, Birmingham is a city experiencing unprecedented growth as buyers seek investments offering value and strong potential. Despite the turbulence of the past 12 months, the UK's second largest city remains a strong and robust market in the face of adversity. Here, Galliard Homes' Head of Sales West Midlands, Jason Day, shares his insight on the Birmingham property market.
The Birmingham property market has remained quite resilient over the past 12 months, why do you think this is?
The current investment taking place and planned over the coming years for Birmingham is definitely a major factor. The regeneration of the city is now well underway and deliverance is at such a pace that I can only draw similar comparisons to how East London was pre-regeneration in the mid 90's.
HS2 will connect the city directly to London and in Phase 2, the North, making it a key business area for the UK. The 2022 Commonwealth Games is also bringing huge levels of investment, regeneration and development to Birmingham and surrounding areas.
Have you noticed a change in what buyers are looking for since the start of the pandemic?
Outside space has become a key trend. The lockdowns have made people rethink their living circumstances and the need for access to the outdoors has become a higher priority. Fortunately, at Timber Yard, many apartments do enjoy a private balcony with the development as a whole also surrounding communal landscaped courtyard gardens.
What type of buyers have you found coming to the Birmingham property market in the past 12 months?
Local residents that are currently renting are now looking to take their first steps onto the property ladder with many using the Help to Buy: Equity Loan scheme. In addition, you are also seeing owner occupiers being relocated through work to Birmingham. With the huge regeneration that is happening in Birmingham, investors are looking at value for money purchases and yield returns greater than currently available in London.
Birmingham is a hotspot for property investment thanks to improvements in infrastructure such as HS2. What do you expect to see from the market over the next few years?
The investment potential of England's second city continues to grow. In recent reports by Savills, Knight Frank and JLL they are all projecting at least 20% growth within Birmingham's property sector by 2025.
With major businesses such as BT, KPMG, HSBC, Barclays and PwC UK and, most recently announced, Goldman Sachs, moving large sectors to Birmingham City, the demand for new apartments will continue to outweigh availability.
Timber Yard will be a fantastic mixed-use development once complete, what do you see as its primary selling point?
As our working lifestyles continue to change, Birmingham has long required a city development that offers executive high-level living within easy walking distance to New Street Station and the Financial District. I am delighted to say that Timber Yard delivers this and much more as the City and Smithfield's regeneration projects grow with pace.
Tell us more about the amenities we can expect at Timber Yard.
Timber Yard will offer residents an exclusive lifestyle from the moment they enter the opulent double height reception area offering concierge and services. Residents will have exclusive access to a private club lounge, a screening room and a fully-equipped gymnasium over two levels. Timber Yard has been designed to a criteria of architectural innovation which has been created around a private communal landscaped luxury courtyard garden.
What do you think has encouraged buyers to purchase in Birmingham's Southside district?
There are many reasons a buyer would wish to invest in Birmingham. Along with its extremely central location, I have to say the Gay Village and Chinese Quarter make this one of the most vibrant areas to live in Birmingham and I often find myself drawing comparisons with London's Soho.
Timber Yard is superbly located just an eight minute walk from Birmingham New Street station, have you found this to be a key factor in buyer behaviour?
Very much so. More and more people wish to enjoy city living in a central location, close to travel links and without the requirement of a car.
Birmingham City Council's plan is to become one of the greenest cities in Europe; as such they are continually upgrading the transport infrastructure to minimise vehicle usage in and around the city.
We have undertaken a number of community projects since we started work in Birmingham including supporting Pride, Birmingham LGBT, Chinese New Year and the Hippodrome. Furthermore we have worked closely with a number of homelessness charities and a local community charity in Ladywood.
What's next for The Galliard Apsley Partnership?
We are currently preparing to release St Paul's Quarter and Soho Wharf which will then be followed by Belgrave Middleway. In total we will be delivering over 1,500 new homes to Birmingham City and no doubt as we look to grow out in the city more will follow. It's a very exciting time for all involved!
Click here to learn more about Timber Yard.
Edited: 18th May 2023